5 Amazing Natural Remedies to Eliminate Cellulite: Try Them!
Looking for some great natural remedies to eliminate cellulite? Look no further than these 5 healthy options and always make sure to drink enough water.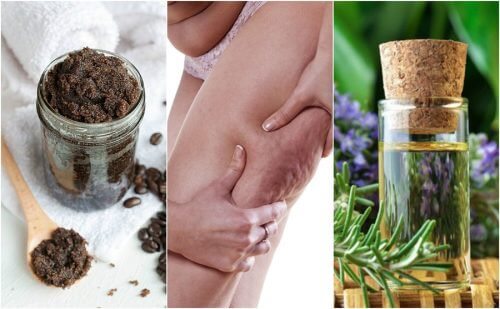 Cellulite is an aesthetic problem that is caused by the changes of the conjunctive tissues in the body. This allows for accumulation of liquids and fats that also form small nodules that can be seen on the skin.
This problem affects the majority of women, especially after puberty.
It usually shows up in areas like the butt and legs, but can also be seen to a lesser extent in the stomach and arms.
Its principal cause is excess body weight, but can appear in everyone due to hormonal changes, lymphatic difficulties, and the retention of toxins and liquids.
While it is not a serious health problem, its appearance affects one's self- esteem and can prevent one from feeling comfortable in some clothing.
For this reason, in addition to improving their daily habits, many turn to external solutions to reduce the look of cellulite.
Luckily, there are various natural remedies that, for a modest price, help to treat this problem before it becomes more noticeable. 
We want to take this opportunity to share, in detail, the 5 best remedies that you shouldn't hesitate to try at home.
1. Coffee grounds and rose musk oil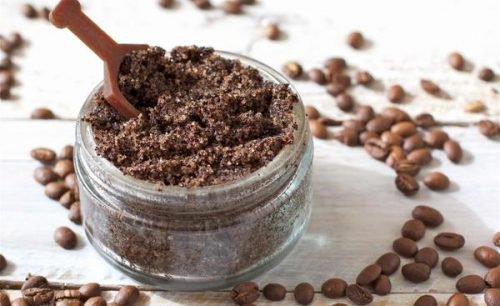 Coffee grounds combined with rose musk oil provide us with a natural exfoliant with anti-cellulite properties. This makes it ideal for improving the look of your skin.
These ingredients stimulate circulation in the affected areas which is the key to promoting the elimination of liquids and accumulated toxins.
Ingredients
3 tablespoons of coffee grounds (36 g)
3 tablespoons of rose musk oil (45 g)
Preparation
Put the ingredients in a container and mix them until you have a paste
How to apply
Rub the treatment over the areas with cellulite, massaging it in for 3 to 5 minutes
Let the product sit for 15 more minutes and then rinse
Repeat use 2 to 3 times a week
2. Horsetail tea
Regular consumption of horsetail tea is a habit that can noticeably help you reduce the appearance of cellulite.
This natural drink, that is very low in calories, boosts the elimination of retained liquids and promotes circulation. 
Ingredients
1 cup of water (250 ml)
1 teaspoon of horsetail (5 g)
Preparation
Boil the cup of water and add the teaspoon of horsetail
Let sit for 20 minutes, strain it, and drink
How to drink it
Drink 2 to 3 cups a day, at least 3 times a week
3. Rosemary lotion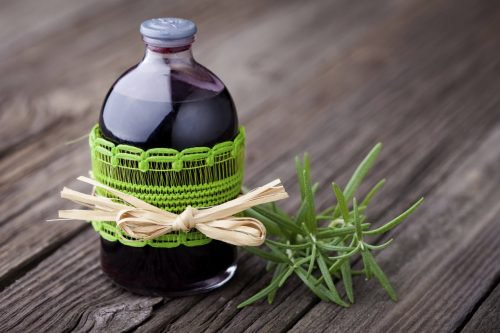 The anti-inflammatory and toning properties of rosemary can be used as a compliment for diminishing nodules that give place to cellulite.
While this treatment will not make it disappear completely, regular use will improve circulation and reduce the hollowed appearance. 
Ingredients
2 cups of water (500 ml)
4 tablespoons of fresh rosemary (40 g)
Preparation
Heat the water and, when it begins to boil, add the fresh rosemary and let sit between 20 and 30 minutes
When the tea is concentrated, pour it into a spray bottle and use it
How to apply
Spray the lotion onto the affected zones and let it absorb without rinsing
Massage for 5 minutes and use every two days
4. Olive oil and juniper oil
Massages with these oils help to increase circulation locally which helps to reduce cellulite in visible areas like the glutes and abdomen.
These ingredients are easily absorbed into the skin and, after they have been absorbed, reduce sagging and the nodules that are formed by this condition.
Ingredients
3 tablespoons of olive oil (48 g)
2 tablespoons of juniper oil (30 g)
Preparation
Combine the oils in a heat-resistant container and heat.
Once you have a temperature that is safe for the skin, apply it.
How to apply
Rub the treatment over the areas with cellulite and massage until it is well absorbed.
Repeat its use every night to achieve the best results.
5. Papaya and coarse sugar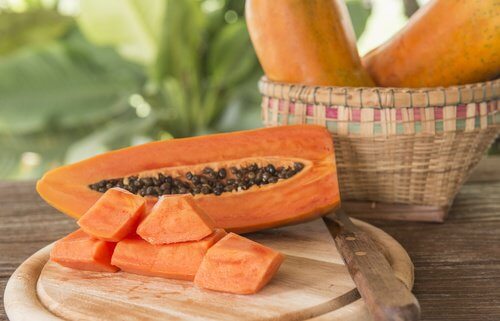 Another natural exfoliant that helps us to reduce the appearance of cellulite is one that is obtained by combing the pulp of a papaya with coarse sugar.
This eliminates dead cells on the surface of the skin and, if that wasn't enough, it stimulates the production of collagen and elastin. 
Ingredients
3 slices of papaya
2 tablespoons of coarse sugar (24 g)
Preparation
Grind up the slices of papaya and mix with the coarse sugar
Be sure that you have a granulated paste
How to apply
Rub the exfoliant over the areas you want to treat and massage for 5 minutes
Rinse with cold water and repeat its use at least 3 times a week
Are you trying to fight cellulite? Choose any of the remedies that we have mentioned and complement their use with a healthy diet, exercise, and daily consumption of water. 
All of these things together will help to significantly diminish the appearance of cellulite in no time.