Vegetable Omelet Recipe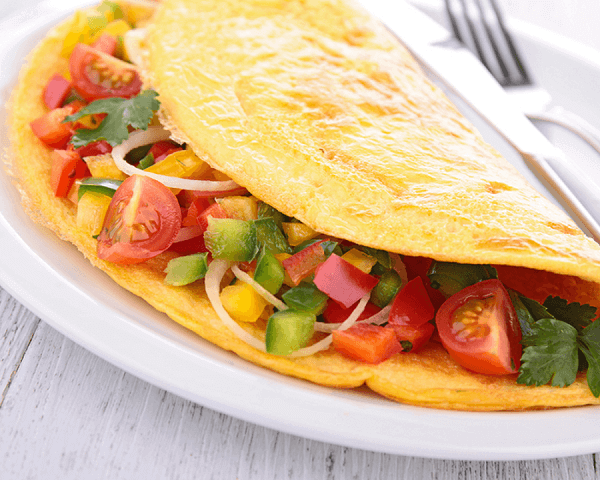 Starting your day off with a family meal brings joy and happiness to everyone. That's why you can make them this wonderful easy-to-make recipe. How does having a vegetable omelet sound?
Many don't know that omelets are originally from Spain. During the Peninsula War, the economic and political embargoes began to make some foods scarce, including potatoes, which are essential for preparing Spanish omelets.
The Spanish people had to come up with simple way to make omelets without any potatoes. The Spanish jokingly called them "French omelets". To this day, the Spanish still call them by this name.
Eggs are this dish's main ingredients. However, many creative cooks use other ingredients to make omelets because there are countless versions of this popular dish. This is a healthy recipe because eggs are great sources of protein, vitamins, and minerals and can be eaten often, especially by children.
Egg whites are high in protein and the yolks contain vitamins, minerals, cholesterol, and lecithin. In fact, there have been numerous studies conducted on the nutritional value of eggs. Likewise, yolks provide antioxidants such as lutein and zeaxanthin.
Vegetable omelet recipe
You can prepare the following recipe with your favorite vegetables to really enjoy the eggs' flavor. In a matter of fact, you can create many versions according to your own taste. However, this a basic easy-to-make recipe.
Ingredients
1 small onion (60 g)
1 small carrot (60 g)
2 teaspoons of salt (10 g)
1 teaspoon of pepper (5 g)
1 small red pepper (80 g)
4 tablespoons of olive oil (60 ml)
Cheese cut into small pieces (100 g)
2 slices of cooked turkey ham (25 g)
Preparation
First, cut the carrot into small cubes and boil them over medium heat.
Next, sauté the pepper with two tablespoons of olive oil in a small pan. If you feel like it, you can add a little chicken breast to the omelet.
Then, turn off the heat when the vegetables are golden and the carrot are soft. Strain and set aside.
In a cup or bowl, add the eggs, the cheese cut into small pieces, and the two slices of turkey ham cut into thin strips.
Mix well and add salt and pepper. Repeat in the other cup or bowl.
Once the vegetables have cooled, put half of them in one bowl and the other half in the other.
Put the remaining two tablespoons of olive oil in a large pan and once it's hot, add the contents from one of the bowls.
Once the omelet can easily be lifted with a spatula, fold it in half.
Finally, wait five minutes before turning it over. Cook another 5 minutes and you're all set. Repeat the process with the contents from the other cup and you'll have an omelet for the entire family.
Spinach omelet
This vegetable omelet is perfect for those who are taking care of their health and want to stay in shape. It's only one of many variations of this popular breakfast dish. Give it a try!
Ingredients
4 to 5 eggs (300 g)
3 teaspoons of salt (15 g)
2 cups of spinach leaves (200 g)
1 teaspoon of pepper (5 g)
2 tablespoons of olive oil (60 ml)
½ cup of chopped leek stems (120 g)
Preparation
First, heat the olive oil in a pan and fry the leek over medium heat.
Next, add the chopped spinach leaves and mix well; Wait one minute and remove from heat.
Then, beat the eggs and add the salt, pepper, spinach, and leek until they're will mixed.
Put the mixture in a nonstick pan and cook for a few minutes over low heat.
Once the omelet appears cooked, flip it over by using a spatula. Let it brown on both sides and you're all set to enjoy your vegetable omelet,