Vegan Treats - Four Delicious Recipes
You're vegan and people often question your choice. Most likely because they perceive this kind of food as bland. So, how would you like to surprise your family and friends with some rather tasty vegan treats?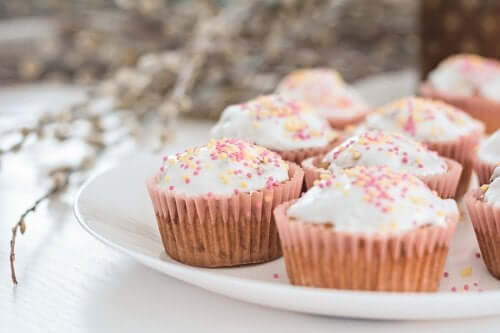 There's a wide variety of tasty vegan treats and some of the recipes are rather easy and delicious, in fact. You'll surely surprise everyone in your family with any of the following recipes, there are cookies, muffins, pies…

The best recipes for vegan treats
The main factor in the selection of these recipes is they have a mouth-watering quality. As you're about to see, they don't require eggs, milk, butter, or any other animal products so you can have your vegan cake and eat it too!
1. Vegan cheesecake
Well, let's say this is more of a yogurt-cake because we've taken out the cheese and replaced it with soy yogurt. Of course, you could make your own vegan cheese and use it instead.
Ingredients
7 oz of vegetable milk
12 oz soy yogurt
1 tbsp agar-agar powder
3 tbsp of lemon
12 graham crackers
2 tbsp margarine
Jam (your choice, to taste)
Elaboration
Firstly, make the crust. To do so, crumble the cookies with a rolling pin or a food processor, and set them aside
Then, melt the margarine in the microwave and pour it over the cookie crumbs and mix it well
Butter a pan and place the cookie and margarine mixture inside to build the base of your cake
Dissolve the agar-agar in cold milk and then bring it to a boil over a medium heat, stirring it while it boils
Incorporate the yogurt and the lemon juice and then whisk it until you attain a smooth mixture
Pour the cream on top of the cookie crust and refrigerate for at least half an hour
Finally, top with the jam and place it back in the fridge. Voila!
2. Vegan muffins, vegan treats
For this recipe, we'll use fruit and almond milk in order to create some fluffy muffins. Of course, you can add chocolate chips or raisins if you like.
Ingredients
½ c. almond milk
4 ripe bananas
2 ½ c. whole wheat flour
1 ½ tsp of baking soda
½ c. coconut sugar
2 oz of extra virgin olive oil
1 tsp of vanilla essence (optional)
½ c. chocolate chips or raisins (optional)
Elaboration
Preheat the oven to 350ºF
Mix the flour and the baking soda, sift them and set them aside
Blend the almond milk and the bananas
Then, add the milk-banana mixture to the flour bowl and mix it all up
Incorporate the oil, sugar, and vanilla essence, and then stir it to a smooth mixture
On a greased muffin tin, pour the dough into each hole, not higher than 2/3 full
Add chocolate chips or raisins if you'd like
Finally, bake them for about 20 minutes
3. Oatmeal-strawberry cookies are awesome vegan treats
This recipe for oatmeal-strawberry cookies is another one of our favorites. They're very easy to make and are simply delicious. You've got to try them!
Ingredients
2 oz oatmeal
½ banana
5 large strawberries
2 tbsp of peanut butter
1 tbsp of honey
Elaboration
Firstly, preheat the oven to 400ºF
Mash the banana in a bowl and mix it with the peanut butter
Incorporate the honey
Add the oats and mix it to a dough
Then, dice the strawberries and add them to the dough
Prepare a baking sheet with parchment paper
Make small dough balls and flatten them on a non-stick surface
Bake them for 15 minutes until golden
4. Apple pie
Our last suggestion in this article is an apple pie with crispy dough and juicy filling. The smell, while it's in the oven, will make you dizzy with expectation.
Ingredients for the dough
1 c. whole wheat flour
½ c. flour
⅓ c. of lukewarm water
½ tsp of salt
Ingredients for the filling
4 red apples
¼ tsp ground cinnamon
2 tbsp of whole wheat flour
2 tbsp of brown sugar
Brown sugar for topping (optional)
For the wash: almond milk (optional, use as much as you need)
Making the crust
Preheat the oven to 400ºF
Then, mix the dry ingredients and sift them
Incorporate the olive oil and mix it with your hands to obtain a grainy dough
Add the water and continue kneading until you form a soft dough
Then, divide it into two
Butter and flour an 8″ pie mold
Roll out the dough and place it into the mold
The filling
Firstly, wash, peel, and cut the apples into small cubes
Then, add the cinnamon, sugar, and flour to the apples and mix it all
Assembling the apple pie
Firstly, pour the filling mixture on top of the crust
Roll out the second half of the dough you previously reserved and cover the pie with it
You could also roll it and cut it into strips and make a simple design (like the one in the picture above)
For the wash, brush it with almond milk and then sprinkle some brown sugar on it
Bake it for about 50 minutes until it's crisp and golden
So, what do you think of our vegan treats list? There are many tasty vegan recipes like these out there. Which one caught your eye?
It might interest you...