Vanilla Cookies: Step-by-Step Recipes
Vanilla cookies are an ideal option for snacks or tea time. You can also prepare other desserts with them. Discover two great recipes here!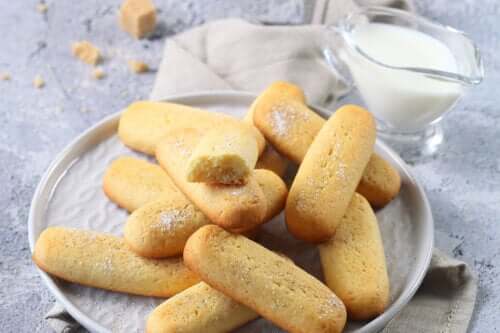 Vanilla cookies are definitely a popular dessert and snack. This isn't only because of their delicious flavor, but also because making them is easy!
Of course, there are different ways to make them. In any case, the star ingredient that can't be missing for them to have that particular taste is vanilla.
Therefore, they're great to accompany breakfasts and snacks, to entertain guests, or as a base dough for other desserts. So, if you want to learn how to make them, in this article, we'll you the traditional recipe for vanilla cookies and a reduced-calorie and sugar-free option.
Vanilla: An essential ingredient in pastry making
Concerning this topic, it should be noted that vanilla, in addition to being a flavoring used to prepare hundreds of recipes, is actually a plant. It comes from the orchid genus and grows in tropical and subtropical regions.
According to several studies, it's the only aromatic orchid used in the food industry and cosmetics. This plant has been used since ancient times by the Aztecs, not only for its aroma but also in the treatment of different illnesses.
In this regard, a study published in the Revista Mexicana Agrociencia in 2018, mentions that it possesses bioactive substances (such as alkaloids, flavonoids, anthocyanins, sterols, and terpenoids), which function as antioxidants and anti-inflammatory agents.
Vanilla cookies
Now, let's see what the other ingredients needed to prepare these delicious cookies are. Don't forget to follow the instructions to a tee.
Ingredients
1 pinch of salt
1/2 cup of sugar
2 medium eggs
3 cups of white flour 0000
1 teaspoon vanilla extract
Powdered sugar: Quantity needed
3/4 cup of shortening, creamy
1 teaspoon of baking powder: 5 grams
Step-by-step instructions
First of all, to make these cookies, you have to preheat the oven to 325 degrees Fahrenheit. Then you start with the meringue:
Separate the eggs. To one side, reserve the egg whites and, to the other, the yolks.
Put the egg whites in a bowl and add 2 tablespoons of sugar. Beat with the help of an electric mixer until the preparation increases in volume.
Then, add 2 more tablespoons of sugar in the form of rain and continue beating until the mixture acquires consistency and the meringue is formed.
Now, you'll continue with the dough:
Beat the 2 egg yolks, the butter, the vanilla essence, and the remaining sugar.
Continue beating until the mixture becomes lighter and thicker.
Then, mix the flour with the baking powder and a pinch of salt. Add them little by little to the previous mixture. Do it carefully, with the help of a spatula.
Finally, add the meringue to this bowl until it forms a smooth and delicate dough. If you notice that it's sticky, add more flour so you can handle it without any problems.
Finally, assemble the cookies with the following step-by-step instructions:
Sprinkle flour on a clean countertop, place the dough on it, and with the help of a rolling pin, begin to stretch it out. You must do it uniformly. When finished, the dough should be at most half an inch high.
After this, with a cutter of the shape you prefer, start cutting out the cookies. When you've finished, lift the remaining dough so as not to damage the figures you've just made.
Carefully peel off the cookies and place them on a greased pan so they don't stick together.
With the remaining dough, repeat the kneading and cutting process.
Finally, when you've finished arranging the cookies, sprinkle with powdered sugar and bake in the oven for 15 minutes.
Reduced-calorie vanilla cookies
This second option is ideal if you want to share it with someone who, for health reasons, can't consume sugar. You can also choose it if you simply wish to reduce the caloric intake of traditional cookies. Write down the ingredients you need and follow the step-by-step instructions.
Ingredients
3 cups of whole wheat flour
1 medium egg
3 tablespoons of liquid sweetener suitable for long baking
1 teaspoon vanilla extract
3 tablespoons oil
2 teaspoons of baking powder
1 pinch of salt
Step-by-step instructions for the low-sugar recipe
In a bowl, beat the egg with an electric mixer to make it increase in volume.
Then, add the vanilla extract, sweetener, and 3 tablespoons of oil. Continue beating, but this time with the help of a spatula.
On the other hand, mix the whole wheat flour, the baking powder, and the pinch of salt in a bowl.
Then add the solids to the bowl with the eggs and mix until a dough forms. As in the previous recipe, add more flour if necessary, to the point where you can stretch the dough without it sticking.
Then, repeat the steps explained in the other recipe. That is, roll out the dough, use a cutter, arrange the cookies on a greased tray, and remove them from the heat after 15 minutes.
Try making these delicious vanilla cookies at home
Whether classic or sugar-free, vanilla cookies are easy to prepare. Of course, you can make variations by adding other ingredients that you like. In any case, don't leave out the beating process, as it will help make them airy and fluffy.
Remember that besides eating them when they're ready, you can use them to prepare desserts with whipped cream, such as tiramisu or fruit tarts. Enjoy!
It might interest you...