Vaginal Yeast Infections: Causes and Solutions
To speed up relief from vaginal yeast infections, you can try some natural remedies that have anti-fungal properties. They can help stop Candida albicans from growing.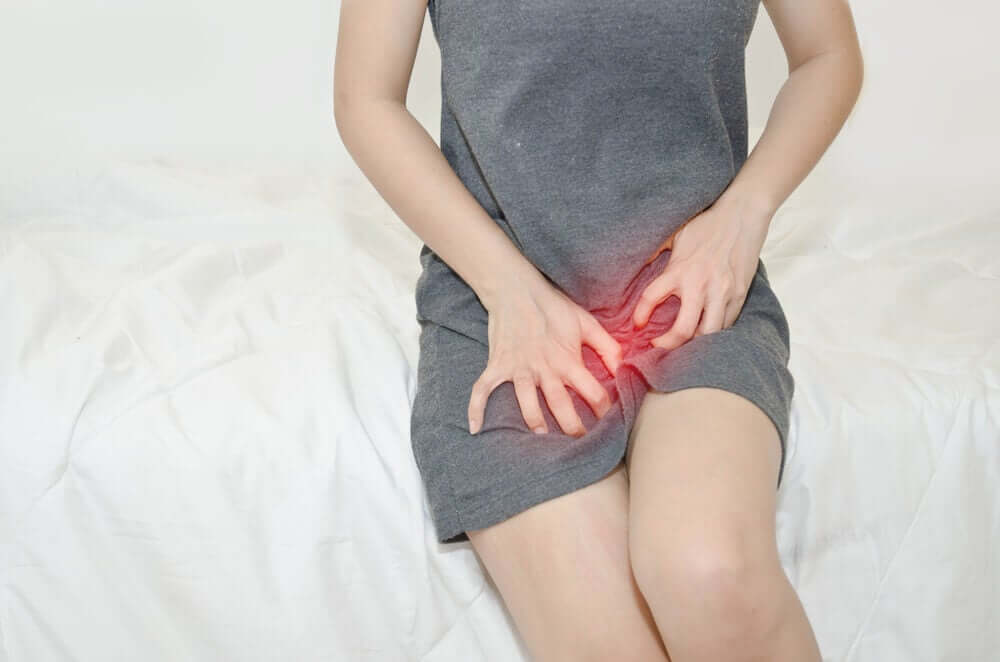 Vaginal yeast infections are common conditions that usually develop from the growth of the fungus Candida albicans. This microorganism naturally lives in the vagina, but it can multiply because of certain factors.
As a consequence, you might experience symptoms like inflammation, itching and discharge issues. In addition, sometimes it can cause a bad odor or pain during sex. What are the causes? Can you treat it with natural remedies?
In this article, we want to answer these questions. Also, we'll talk about its main symptoms and some tips to prevent it.
Keep reading!
Causes of yeast infections
There are lots of microorganisms that naturally live in the vagina. The Candida fungus is one of them. In a normal state, the bacteria Lactobacillus helps keep their growth under control to prevent discomfort.
However, when there's an imbalance, the yeast manages to grow excessively and produce an infection. This could be the consequence of:
Taking antibiotics for a long time
Pregnancy and hormonal changes
Weakened immune system
Uncontrolled diabetes
Bad eating habits
Stress and insomnia
If vaginal yeast infections are recurrent or don't go away with regular treatment, it might not come from the Candida fungus. In these cases, it's important to go to the doctor and do tests.
Symptoms
There are different symptoms of yeast infections depending on the course of the disease. If it's a mild infection, you might only feel itchy or notice changes in discharge. However, if it gets worse, you could also experience:
Swelling around the vagina
Pain during sex
Burning while urinating
Flushed skin
Rashes
Lumpy, grayish discharge
Natural remedies to combat vaginal yeast infections
All yeast infections are different. So, it's important to talk to your doctor if you feel uncomfortable for a few days. The traditional treatment for this includes medication like clotrimazole or fluconazole.
However, you can treat milder cases with some natural remedies with anti-fungal and antibacterial properties. Although they aren't as powerful as prescription remedies, they can treat some symptoms. Do you know about any of them?
Greek yogurt
The probiotics in Greek yogurt can support the treatment of yeast infections from Candida albicans. These live bacteria, specifically Lactobacillus acidophilus, can help create a healthy environment in the vagina.
How to use it:
First, make sure to buy Greek yogurt that doesn't have added sugar. In fact, sugar feeds fungus.
Then, apply it to the outside of the vagina.
Also, it helps to eat one serving of yogurt a day.
Boric acid
Boric acid has antiseptic and anti-fungal properties that help control yeast infections. Research from 2009 suggests that it might help treat vaginosis.
However, it's important to know that, in large quantities, it's an aggressive ingredient. In fact, it can cause kidney damage, acute failure of the circulatory system, or even death. Therefore, you shouldn't use it on cracked skin, and you can't take it orally.
How to use it:
To treat yeast infections, dissolve a small teaspoon in a bucket of water.
Then, apply it to the vulva area to minimize discomfort.
Caution: Don't use this remedy while pregnant.
Coconut oil
Coconut oil is an ingredient with anti-fungal properties, which can help control the fungus Candida albicans. So, using it regularly can treat yeast infections.
How to use it:
First, get pure, 100% organic coconut oil
Then, apply it to the affected area
Use it every day until you feel an improvement
Garlic
Without a doubt, garlic is still one of the best natural remedies against infections. According to the results of a lab study, garlic could still be a potent remedy to control Candida albicans. However, more research is needed to verify these effects.
How to use it:
To take advantage of its properties, consume raw garlic daily.
Also, you can use it externally. Crush a clove of garlic, pour it in hot water and let it cool. Then, strain it, and apply the liquid.
Caution: Under no circumstances should you insert garlic into the vagina. You could experience burning and pain from doing this.
Wild oregano oil
Wild oregano oil (Origanum vulgare) contains two powerful antifungals known as thymol and carvacrol. These components help stop or slow the growth of the Candida albicans fungus. So, this remedy helps treat vaginal yeast infections.
How to use it:
First, add three drops of wild oregano oil with coconut oil.
Then, apply it outside of the vagina to the vulva area with a light massage.
Caution: Avoid using undiluted oil. Also, don't apply it inside the vagina. Remember, you should not take essential oils orally.
Final thoughts on treating yeast infections
Finally, the effectiveness of these natural remedies varies. The evidence is mainly anecdotal. On the other hand, using them regularly can help treat symptoms within a few days. However, if the discomfort gets worse, it's best to see your doctor.
Depending on the severity of the infection, you might need prescription medication. You might need other tests to rule out other conditions.
It might interest you...