Using Natural Coconut Oil Cream to Rejuvenate Your Eye Contours
The mixture of coconut oil and Vitamin E is perfect for moisturizing your skin, and to rejuvenate your eye contours by preventing wrinkles.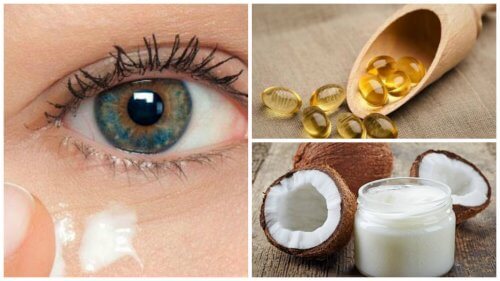 The skin around your eye contours is one of the most delicate and sensitive areas of your face. This means that it's also one of the areas that's most prone to the formation of premature wrinkles.
It doesn't contain many sebaceous glands and it boasts minimal levels of collagen and elastin. That's why the skin around your eye contours has a greater tendency to show signs of aging than other areas.
What's more, it's one of the areas that is most exposed to the sun and to toxins in the atmosphere. That's why it's no surprise that imperfections can start to appear early here.
As if that wasn't enough, it's an area that is also affected by factors like lack of sleep, stress, poor diet, and other habits that affect the health of your skin.
However, the good news is that there are a host of products and techniques that can help to counteract skin damage and prevent imperfections before they appear.
Many of the commercial options are over-priced. Luckily, there are 100% natural alternatives that are accessible to everyone. In this post, we'll share the recipe for a home-made coconut oil cream that, thanks to its unique properties, is perfect for rejuvenating this area of the skin.
Try it!
Home-made coconut oil cream for eye contours
Coconut oil cream is a product that has gained legions of fans around the world. This is because of the many ways it can improve the health and beauty of your skin.
This natural product is much easier on the wallet than the options that are sold in commercial outlets. Plus, the best thing about it is that it won't cause any unwanted side effects.
Along with the benefits of coconut oil, we're also going to make the most of those of Vitamin E oil. This is an ingredient with antioxidant properties that nourishes the deepest layers of skin to help prevent weakness and aging.
And since we want to make sure that you're left with no doubts, we've summed up its most important properties below.
Coconut oil

Considered to be the healthiest natural moisturizing cream around, coconut oil is a simple-to-apply balm that is easily absorbed by your skin. It helps keep it young, moist and protected.
Its medium-chain fatty acids and antioxidants give it anti-microbial and anti-fungal effects. These make it a powerful tool in decreasing the risk of infections.
Coconut oil also has high levels of lauric acid, a substance that regulates your skin's natural pH level while stimulating cellular restructuring.
Thanks to its natural properties, it maintains adequate levels of collagen and elastin, two substances that are essential for young, firm skin.
It also reduces the negative impact of free radicals. These are the worst culprit when it comes to causing skin weakening and premature wrinkles.
Finally, it's ideally suited for the sensitive skin of your eye contours. This is because it provides deep moisturizing, and reduces the harmful effects of the sun's UV rays.
Vitamin E oil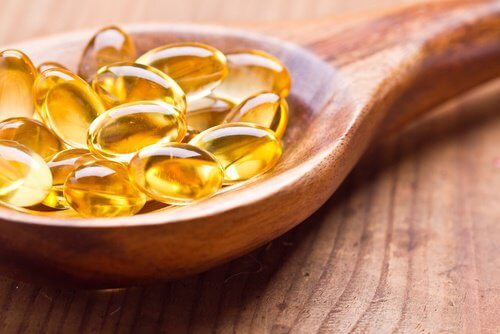 For the past few decades, Vitamin E has been known as "the vitamin of life and youth." This is thanks to its effectiveness in countering anything that accelerates the process of cell aging.
That's why its use – both internally and externally – is so highly recommended for anyone wanting to improve the quality of their skin, even when it has already developed imperfections.
Vitamin E essential oil softens the skin and moisturizes the eye contours. In addition, it prevents the development of those unsightly "crows' feet," as small wrinkles around the eyes are sometimes known.
How to prepare this natural coconut oil cream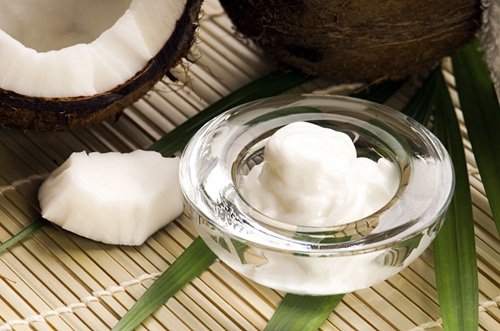 To get the best results when applying this natural cream, we recommend that you get hold of 100% organic coconut oil. After all, refined versions won't have the same nutritional quality.
It's also good to be aware when you start that you won't see effects straight away. You'll need to keep applying it to start noticing the difference.
Ingredients
6 ½ tablespoons of organic coconut oil (100g)
3 capsules of Vitamin E oil
1 airtight bottle
Method
First, heat the coconut oil at a low temperature. Then, add the three capsules of Vitamin E oil.
When both are well mixed in, remove from the heat and leave for a few minutes to cool.
Pour the mixture into the airtight bottle, and wait until it solidifies.
Store in a cool, shady place away from any sources of heat.
How to apply the cream
Take a small quantity of cream. Use gentle massaging motions to rub it in around the contours of your eyes.
Make sure to keep your skin clean and free of any type of cosmetic product.
Repeat every night before going to sleep.
Ready to give it a try? Prepare this amazing cream at home, and discover for yourself this great way to protect your skin without spending a lot of money!