Uses and Precautions for Nifedipine
It's important to understand the precautions for nifedipine when taking it for angina pectoris. Learn more in this article.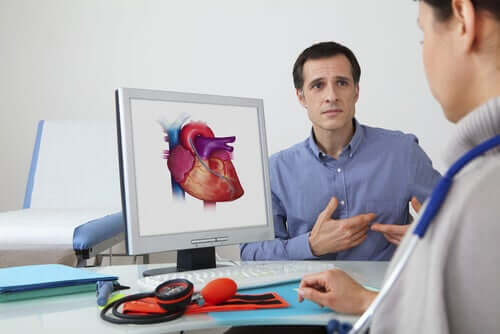 Nifedipine is a drug that, because of its vasodilator and hypotensive effects, is used to treat different cardiovascular problems. Keep reading to learn more about the uses and precautions for Nifedipine.
Nifedipine belongs to the dihydropyrine family. This group of drugs binds to calcium receptors and blocks them.
As a result of this interaction, nifedipine manages to unleash a vasodilator and a fairly powerful hypotensive effect. We'll look at that effect in more detail later. It's useful for treating angina pectoris and arterial hypertension, among other conditions.
What's angina pectoris?
Angina pectoris, which is one of the main diseases doctors prescribe nifedipine for, is a disorder that causes chest pains. These chest pains are the result of a considerable decrease in blood flow to the heart.
In other words, the arteries that carry blood to the heart are blocked, meaning this organ isn't getting enough blood. This causes a series of symptoms, such as angina pectoris.
We should note that there are different types of angina pectoris. Among the most common are:
Stable angina pectoris: This usually appears during physical activity and it happens when the heart needs more blood. However, the muscle has a hard time getting enough blood if the arteries are blocked or narrowed.
Unstable angina pectoris: This condition doesn't improve at rest and can't be alleviated by standard treatments. It happens when a blood clot forms that totally or partially blocks the arteries that carry blood to the heart. It can also happen with a blockage in a blood vessel in the heart. This is a dangerous disease that requires immediate medical intervention.
In addition, there are a series of risk factors that increase one's likelihood of developing this type of disease. Therefore, you should try to avoid the following as much as possible:
Tobacco
Diabetic disease
Hypertension
Hypercholesterolemia
Sedentary and stressful lifestyle
Age
Genetic factors
How does nifedipine work in the body?
Nifedipine, as we've seen, has hypotensive and vasodilatory effects. To trigger these effects, it binds antagonistically to calcium receptors found in the heart and on the walls of blood vessels.
Specifically, it blocks calcium channels that depend on voltage in order to activate. Above all, it affects the vessels that are responsible for peripheral circulation. The medication relaxes the vascular smooth muscles and triggers both peripheral and coronary arterial vasodilation.
In terms of peripheral vasodilation, nifedipine manages to reduce after load resistance. That means it facilitates blood pumping from the heart to the rest of the body.
In addition, it causes coronary vasodilation, which increases coronary blood flow and heart oxygenation. That's why doctors commonly use this drug to treat angina pectoris.
Side effects and precautions for nifedipine
This medication should be used with caution when being used to treat unstable angina pectoris. In addition, nifedipine has an anti-platelet action, which may increase bleeding in some cases. You should also be careful because it can worsen cases of obstructive cardiomyopathy.
Finally, as far as precautions for nifedipine are concerned, not much is known about how this medication can affect breast milk. As a result, even though it seems that only small amounts of nifedipine pass into breast milk, breast-feeding women should be cautious when taking this medication. 
In terms of side effects, just like all drugs, nifedipine can trigger a series of adverse effects. It's important to take these into account when starting treatment with this medication.
Among the most common adverse side effects reported in studies are:
Conclusion
Nifedipine is a medication that's mainly used to treat angina pectoris and hypertension. However, it also has other uses.
Talk to your doctor or pharmacist about any questions you have about this drug, and always follow their recommendations. Professionals are there to help you!
It might interest you...