How To Use Citrus Fruit To Clean Your House
The antimicrobial properties in lemon and other citrus fruit make them the perfect ingredients for chemical-free cleaning.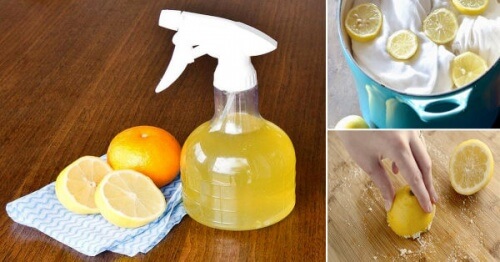 The antimicrobial properties in lemon and other citrus fruit make them the perfect ingredient for impeccable, chemical-free cleaning when combined with other ingredients.
Citrus fruit has an acidic taste, and it can be included into your diet in several different ways.
They are characterized by their high vitamin C content and antimicrobial properties, which can be used several different ways in the house.
Although they are generally used in cooking and medicine, it's good to know that they are also excellent for cleaning the house.
In fact, a lot of their primary active compounds are used by large companies for creating detergents, soaps and other cleaning products.
But if you want to put aggressive chemicals to the side, and choose more organic alternatives, today we would like to point out how to use citrus fruit in their natural state.
Below we are going to share various different ways to use citrus fruit for leaving your house impeccable.
Getting rid of clothing stains with citrus fruit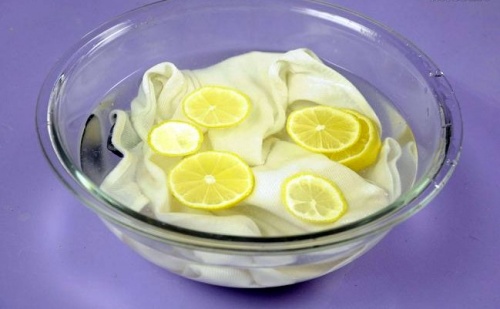 The acids in lemons and oranges are useful for removing sweat stains that form in the armpits and around the collar of your shirts.
Depending on the type of substance, they can also be used to remove food stains, dyes, and other things that could change your clothing.
What to do
Apply the citrus fruit juice to the stain and allow to set for 10 minutes.  Then rinse with warm water.
If you prefer, slice up the fruit and place it in a bowl with hot water, allowing the clothing to soak for 3 to 4 hours.
Then simply rinse and wash in the normal cycle.
De-grease the kitchen
As the days go by, kitchens start to accumulate grease residue around several different surfaces.  This is generally hard to get rid of and almost always requires some sort of additional product to completely remove.
If you don't like the idea of using chemical de-greasers, try the following trick with lemon and salt.  It is highly effective!
What to do
Sprinkle a bit of salt over the greasy areas, then add the lemon juice.
Allow to set for about five minutes, then remove the excess with a clean cloth or sponge.
Try to do this at least once a week so that thick layers of grease don't form.
Disinfect your cutting board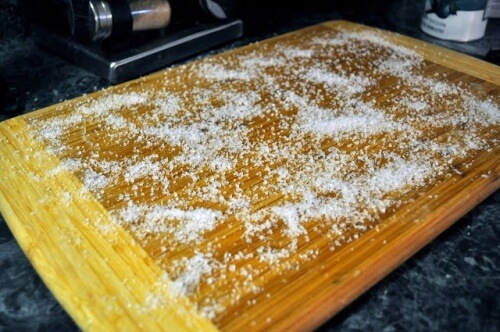 Although we constantly ignore it, the cutting board is one of the most contaminated things in the house.
It is constantly exposed to moisture and foods, which creates the perfect environment for cultivating bacteria.
The antimicrobial properties in lemon help to disinfect it, thereby eliminating bad odors.
What to do
Sprinkle a bit of salt on the board and scrub it in with plenty of lemon juice.
Allow to set for 5 minutes, then rinse with cold water.
Cleaning steel
If you want to get the shine back on stainless steel, use the properties of lemon juice.
What to do
Rub half a lemon on the item. Allow it to set for a few minutes.  Then rub with a clean cloth.
To strengthen these effects, mix with a small amount of salt.
Neutralizing bad odors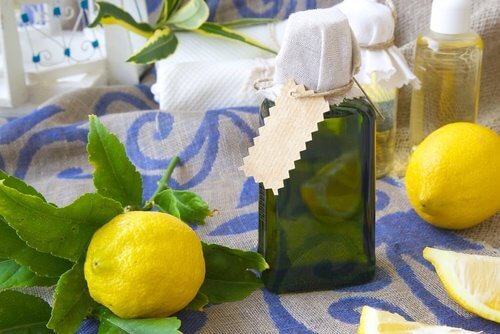 Those delicious fragrances from citrus fruit are perfect for removing odors in rooms throughout your house, without using harmful chemicals.
What to do
Place peels from oranges, grapefruit or lemons in a pot with water.  Bring to a boil for 5 minutes, then release the steam into any area of the house you like.
If you prefer to use them another way, simply spray the juice using a spray bottle.
Clean floors and tiles
Floors and tiles at home get filthy, moldy, and other types of stains that don't look good at all.
Lemon juice combined with white vinegar helps get a natural clean, leaving these surfaces like new.
What to do
Mix the juice from one lemon with equal parts white vinegar and water.
Pour the liquid into a spray bottle and spray the areas you want to clean.
Allow to set for a few minutes, then scrub.
Shining wood furniture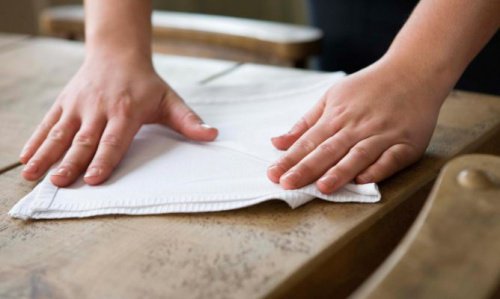 Over time, wood floors and furniture  lose their natural shine.  To restore their shine and improve their appearance, try the following lemon trick.
What to do
Combine half a cup of lemon juice with half a cup of olive oil and rub this mixture over the wood.
Cleaning the toilet
A paste made from baking soda and lemon is great for disinfecting and removing stains on the toilet.
How to use it
Mix the juice from one lemon with a couple tablespoons of baking soda (20 grams) and apply using a brush.
Allow to set for 3 minutes, then rinse.
Have you used citrus fruit to clean your house before?  Go ahead and use these tricks.  See for yourself how they are excellent alternatives to costly products on the market.