Softer Feet with Just Two Natural Ingredients
Even though it's sufficient to use this remedy just 3 times a week, for best results you should use it daily. It will give you softer feet and prevent future calluses.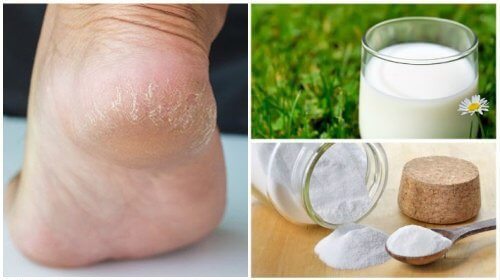 We can't deny that the feet are one of the most neglected parts of the body, despite the fact that they have the hardest job, supporting the weight of the entire body.
What's more is that they're exposed to dust, dirt and other factors in the environment that deteriorates the quality of the skin protecting them.
The problem is that, little by little, they lose their natural moisture and develop unsightly problems like cracking, calluses and fungal infections.
For this reason, many people spend a lot of money on costly pedicure products and professional treatments to improve their condition. However, there are a few 100% natural solutions that will allow you to restore their health from the comfort of your own home without having to spend a lot of money.
One such treatment is made with only milk and baking soda, whose exfoliating action removes dead cells and softens calluses, leaving you with softer feet.
We'll share the simple formula and all their benefits below. Are you ready to give it a try?
How does this treatment give me softer feet?
This natural remedy to give you stronger and softer feet works by combining the properties of milk with the astringent and antiseptic properties of baking soda.
These two ingredients are totally eco-friendly and can be purchased inexpensively at any supermarket.
Benefits of milk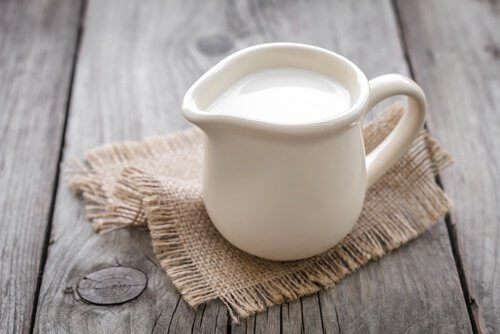 Milk is rich in fats, proteins and essential vitamins to restore damaged skin and relieve dryness and other skin problems.
Its active ingredient, lactic acid, regulates the skin's natural pH to improve its moisture-retaining capability and alter the environment that fungi need to thrive.
It contains up to 30% of the proteins necessary for collagen and elastin production, two compounds essential for skin health.
Using it on the feet decreases roughness, repairs the cuticles and creates a protective barrier against infections.
We should also point out that it has a lightening effect that helps remove dead skin cells and dark marks.
See also: Benefits of Almond Milk
Benefits of baking soda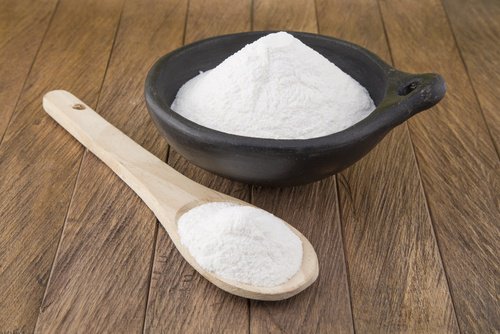 This white powder is one of the best natural remedies to soften the hard skin of the feet and remove calluses.
Thanks to its antibiotic and antifungal properties, it eliminates fungus on both the skin and nails.
It's exfoliating action removes dead skin cells and renews the skin's appearance for cleaner, more beautiful feet.
You should read: Just Two Ingredients Kill Nail Fungus
How do I make a buttermilk and baking soda bath for softer feet?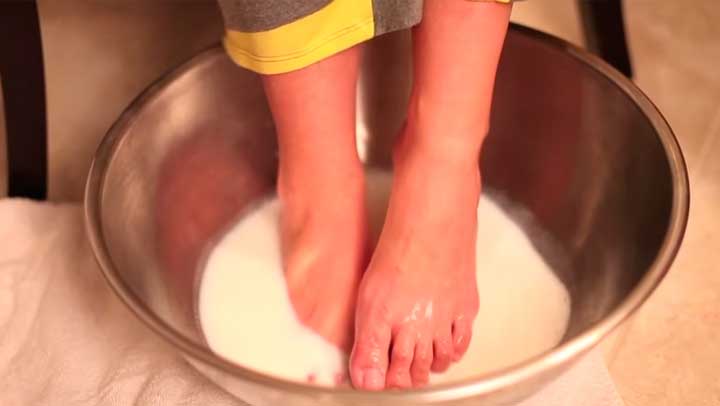 Now that you know all about the benefits of this interesting treatment, it's time to make it by following the steps below.
Generally, you should perform this treatment up to three times a week, but to treat dryness or calluses, it should be done daily until the condition improves and you obtain softer feet.
Ingredients
3 cups milk
3 tablespoons baking soda
Directions
First, warm the milk until comfortable for the feet, then pour into a tub and soak your feet for 5-10 minutes.
Now, add the baking soda and gently massage onto your feet.
If you like, you can try rubbing them with a pumice stone to help remove calluses.
Let them soak for another five minutes then remove any excess with a wet cloth.
Take a clean towel and thoroughly dry your feet.
We recommend doing it at night so that your feet are nice and fresh in the morning.
To complete this treatment, apply a little petroleum jelly to increase the moisturizing effect.
For best results
Use this foot bath several times a week, even if you don't have calluses or similar problems.
If you're worried about calluses, make sure your shoes fit well and are breathable. Tight shoes contribute to further deterioration of the feet.
Sprinkle a little cornstarch inside your shoes to absorb moisture and prevent fungi.
Remember to pay special attention to the nails as their hygiene is essential to prevent fungal infections.
Are your feet calloused and unsightly? Add this remedy to your beauty routine to improve their health and get softer feet in no time.