Try This Recipe for Chinese Rice with Chicken and Honey
Eating Chinese rice is already common in many countries. Both in restaurants and at home. For that reason, we encourage you to learn all about how to prepare delicious Chinese rice with chicken and honey.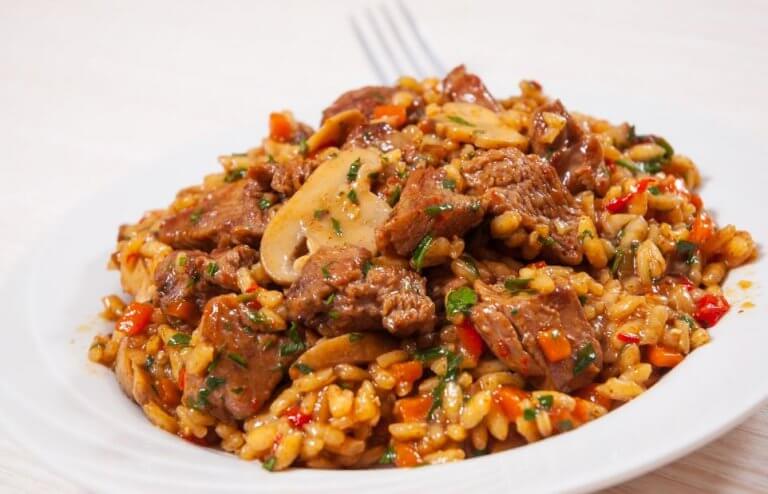 Given the historic success that this peculiar way to make rice has, the truth is that it's very difficult to find somewhere in the world where this dish is not eaten. We are referring, of course, to Chinese rice with chicken and honey.
You've probably tried it more than once and have said to yourself: "How yummy!"
So, as a tribute to Chinese gastronomy, we'll teach you some tricks for preparing delicious Chinese rice with chicken and honey.
Often, when you're hungry, you choose to solve the "problem" by going for fast food or by quieting your empty stomach by filling it with the first thing you can find, which, quite frankly, is not very healthy. S
That's why we encourage you to invest some of your time, even if it's just a bit, into taking care of yourself like you should.
This recipe for Chinese rice with chicken and honey will be very simple and easy for you.
You no longer will have to worry about going out and having to decide what and where to eat. You can make a delicious oriental dish at home. Take some time for yourself and learn about the most delicious recipes and, of course, the best ways to make them.
Remember, in the kitchen what makes the difference is the process and the attention that we give our dishes.
This is what will come to be the most important part of making dishes that will satisfy two important requirements: how good it tastes and how long it takes to cook it.
Let's take a look at one great option.
Learn how to make Chinese rice with chicken and honey
Before getting into the recipe, let's see what the sauce is like
First of all, this is very important that you don't forget: A large part of the flavor that Chinese rice with chicken and honey is known for comes from the sauce.
To make the perfect sauce, first you should combine the following ingredients: cornstarch, honey and soy sauce. Yes, the last ingredient can be found in almost any Asian dish.
Also, vinaigrette with vegetables and sesame oil is crucial.
However, let's not get ahead of ourselves, we are about to show you everything you will need and the steps. Remember, you just have to follow the directions well.
Ingredients
A cup of honey (110 ml)
1 tablespoon of cornstarch (25 g)
2 cups of wheat flour (200 g)
4 medium chicken breasts (500 g)
3 tablespoons of soy sauce (110 ml)
Three tablespoons of butter (100 g)
3 tablespoons of olive oil (110 ml)
1 tablespoon of sesame oil (35 ml)
1 finely chopped red pepper (15 g)
2 tablespoons of apple cider vinegar (90 ml)
Preparation
Start by finding a large saucepan, one that has enough space for all of the ingredients.
Once you have found it, cover it with olive oil and let it heat up.
Then, put the flour in a bowl and coat the chicken with it (previously cut into squares).
Once they're all well-coated, put them in the sauce pan until they are golden brown.
Take the chicken out of the pan and put it onto wax paper to absorb the excess oil.
Now, start with the salsa. Put the cornstarch into a medium bowl and add a little water. Put off to the side.
Again with the saucepan, mix the honey, soy sauce, apple cider vinegar, sesame oil and pepper and put them over a low flame. Keep stirring so that it mixes well.
Let it boil before you turn off the flame. Then, add the cornstarch mixture and stir until it is thick and has a nice texture.
Last comes the easiest step: put white rice with salt and a trickle of olive oil in a small pot. Make the rice as your normally would and, when it's done, turn off the flame and put the rice off to the side.
Add the rice to the large saucepan with the sauce and the vegetable oil. Put the flame at medium intensity and cook for about 15 minutes.
Now you have a delicious dish of Chinese rice with chicken and honey to enjoy!
It might interest you...