Try This Delicious Green Rice Recipe
Preparing rice is the same as having a blank canvas in terms of gastronomy. In this article, you will learn about a delicious green rice recipe.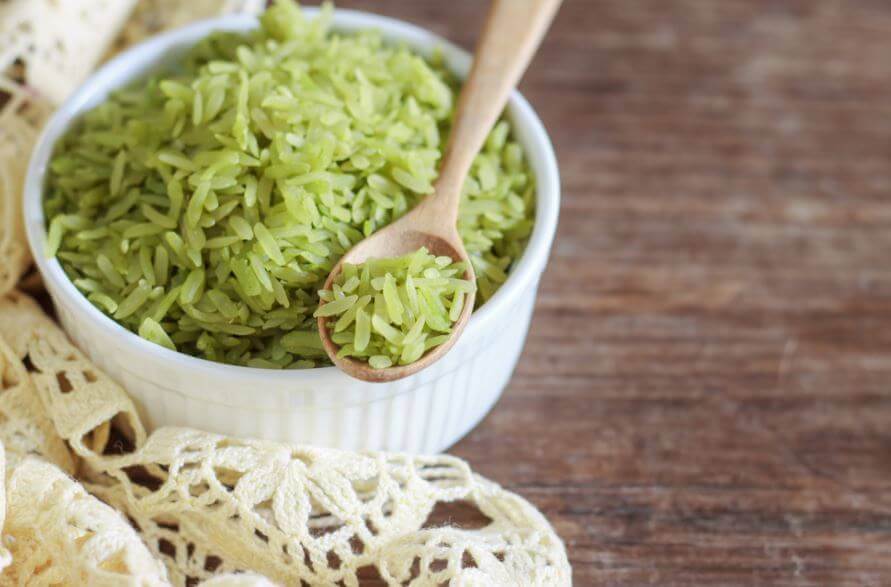 Whether you're a vegetable lover or not, this delicious green rice recipe is an amazing dish to try. Also, it includes a rather peculiar way of making this side dish, which can also be turned into a main meal.
It's very important to vary your meals and play with the different possibilities that you have when you're cooking and even more so with an ingredient that is simple and easy to change up like rice; whether it be white rice or wholegrain rice.
Your creativity will be very valuable when preparing this recipe.
Although green rice, in general, is made from vegetable soup, rice, spinach and a lot of cilantro, you don't have to make it that way. You can be innovative and use ingredients that add a lot of flavor. For example: parsley, garlic, truffle, mushrooms, onions and so on. The idea is that you adopt the basic elements of this recipe and then use your imagination.
In addition, as you go deeper into the recipe, you will discover that the smell it gives off is extremely delicious. The combination of the vegetables, the broth, the rice and everything well cooked is exquisite!
Find out for yourself!
Try something different with this delicious recipe and make it yourself. Remember, since this is a main dish, you can have other things as your side dishes. Soup, some salad, or even a good chicken would go really well with this recipe.
A step-by-step guide to preparing green rice
However, before we get started with the preparation, you should take into account some of the important nutritional information that make this type of food ideal for your diet.
Also, including spinach is not a minor detail. Keep in mind that this vegetable is a tremendous source of key elements for your body. Proteins, vitamins, fibers, phytonutrients. And that's not to mention the high mineral content it contains.
If you decide to give this recipe a go, you will provide your body with a lot of quality nutrients with every bite.
However, spinach is not the only ingredient worth mentioning, since coriander, garlic, leek, and onion are also important key elements.
This is a dish that will introduce new foods (and combinations) to you as well as provide the benefits of eating healthy. Easy preparation, high nutritional impact, delicious flavor and it yields a lot of portions. Below, we'll tell you how you can prepare it step by step.
Ingredients
1 tablespoon of salt (25 g)
4 cups of white rice (400 g)
3 and 1/2 cups of water (360 mL)

6 leaves of fresh

spinach

(25 g)

1 tablespoon garlic powder (25 g)
4 stock cubes (35 g)
3 tablespoons of ground coriander (75 g)
1 tablespoon of ground black pepper (25 g)
2 tablespoons of extra-virgin olive oil (50 mL)
Preparation
Before starting with this recipe,  you should put the white rice in a pot with warm water the day before. Soak the rice for at least 12 hours before. This will puff up the rice.
Once you've completed the first step, start preparing the vegetable broth. This is key.
To do this, you must use all the vegetables, chop them and put them in a pot with water.
Then, start seasoning to give flavor to your dish.
Use the salt, pepper, spinach, garlic powder and start stirring. Make sure you taste it so that you know if you need to add more salt or garlic.
At the same time, in a frying pan, pour a splash of oil over medium heat and add the rice. The goal is to change the color a little bit, not burn it. Be careful!
Put the broth mixture into the blender and mix for about a minute.
Then, put the broth into a pot with the rice for around 15 to 20 minutes and cover it tightly.
It's important that you don't open the pot too much, so that everything cooks nicely. To check if it's cooked, use a knife and insert it into the rice. If it's wet when you remove it, this means that it needs more time.
When ready, let it sit for 5 minutes and finally serve with other dishes. Enjoy your meal!
It might interest you...