Try this Delicious Figs in Syrup Recipe
Do you love fresh figs? Find out how to enjoy them all year round with this figs in syrup recipe. It's a real delicacy that anyone can make!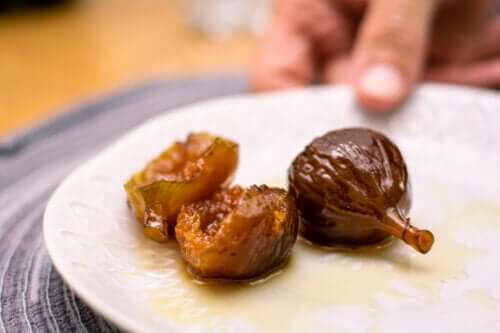 Summer brings with it one of the world's favorite fruits: figs have soft skin, a fleshy interior, and a delicate aroma. Plus, figs in syrup make for a delicious treat!
In this article, we're going to analyze the nutritional properties of this fruit and find out a way to conserve them for a long time. This way, you'll be able to enjoy figs even when they're out of season.
Figs in syrup last a long time
The fig is the fruit of the fig tree (Ficus carica), and is actually a range of different fruits: there are about 750 different types (green, purple, black, and many more), though not all of them are edible. They ripen between the end of July and November, so they're best in late summer.
When fruits or vegetables have short seasons or are very perishable, there are different ways to preserve them. One of the most common and traditional methods is in a syrup made with water and sugar. This ensures they keep all their flavor and color, and their original shape.
This type of preparation isn't complicated and doesn't require any special tools. You just need appropriate containers and about two hours of cooking time.
The result is amazing, creating a soft and sweet fruit. Give it a try and you won't regret it; you can use them to make or add to an endless number of dishes.
Figs in syrup go perfectly with both sweet and savory dishes. They're a great addition in salads, as a garnish for meat stews or to combine with a nice hard cheese. They can also be used to decorate ice cream desserts, cheesecakes, and yogurt.
Ingredients needed to prepare the recipe
You can vary the quantities according to how much of the preserve you want to cook. It's important to keep the same proportions of fruit, sugar, and water:
2 liters of water.
2.2 pounds of sugar.
2.2 pounds of fresh figs.
A little lemon zest.
Step-by-step instructions to prepare figs in syrup
First wash the figs well under a stream of cold water, being careful not to damage the skin.
Place them in a large pot, fill with water until they're covered, and boil for a few minutes until they release some of the sticky juice they contain. A little foam will appear on the surface of the water.
Remove the figs with a skimmer and set them aside. When they cool down a little, prick them with a needle so that the syrup can penetrate well.
Next, pour the 2 liters of water together with the sugar and the lemon peel into a large thick-bottomed saucepan. Carefully add the figs.
Cook for 2 hours over low heat until the figs are transparent and the syrup is thick. The time is approximate; make sure you check on them from time to time.
Pack the figs into sterilized jars, filling them to about three-quarters of an inch below the top. Close and allow to cool before storing in a cool, dark place. They'll last a few months if stored in the right conditions. Don't forget to write the production date on the jars.
The lemon zest adds a little flavor to the preserve. If you prefer, you can add other ingredients and spices, such as cloves, cinnamon, cardamom, or orange peel.
The properties of figs
People have enjoyed this fruit since ancient times. They first grew in the Near East, from there they traveled to Europe, and today they're known and eaten all over the world.
Eaten fresh, figs are light and at the same time very nutritious. For this reason they're recommended as part of a healthy diet.
Firstly, they're a great source of fiber: about 0.1 ounces per 3.5 ounces of fruit. Over the past few years there have been more and more scientific studies on the positive effects of dietary fiber in the body.
In addition, there's evidence that figs provide protection against some intestinal problems (irritable bowel syndrome and diverticula) and relieve constipation. They help control body weight and reduce the risk of heart disease and type 2 diabetes in the long term.
Moreover, this fruit has healthy quantities of calcium and magnesium. These two minerals are among the most recommended during childhood for optimal bone development.
Magnesium also plays a special role in the nervous system, and in the regulation of blood sugar levels, blood pressure and muscles. It can have a positive effect in cases of high blood pressure, osteoporosis and migraines.
However, though the health properties of figs are numerous, it's important to remember that the syrup adds a very large amount of sugar. This means that the preserve should be consumed in moderation, as a garnish or accompaniment to some desserts or on special occasions.
Some useful tips for safe and delicious figs in syrup
There's no secret to preparing good figs in syrup; anyone can do it. Follow all the steps, pay attention to these few extra tips, and success is guaranteed.
To begin with, you can use any variety of fig–choose your favorite–as long as they're ripe and firm. This is important to preserve the flavor and sweetness of the ripe fruit, and ensure they don't break during cooking.
It's essential to observe basic hygienic measures, during both preparation and storing. The jars have to be sterilized and you need to stick to the stated cooking and maximum storage times.
The National Center for Home Food Preservation teaches the steps necessary for correct sterilization. You should put your clean and dry jars in a pot with enough water to cover them completely. Then, bring the water to a boil and let it simmer for 10 minutes.
Finally, reduce the heat and leave the jars in the pot until it is time to fill them with your preserve. Be sure to close tightly with screw caps and store them once they've cooled down.
To properly enjoy your figs in syrup, and any other type of homemade preserve, you should eat them within one year. If you follow all the steps, they'll keep all their flavor and aroma for that long.
If you like the result remember that you can make preserves from many types of fruit and vegetables. Not only for yourself; they also make great gifts for close friends and relatives.
It might interest you...