Try These Two Chocolate Cake Recipes
Chocolate cake will always be everyone's favorite, especially for children. Get ready to prepare these recipes that we suggest in the article below.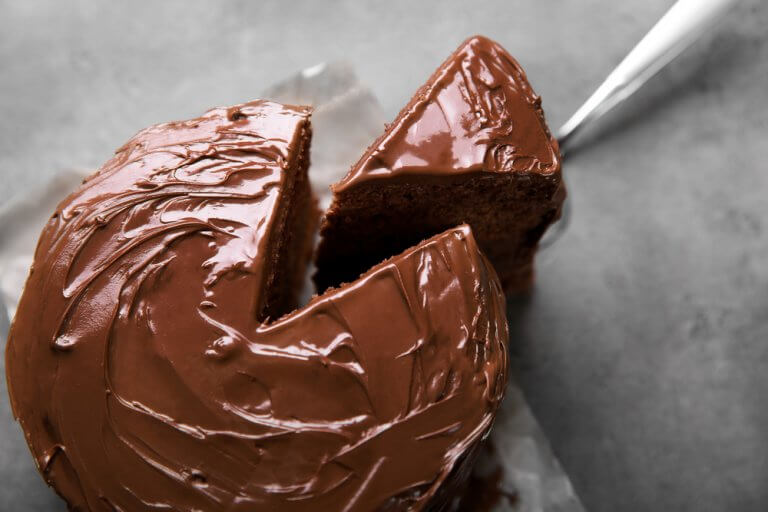 Making a chocolate cake is very easy and takes less time than you'd imagine, so anyone can try it out. This has led to the existence of many versions of this delicious dessert that's so popular.
Chocolate cake is usually the favorite of sweet lovers and also of the youngest members of the family, mainly for its flavor and aroma, but also for its consistency and texture.
The chocolate cake recipes that we present below emphasize the best chocolate flavor, so that a cake is very spongy. Professionals recommend preparing it at least 12 to 14 hours before serving.
Homemade Chocolate Cake Recipe
This recipe is more traditional, so you can prepare it when you don't want to experiment too much or when you have a guest who doesn't like trying new flavors.  You can use this recipe as a basis to prepare many other recipes.
For example, you can fill a cake with fruit or create a layer of pineapple with pieces of peanuts.
Ingredients
For the cake
Caramel.
3 cups of flour (540 g).
1 cup of oil (200 ml).
3 medium-size eggs (180 g).
1/2 teaspoon of salt (2.5 g).
1 cup of powdered cocoa (100 g).
3 tablespoons of baking powder (12 g).
2 cups of boiling water (480 ml).
For the frosting
1/4 cup of butter (50 g).
1/4 cup of water (50 ml).
1 tablespoon of cocoa powder (10 g).
Cake preparation
Preheat the oven to 180 ºC while preparing all the ingredients.
Put the dry ingredients in a bowl. That is, the flour, chocolate, sugar, baking powder and salt.
Make a hole in the center and add the oil and the eggs. Bit by bit stir with a wooden spoon.
When the batter needs more liquid, add boiling water until it has a fluid and uniform consistency. Don't worry if you don't use all the water.
Line the pan with butter and then dust with flour so the cake doesn't stick. Bake in the oven on moderate heat.
After 45 minutes, test with a toothpick, if it comes out clean, it's done.
Remove the cake from the pan and fill with the caramel and add the chocolate frosting.
Frosting preparation
Place all ingredients in a bowl.
Stir while cooking in a bain-marie.
Once mixed, take off the stove and let cool for 5 minutes at room temperature.
Carefully spread it over the cake.
If you want, decorate with dried fruit (pieces or whole), strawberries or other berries, caramel, homemade jam or whatever you have at hand and you like.
Chocolate cake with lemon
This chocolate cake recipe can be prepared with a base of chocolate cookies (for this you can use filled cookies processed with melted butter), and a filling of lemon custard, perfect to make a contrast between bitter and sweet.
Ingredients
For the lemon custard
1 small lemon (20 g).
zest from 1 lemon (20 g).
For the base
1 ½ cups of melted butter (150 g).
2 ½ packs of chocolate cookies (250 g).
Preparation
Mix the chocolate cookies with the melted butter and place in a mold. Put in the refrigerator.
Moisten the gelatin with the lemon juice for a few minutes.
Heat this juice in the microwave for 30 seconds and stir well. Mix with half of the condensed milk can.
Place the cream in a bowl and beat until it forms stiff peaks.
Add the lemon juice mix, the condensed milk, and the lemon zest, stirring well.
Pour the lemon cream over the processed cookie base. Over this, place a layer of chocolate cookies.
To prepare the chocolate cream, mix and beat together the ingredients. Pour over the layer of cookies.
Put the cake in the refrigerator and allow to sit for 3 hours.
Enjoy your delicious chocolate cake.
Regardless of which of the chocolate cake recipes you choose, try to maintain a balance between the amount of ingredients with added sugar (such as caramel, chocolate for toppings, etc.) and the sugar you're going to add to the base mixtures. If this isn't taken into account, the result can be overly sweet, as well as unhealthy.
As you've seen, this delicious dessert can be prepared in several variations, so take a look at several recipes and choose your favorite!
It might interest you...