Try These Easy Vegetarian Snack Ideas
Today we'd like to show you a few simple snack ideas you can take along anywhere. All of them are healthy homemade options.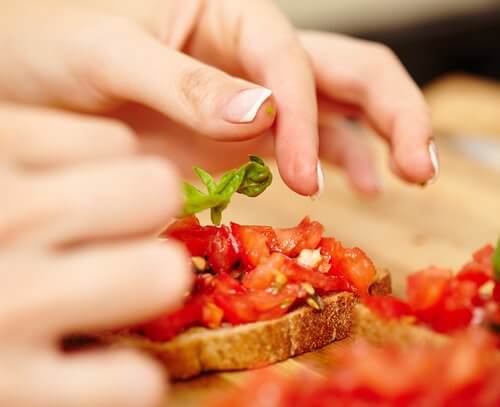 Today, we'd like to give you some healthy snack ideas.
Do you ever crave wholesome meals and wish you could eat something other than the junk food sold in the vending machines at your place of employment?
However, due to lack of time or imagination, you most likely just grab the first thing you find, often ignoring how it may not be the best choice for your health. This is possibly one of the main reasons you're not losing that weight you're so concerned about.
With that in mind, here are six healthy recipes for snacks you'll love that you can easily make and take with you.
Simple Snack Ideas
1. Grilled Veggie Sandwich
You can use any type of bread for this recipe, although we suggest you toast it for a better culinary experience.
Ingredients
1 slice of cheese
2 tbsp cream cheese
4 slices of tomato
8 slices of cucumber
Sprouts
Salt and pepper
Preparation
Firstly, toast the bread.
Then, spread the cream cheese on it. You can substitute cream cheese for mustard, or just add mustard to the cream cheese.
Additionally, add the slice of cheese and the cucumbers and tomatoes.
Then, top it with the wheat germ and/or soybean sprouts.
Finally, toast it. Enjoy!
2. Snack Ideas: Broccoli Chips
This is another highly nutritious vegetable that you must include in your collection of healthy snacks. You may not know it, but broccoli is a great source of calcium, vitamin C, magnesium, fiber, and potassium.
Ingredients
1 head of broccoli, divided into small stalks
2 tbsp extra virgin olive oil
Sea salt to your taste
Preparation
First, preheat oven to 450 °F.
Then, place the broccoli in a large bowl and drizzle with the olive oil. Add salt and pepper and then toss.
At this point, transfer the broccoli onto a baking pan and arrange it in one layer.
Finally, bake it for about 15 minutes or until the broccoli is crispy and crunchy. However, be careful not to burn it.
Then, take it out of the oven, flip the layer and bake for at least 10 more minutes.
3. Hummus and Vegetable Sandwich
This sandwich is a particularly wholesome recipe that you can make in just a few minutes. Further, you can make the hummus ahead of time and have it ready to go in your fridge.
Ingredients
2 slices of whole grain bread from your local bakery
6 slices of cucumber
1/2 an avocado
1/2 a grated carrot, medium size
6 slices of tomato
Alfalfa, bean sprouts and/or radishes
Salt and pepper
Preparation
First, toast the bread and spread hummus on both sides.
Then, top it with the vegetables.
Finally, season it to taste.
4. Snack Ideas: Baked Cornballs
These cornballs are great snack ideas to have at any time of the day and you can eat them cold or hot.
Ingredients
2 ears of corn, cooked
1/2 an onion, chopped
1 tbsp garlic, chopped
1/2 a bell pepper, chopped
1 tbsp of cilantro, chopped
1 egg, beaten
1/4 c. of flour
Salt, pepper, and oil
Preparation
First, preheat the oven to 400 °F.
Then, remove the kernels off the corn cob and mix them in a bowl with the onion, garlic, pepper, cilantro, and onion.
At this point, add the egg and the flour, and season to taste.
Then, make 1-2″ balls with this mix and arrange them in a baking sheet.
Bake for about 15-20 minutes and then flip them around and bake them for at least 10 more minutes or until crispy.
5. Mango Grilled Cheese Quesadilla
Ingredients
Flour tortillas
Pepper Jack cheese, sliced
1 roasted pepper, sliced
1 mango, diced
1/4 purple onion
Cilantro to taste
Preparation
First, heat up a pan on medium heat.
Then, arrange a few slices of cheese on a tortilla into a single layer.
Add the mango, the ​​red onion, and the cilantro.
Then, top it with another tortilla (like a sandwich).
Finally, place it on the pan and keep it there until the cheese begins to melt. Then, flip it and keep it in the heat for a minute or two.
Enjoy!
6. Baked Vegetables with Cream Cheese
Ingredients
2 medium-large potatoes, cubed
1 sweet potato, cubed
3  medium carrots, cubed or sliced
A grilled bell pepper, sliced
Feta cheese
Garlic to taste
Extra virgin olive oil
Lemon zest
Salt and pepper to taste
Parsley, for garnish
Preparation
First, preheat the oven to 375 °F.
Then, place the vegetables on a baking sheet, arranging them as a single layer.
Next, mix the feta cheese with the garlic, oil, and lemon and then add it to the vegetables.
Finally, bake it for about 15 minutes or until the vegetables are tender.
It might interest you...