Try These Delicious Fish Fillet Recipes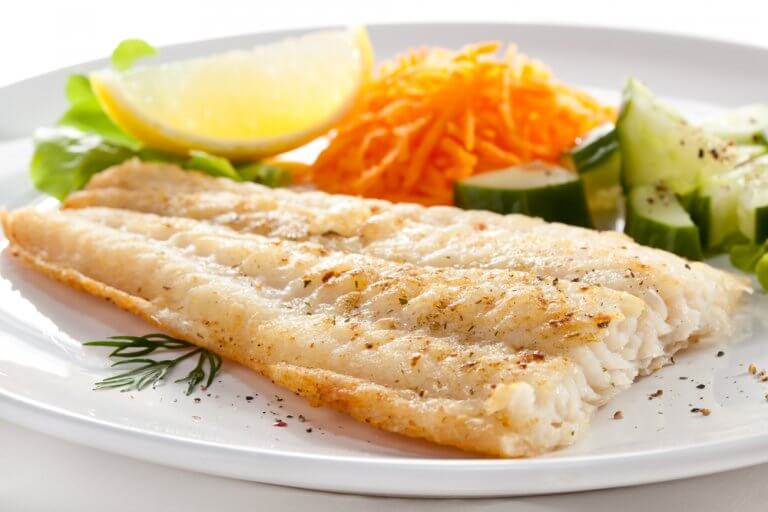 In this article we'll share a few delicious fish fillet recipes for you to make at home. They will delight everyone, so go ahead and try one today!
To eat a truly balanced diet, you should include at least one serving of fish per week. That's why we want to share these tasty fish fillet recipes with you. You'll love them: they're easy to make and simply delectable.
Fish and other seafood can give your body a break from red meat. Although meat is good, it can be too heavy to eat daily. White meat and fish, on the other hand, are more easily digested and still satisfying.
This recipe is a good choice for either lunch or dinner. Remember that eating seafood is very good for you. In this case, fish is rich in vitamins and essential minerals: fatty acids, unsaturated fats, omega 3, zinc, phosphorous and selenium. In fact, it's especially good for your circulatory system, LDL cholesterol, and immune system.
1. Fried fish fillet
In culinary arts, a fillet is a slice of a type of meat, whether red or white meat, or fish. When it comes to fish, the cut goes lengthwise, which means from tail to head.
Ingredients
•  1 Medium egg
•  3 Teaspoons of salt
•  1/2 cup of flour
•  Juice of 3 large lemons
•  1 Teaspoon of black pepper
Directions
•  Fillet the fish. This means you will have to cut it in half from head to tail, remembering to take out the entrails and leave the gills.
•  Marinate the fish in a bowl with the lemon juice and salt for 30 minutes. Store in the refrigerator.
•  Beat the egg in a large bowl and put the cup of flour on a plate.
•   After marinating the fillets, dip them in the egg and then dredge them in the flour.
•   Fry the fillets in a skillet with olive oil until they are golden on both sides.
•   Let them cool and serve with tomatoes or fries.
2. Steamed fish fillet
Steaming is a cooking method often used to cook vegetables and meats to keep them juicy and fibrous.
Ingredients
•  2 Teaspoons of salt
•  1 Teaspoon of oregano
•  1 Onion, chopped
•  3 tomatoes cut into cubes
•  5 Tablespoons of chopped cilantro
•  4 Fish fillets
•  4 Cloves of crushed garlic
•  1 Teaspoon of black pepper
•  3 Tablespoons of olive oil
•  1/2 Cups of fish broth
•  5 Tablespoons of pepper cream
Directions
•  Season the fillets with salt, garlic, and pepper and let them absorb the flavor.
•  Fry the onion and tomatoes together with the pepper cream for 5 minutes.
•  Remove from heat and add the cilantro and oregano. Spread this sauce over the fillets and steam in a pan on medium heat with the fish broth, covered.
•  Don't allow the fish to get dry. Add a little bit of water if necessary and cook about 10 minutes.
•   Serve with fries or a salad. Another good side dish is jasmine rice, aromatic and delicious.
It might interest you...