Try these 5 Home Remedies to Help Lubricate your Intimate Zone
Did you know that it's possible to use natural lubricants to lubricate your intimate zone? Learn more about all of the options in this article.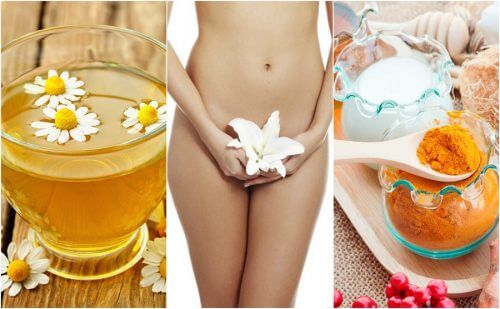 Even though remedies can help you keep your intimate zone moist, it would also be advisable to consult a gynecologist.  This way you can be sure that the lack of lubrication is not related to a problem of care.  Loss of natural lubrication in the intimate area tends to be due to hormonal changes, and almost always the decrease of estrogen levels.
This produces a change in the natural PH of the microbial flora.  This is a group of healthy bacteria that protect the area against viral attacks, yeast infections and bacteria.A
When this happens, the delicate skin tends to become irritated and symptoms like vaginal itching, bad odors, and pain during sexual relations occurs.
The most worrisome is that there is a tendency towards infection.  Due to the symptoms, this affects the sexual relations.
Because of this,  it is very important to seek treatment,.   We will be choosing ingredients with lubricating properties that are appropriate to use in this part of the body.
In this article we would like to share 5 natural options ideal to alleviate this problem without having to spend a lot of money.
1.Aloe vera and tea tree oil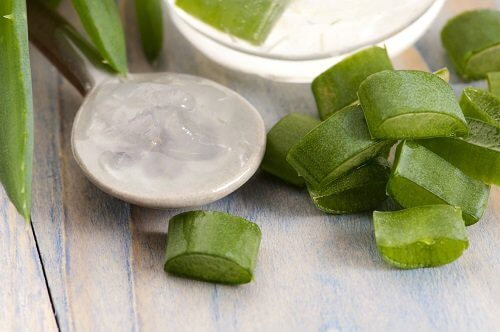 Aloe vera gel combined with a bit of tea tree oil is a 100 %  natural oil, ideal to humidify and protect the intimate area.
Its antibacterial and anti fungal properties slow down the growth of infectious microorganisms, avoiding the change in the PH level of the vagina.
Ingredients
3 tablespoons of aloe vera
5 drops of tea tree oil
Preparation
Put the aloe vera gel in a container and mix with the tea tree oil
Way to use
Rub this on the external areas of the vagina and if necessary repeat twice a day
Also read:  Aloe vera masks for every type of skin
2. Camomile infusion
Using a camomile infusion in this area can counteract the loss of fluids that can itching and irritation.
This plant has anti-inflammatory and antibacterial properties that alleviate the area without changing the natural flora.
Ingredients
3 tablespoons of loose camomile tea
2 cups of water
Preparation
Put the tea in the boiling water,  cover and wait for it to brew for 20 minutes
Then strain the liquid in a colander and drink it.
Way to apply
Use this infusion to wash the vaginal area 2 or 3 times a day.
Repeat every day.
Turmeric milk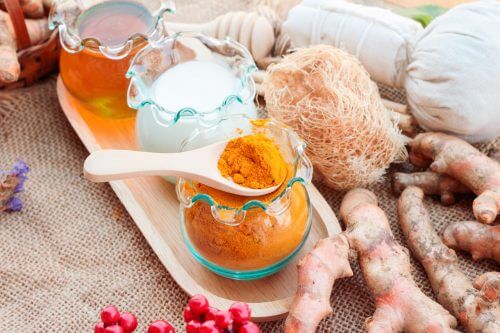 The mix of turmeric and milk provides a remedy with antibiotic and lubricating properties.   Also, these properties are ideal to protect this area against infections.
Also, its compounds calm inflammation and increase the production of natural fluids.
Ingredients
1 tablespoon of turmeric
6 tablespoons of milk
Preparation
Mix the ingredients in a container until it becomes a paste.
Way to apply
Rub the paste over the external area of the vagina leave it on for 15 minutes
Then Rinse and repeat its use at least 3 times a week.
4. Fenogreek seed tea
The seeds of fenogreek contain fatty acids and antioxidants.  Together they promote natural moistness in the intimate area.
These stimulate the activity of the healthy bacteria and prevent infections.
Ingredients
1 tablespoon of fenogreek seeds
1 cup of water
Preparation
Put the fenogreek seeds in a pan of boiling water and allow to boil for 5 minutes
Next, Let them sit until the water reaches a temperature which can be used.
Way to apply
Wash the external areas of the vagina with the tea
Use everyday to reestablish the PH.
5. Marigold infusion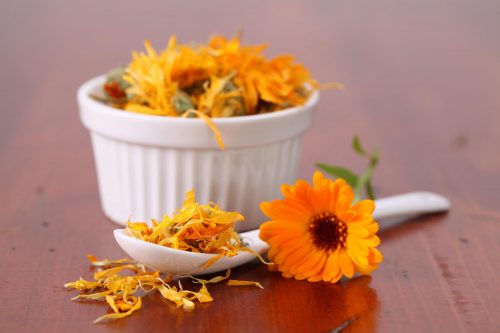 Marigolds contain anti inflammatory and antiseptic qualities that help to prevent the infections in the vagina.
Its preparation in a tea provides a lubricant.  When applied, it stimulates the productions of healthy fluids, regulating the PH.
Ingredients
4 tablespoons of marigold
2 cups of water
Preparation
Heat the water and at the boiling point, take it off the stove and add the marigold.
Let the infusion brew for 2 hours or put in the refrigerator to cool.
Way to apply
Use with a sitz bath or apply in a bath.
Use daily.
Do you have dryness and irritation in you intimate area?  If you are having problems producing natural fluids, try these remedies to counteract the symptoms.
In addition,  for optimum results, complement their use with the consumption of water and healthy foods.