5 Natural Lubricants for Your Intimate Zone
Even though natural lubricants can help you with vaginal dryness, you should also consult a gynecologist to make sure its not a sign of something more serious.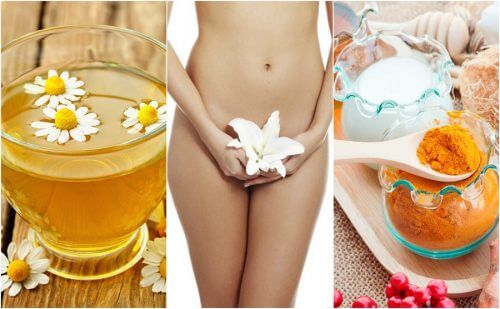 Vaginal dryness is often caused by hormonal changes. Most of the time its the result of a drop in estrogen levels.
As a result, the natural pH of your microbial flora changes. The flora is a group of healthy bacteria that protect the area against viral attacks, yeast infections, and bacteria.
When this happens, the delicate skin tends to become irritated and symptoms like vaginal itching, foul odors, and pain during sex occur.
Most troubling is that it can often lead to infection, which tends to affect sexual relations.
As such,  it's crucial to treat the problem, choosing ingredients with lubricating properties that are appropriate to use in this area.
In this article, we'll share 4 natural options to relieve this problem without having to spend a lot of money.
That being said, you shouldn't use anything in your vaginal area without a doctor's approval. You might cause irritation or make the problem worse.
1.Aloe vera and tea tree oil
A study from the Grand Medical College of India suggests that aloe vera gel has hydrating, calming, and healing properties. People often cite the many therapeutic benefits of tea tree oil, but we don't recommend it because a study from the Navarra Hospital Complex found that it can cause allergic reactions.
Ingredients
Preparation
Firstly, put the aloe vera gel in a container. Then, mix in the tea tree oil.
Using it
Rub this on the external areas of your vagina and repeat twice a day if needed.
2. Chamomile tea
A study from the National Children's Hospital in Costa Rica found that chamomile has anti-inflammatory and anti-bacterial properties. Consequently, it can help relieve symptoms related to vulvovaginitis. That being said, you should still talk to your doctor before trying it.
Ingredients
3 tablespoons of loose chamomile tea (15 g).
2 cups of water (500 ml).
Preparation
Firstly, put the tea in the boiling water, cover it, and let it brew for 20 minutes.
Then, strain the liquid in a colander.
Using it
Use this infusion to wash the vaginal area 2 or 3 times a day.
Repeat every day.
4. Fenugreek seed tea
The seeds of fenugreek contain fatty acids and antioxidants. Some studies recommend them for women with dysmenorrhea because they can relieve pain associated with the condition.
This tea can help stimulate the activity of healthy bacteria and prevent infections.
Ingredients
1 tablespoon of fenugreek seeds
1 cup of water
Preparation
Firstly, put the fenugreek seeds in a pan of boiling water and allow to boil for 5 minutes.
Then, let them sit until the water cools down enough so you can use it.
Using it
Firstly, wash the external areas of the vagina with the tea.
Use every day to re-establish the pH.
5. Calendula infusion
A study from Parana University (Brazil) found that calendula flowers contain anti-inflammatory and antiseptic qualities that help to prevent vaginal infections.
However, before trying this remedy, make sure to talk to your doctor.
Ingredients
4 tablespoons of calendula
2 cups of water
Preparation
Firstly, bring the water to a boil. Then, remove from heat and add the calendula.
Finally, let the infusion brew for 2 hours or put in the refrigerator to cool.
Using it
Add some to a sitz bath or apply while bathing.
You can use this mixture daily.
In closing, do you experience vaginal dryness and irritation? If you're having problems, try these natural lubricants to help fight the symptoms.
Lastly, for the best results, drink plenty of water and eat healthy foods. Remember that the first step is to talk to a specialist.
It might interest you...