Trim your tummy with these fruit shakes
You must abandon your sedentary lifestyle and improve your habits in order to trim your tummy. The following drinks can help you set aside carbonated drinks and other commercial beverages.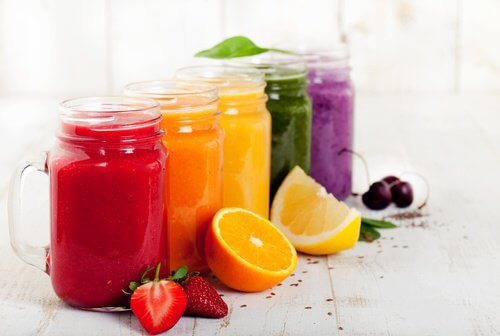 The accumulated fat in your belly area isn't only due to a poor diet, but also to a sedentary lifestyle. And, there may also be some health problems. So, to trim your tummy you must start improving your habits and adopting a healthy lifestyle that'll provide you with long-term well-being.
Trim your tummy with these fruit shakes
The following drinks are an option to leave industrial drinks aside as they're loaded with sugar and salt. This is so you can begin to improve your eating habits and lose weight while you're at it.
Note that they're not a meal replacement but only a complement to a balanced diet.
Papaya-flaxseed-oats-honey shake
Papaya is a tasty fruit that can help trim your belly (it'll deflate it). When mixed with oatmeal and flaxseed, it also acts as a regulator of intestinal transit, helping your bowel movements.
Ingredients
2 c. of water
1 c. of papaya, chopped
2 tbsp of oatmeal
1 tsp of honey (optional)
1 tbsp of flaxseed or linseed
Preparation
Firstly, cube the papaya and add it to the blender.
Then, toss in the seeds, oats, and honey and then add the water.
Blend to a homogeneous mixture.
Finally, drink it immediately together with your breakfast or dinner.
Pineapple-ginger-coconut-oat shake
This shake will help you start the day with lots of energy and complement your diet in a healthy manner.
Ingredients
2 tbsp of oats
2 tbsp of ground coconut
1/4 tsp of ground ginger
Preparation
All you need to do is blend all of the ingredients together for a few minutes until you get a smooth, creamy beverage.
Drink it immediately with your breakfast or dinner.
Pineapple-celery shake
Due to the high water content of its ingredients, this shake won't just hydrate you but will also help you pee and relieve fluid retention.
Ingredients
5 stalks of celery
3 slices of pineapple
2 c. of water
Preparation
Firstly, chop the celery.
Then, add everything to your blender and process it well.
Drink it immediately.
Pineapple-aloe vera-honey shake
A different but tasty alternative is this mixture of pineapple, aloe, and honey.
Note: consume it in moderation because aloe has laxative effects that can lead to discomforts such as diarrhea and stomach pain if you drink too much of it.
Ingredients
A stalk of an aloe plant
1 c. of pineapple juice
1/2 tsp of honey
Preparation
Firstly, cut the stalk of aloe lengthwise and scrape out the gel.
Add the aloe gel to your blender with freshly squeezed pineapple juice (you can substitute slices of pineapple for the juice if you prefer) and the honey. 
Blend it well.
Finally, drink it immediately.
Blueberry-yogurt shake
This shake is creamy, refreshing and sweet, it's a great complement to your breakfast or as a snack after training.
Ingredients
A handful of blueberries
1 c. of plain yogurt 
1/2 glass of milk
Ice
Preparation
Firstly, wash the berries thoroughly and cut them in half if you wish.
Then, add them to your blender with the yogurt and milk.
Finally, add the ice cubes if you're going to consume it during summer. Skip this ingredient otherwise.
Trim your tummy with a pineapple-orange shake
This shake is rich in fruit and so it's perfect for drinking after your workouts when you need to refresh. You'll need the following to make it:
Ingredients
1 banana
Pineapple to your taste
A handful of strawberries
The juice of one orange
1 tbsp of vanilla (optional)
Preparation
Firstly, squeeze the juice from the oranges.
Then, cube the pineapple, strawberries, and banana.
Blend it all and drink it immediately.
Finally, add another half a banana if you'd like a thicker mixture.
Final recommendations on how to trim your tummy
Don't add sugar or any other sweeteners to these drinks as doing so could exceed the recommended daily intake. This, according to the guidelines of the World Health Organization. Also, keep in mind that most fruits are already sweet.
To lose weight, it isn't necessary to deprive yourself of anything. You mainly need to maintain healthy life habits.
It might interest you...