Treat a Hyperactive Bladder by Putting these 5 Tips into Practice
A balanced diet rich in fruits and vegetables that minimizes your intake of  fat and calories can help to eliminate inflammatory problems that influence a hyperactive bladder. Learn more in this article!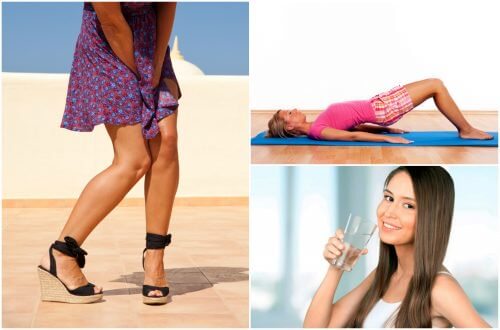 A hyperactive bladder is a problem that produces involuntary contractions in this organ.
It's a fairly embarrassing illness, not only because it makes you have to urinate constantly, but also because it can cause urine leakage and incontinence.
It's principle causes are excessive indigestion of liquids and stress. However, it can also occur because of a nervous imbalance, neurological problems, and debilitation of the pelvic floor.
It can appear in different forms in different people, so it's necessary that everyone pays attention to it so that it does not become a more chronic issue.
This is because, when you don't take care of it right away, you can lose control over your bladder and, in the future, develop severe incontinence.
Fortunately, there are various habits and treatments that can help control this problem naturally before having to turn to more drastic measures.
As we continue, we will share 5 great tips that you should try when dealing with this problem.
Find out what they are!
1. Strengthen your pelvic muscles
Regular exercise to strengthen the pelvic area is one of the most effective methods for alleviating a hyperactive bladder.
These exercises make the muscles around the bladder stronger. Thus, they decrease the debilitation that causes an overactive bladder.
In fact, exercises are great as a method of prevention for urinary incontinence and, with time, can also improve sexual performance.
Recommendations
Dedicate 10-15 minutes each day to popular Kegal exercises.
Include these exercises as well as postures like bridges and planks in your routine.
Try to contract and relax the bladder muscles during training.
2. Improve your diet
Although it may seem that it has nothing to do with it, diet is one of the most important pillars for the control of this issue.
A diet with a controlled amount of fats and calories helps to eliminate inflammatory imbalances. These may be worsening the problem for no obvious reason.
Also, it's necessary to limit your consumption of some foods that can increase the weakening of the bladder.
Recommendations
Increase your consumption of fruits and vegetables rich in antioxidants.
Reduce consumption of citric juices.
Decrease consumption of coffee and caffeinated drinks.
Avoid processed foods and sweets.
Avoid alcoholic and carbonated drinks
Limit dairy products.
3. Watch how much liquid you're drinking
We've always been told to drink between 6 and 8 glasses of water each day to stay hydrated and healthy.
However, those who suffer from this condition are an exception. After all, too much liquid in the body can make this problem more difficult to control.
Of course, we're not saying that you should get rid of water altogether. However, what you should do is reduce how much you're drinking while simultaneously strengthening the bladder in order to re-establish its functions.
Recommendations
Avoid drinking too much water and natural drinks.
Try to hydrate yourself when you're home or somewhere you can easily access the bathroom when you need it.
4. Schedule your visits to the bathroom
Holding your bladder is uncomfortable. Plus, it can be harmful to those who have completely normal urination habits.
However, in patients that have hyperactive bladders, it can be a type of training. It lets you control the desire to constantly urinate.
By scheduling your visits to the bathroom, you are enduring a little discomfort so that the bladder becomes accustomed to the schedule. 
This gives you more control over your bladder. At the same time, it eliminates problems with spasms when there isn't any liquid to get rid of.
Recommendations
Once you feel like you need to use the bathroom, try to wait 3-5 minutes before going.
After a few times of waiting this amount of time, try to increase the length of time little by little until you're able to reduce the number of times you use the bathroom.
5. Quit smoking
Patients with a hyperactive bladder who also have the bad habit of smoking should know that it's necessary to eliminate tobacco to alleviate this issue.
The toxins in cigarettes weaken your muscles and are responsible for inflammation and recurring spasms.
They effect every system in the body. Because of that, they also affect your bladder health.
Recommendations
Make the decision to quit smoking as soon as possible.
Decrease the amount you smoke little by little until you can control the anxiousness to smoke.
Consume teas and healthy foods to decrease symptoms of withdrawal.
Do you have a hyperactive bladder? If you have already been diagnosed or are suspicious that you suffer from this issue, put these tips into practice and start to control it from your home.
You should also regularly see your doctor to check the health of this organ.