Tighten The Skin on Your Face with These 5 Natural Treatments
Exposure to sun and toxins as well as bad lifestyle habits can all lead to premature wrinkles and loose skin. Learn how to treat it naturally in this article!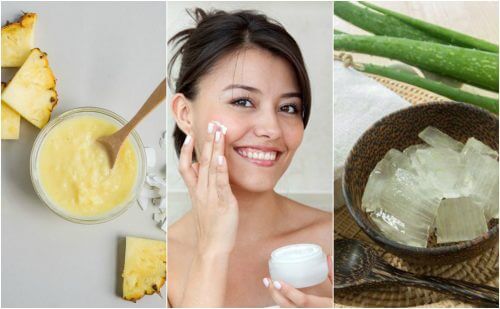 Being constantly exposed to the sun and toxins are factors that directly influence the loss of elasticity and firmness of our skin. So is practicing bad habits.
While this occurs as part of the natural process of aging, it sometimes happens prematurely because of the lack of care we give our skin.
Despite the warnings we get, a lot of us still unaware that we should give our face a wide variety of treatments to keep it looking young and healthy.
The problem is that cosmetic products tend to be expensive. However, there are options that are completely natural which, for a low cost, tighten and rejuvenate the skin.
In this article, we want to share 5 interesting recipes to pamper your skin with without spending too much money.
Try them!
1. Egg and cucumber treatment
The combination of egg and cucumber allows us to make a mask with firming and anti-inflammatory properties. This can help
reduce sagging and premature wrinkles.
Its ingredients help control excess fat production and remove impurities that cause acne and blemishes.
Ingredients
Method
Add the egg white in the blender with half a full cucumber.
Then, blend them until you get a creamy and smooth paste.
Application
Rub the product on the areas you want to treat and leave it on for 30 to 40 minutes.
Rinse with warm water and use it at least 3 times a week.
2. Egg and pineapple treatment
In this treatment, the enzymes and antioxidants found in pineapples are combined with the essential amino acids eggs contribute. This provide a treatment against sagging and signs of aging.
Its properties tone the dermal tissue and create a protective barrier against sun damage and toxins.
Ingredients
1 egg white
2 slices of pineapple
Method
Beat the egg white and put it in the blender with the pineapple slices. Then, blend.
Make sure you get a thick and smooth paste.
Application
Take the amount as much of mixture as you need and apply it all over your face.
Let it on for 30 minutes, and rinse.
Use it 2 or 3 times a week.
3. Carrot and honey treatment
A homemade mask made with carrots and honey
provides the skin with a boost of essential nutrients that help keep it young and hydrated.
Both ingredients tighten the skin and increase the production of collagen and elastin.
Ingredients
1 ripe carrot
3 tablespoons honey (75 g)
Method
Cut the carrot into several pieces and boil them in water until it's soft.
Then, crush the carrot pieces with the help of a fork.
After this, mix them with the honey until you get a creamy paste.
Application
Rub the treatment all over your skin and leave it on for 20 to 30 minutes.
Rinse and use 3 it times a week.
4. Strawberry and rose water treatment
This simple treatment combines the nutrients found in strawberries and the toning power of the rose water. The result is an anti-aging product that contributes to cleaning and reaffirming the skin of the face.
Regularly using it decreases the appearance of acne, blemishes and other common imperfections.
Ingredients
6 ripe strawberries
4 tablespoons of rose water (40 ml)
Method
Add the ingredients to the blender and blend them until you get a smooth product.
Application
Rub the mask all over your face and leave it on for 30 minutes.
Rinse and use it 2 or 3 times a week.
Read: How to prepare a natural parsley soap to reduce facial blemishes
5. Aloe vera and yogurt treatment
A homemade aloe vera gel and yogurt treatment helps to
tone and
tighten the skin as well as diminish the appearance of premature wrinkles.
Applying it controls the excessive production of fat, dryness and common symptoms of some skin allergies.
Ingredients
2 tablespoons aloe vera gel (30 g)
6 tablespoons plain yogurt (108 g)
Method
Put the ingredients in the blender and process blend them, obtaining a homogeneous cream.
Application
Apply the treatment to the desired areas and leave it on for 20 to 30 minutes.
Rinse and use it every night.
Ready to improve the appearance of your skin? If you're worried about wrinkles and sagging, choose any of these treatments and incorporate it into your usual beauty routine.