Three Ways to Do a Nasal Wash on a Child
When you inhale, allergenic particles go into your nose and they can trigger an asthmatic crisis, among other things. That's why it's very important that you know the correct way to do a nasal wash, especially in children.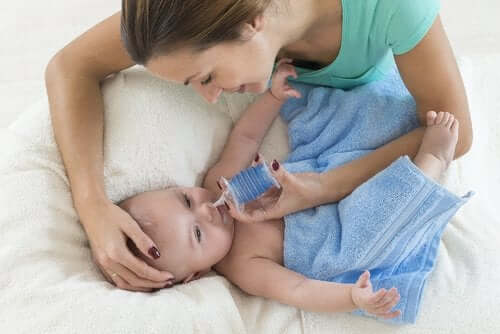 Stuffy noses are very common in children. That's why it's important to know the correct way to do a good nasal wash, especially when you have a baby. This is because they don't know how to breathe through their mouths yet and have a hard time inhaling air when there's too much mucus in their nose.
The importance of doing a proper nasal wash
Usually, we all breathe through our nose. Its function is to moisten, filter and heat any air that enters our body. When we inhale, allergenic particles go into the nose and sometimes they can trigger an asthmatic crisis, among other things.
When this happens, it's crucial to know how to do a nasal wash correctly, especially in babies. This is because they still don't know how to breathe through their mouths.
The nasal wash technique involves putting salt water through the nostrils in order to evacuate nasal secretions, and also any dirt and allergens caught in there. This all happens thanks to the action of flushing the nasal passages. So, the objective of a nasal wash is to expel the maximum possible amount of allergenic particles from coming into contact with the mucous membrane. This way, the allergic response is less intense than expected if the contact persists.
However, doing a nasal wash isn't only recommended for these situations. In addition, it's quite helpful in other circumstances, such as:
Chronic or acute rhinosinusitis.
Postnasal drip with chronic cough due to the drip.
Pretreatment with nasal corticosteroids.
Endonasal post-surgery care.
How to do a nasal wash on a child
Nasal washes are like tissues for young children who don't yet know how to blow their nose. If you take this idea into account, then it's easy to understand that you should do as many of them as you need to make your child more comfortable and ease their breathing.
Of course, nasal washes don't usually appeal to children, so executing these techniques might be a bit complicated at times. Here are a series of tips to help you do a nasal wash on a baby:
Do the washings before their sleeping time and before you feed them.
You can lay the child face down or face up. Try to keep their head sideways and try not to lie them on their back.
After the maneuver, it's best to seat the baby to ease the expulsion of secretions.
When their nose is too clogged, you can inject a little bit of the liquid and massage the area so it softens. Then, inject more liquid.
Older children are capable of doing their own nose wash while they tilt their heads to one side. They must do the same on the other side.
Three ways to do a nasal wash
1. While lying on their back with a tilted head
This is the most common way to do a nasal wash, although not exactly the most effective. What you have to do here is forcefully introduce liquid into the nasal passages, either with a syringe or with single-dose vials, while a person lies in this position.
The goal of this technique is to clean the innermost area of ​​the nose. It's a quick and easy way to do it. However, the liquid won't reach the back of the nose, which is where mucus usually accumulates. Therefore, this isn't a useful technique when the mucus is thick and dense, because the liquid will just bounce against the mucus plug.
2. Doing a nasal wash while the child is sitting down
This way of doing a nasal wash is particularly useful for older children. They should place their heads forward to attain this position. Then, you'll inject the liquid as we explained in the prior example.
After you're done administering the liquid, the child will have to inhale forcefully for it to take effect. This is why it's so difficult to perform this technique in babies. However, as with the previous maneuver, doing a nasal wash in this position doesn't really clean the innermost part of ​​the nose and it isn't too useful for thickened mucus.
3. While lying on their back or while sitting with their head back
This is a highly effective nasal wash. In this position, the liquid goes in slowly and without pressure. The wash falls straight in the back of the nose and slips into the throat, dragging part of the mucus along.
Secretions that are more sticky or more viscous will still rehydrate when in contact with this liquid. Then, the child should forcefully inhale so that the mucus that's plugging the back area goes into the throat for either swallowing or spitting.
It might interest you...