Three Natural Remedies To Treat Balding
As soon as you notice hair loss, you should take measure to prevent balding before the hair follicle action is completely lost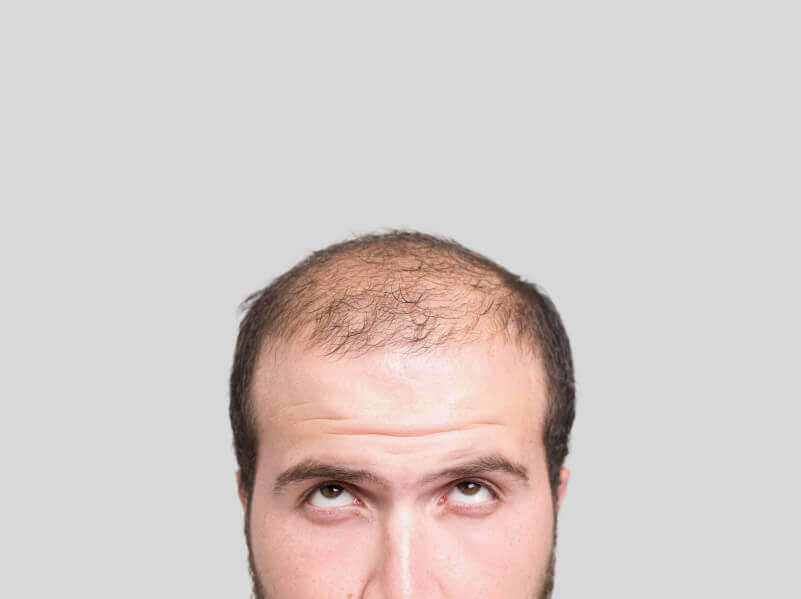 Alopecia, or balding, is an illness which causes excessive hair loss. It affects areas of the skin where hair is found, like the head, eyebrows, genitals and armpits. Do you want to know the tricks to treat balding?
Hair loss can arise due to stress, poor blood circulation, hereditary reasons, skin diseases or poor diet. The different kinds of hair loss include androgenic alopecia, alopecia areata, traumatic alopecia and diffused alopecia.
Androgenic alopecia
Androgenic alopecia is the main cause in 90% of cases of baldness. It tends to arise due to hereditary patterns which damage the production of testosterone and affect genetic composition.
As a result, the hair follicles are affected and their usual activity is stunted, leading to a gradual reduction in the volume of hair until it disappears.
Treat balding
There is a range of treatments for this scalp condition. Some of these include:
FUE method: this is a hair micro-implant technique, which consists of extracting follicles from parts of the head where the genetic composition is not affected (the sides of the head and back of the neck). Once extracted, they are implanted into the clear part of the head.
Strip method: this is another hair micro-implant technique, which consists of extracting a very small strip from the back of the neck. The length of the strip depends on the quantity of follicles to be implanted. While the surgeon makes the perforations, a team extracts the hair follicles from the strip removed from the back of the neck.
Minoxidil: this is a vasodilator that is administered topically to the scalp to prevent the production of dihydrotestosterone and thus enable the hair follicle to grow normally.
Finasteride: this is a drug that suppresses hormonal action, and thus prevents the biological effects of the sex hormones (testosterone).
Natural remedies to prevent balding
It's important to bear in mind that once the function of the hair follicle has been totally lost, it can't be recovered. However, there are some natural solutions to prevent atrophy or the dysfunction of the hair follicles.
In the rest of this articl,e we're going to share some natural remedies to help you strengthen your hair.
1. Aloe vera
Aloe vera gel has been recommended for hair treatment for a long time. It has healing properties that, in this case, help prevent atrophy of the hair follicles.
What do you need to do?
Extract the gel from a leaf of aloe vera.
Use a pestle and mortar to grind it down into a uniform liquid.
Apply it to your head and massage it in for 10 minutes.
Cover with a cap and leave it to act for one hour.
Application
Apply this treatment at night on dry hair, and rinse with cold water before going to sleep. This will help strengthen your hair and make it shinier.
2. Honey and egg yolk
Eggs contain compounds that help strengthen the hair, make it shinier and provide other properties which the hair follicles need for healthy growth.
Ingredients
1 egg yolk
2 tablespoons of honey (50 g)
What do you need to do?
Mix the two ingredients in a bowl and stir until you have a uniform mix.
Apply to the hair with massaging movements for 10 minutes.
Put on a shower cap and leave it to act for 30 minutes.
Rinse with cold water.
Application
Apply before washing your hair. You can repeat this up to four times a week.
3. Guazuma
Guazuma wood is one of the best remedies to prevent hair follicle atrophy. It also helps strengthen your hair and make it shiny.
Ingredients
2 cups of water (500 ml)
2 pieces of guazuma bark (30 mg)
What do you need to do?
Put the guazuma bark in the water and heat it.
Once it boils, remove the bark.
The bark will produce a mucous that you should then apply to your hair with the help of a glove.
Massage your hair in circles for 10 minutes.
Apply this treatment four times a week. Bear in mind that you should apply the guazuma mucous as hot as you can withstand it.
Follow this advice to prevent balding and enjoy your life fully!
It might interest you...