Three Homemade Cough Syrups for Dry Cough
Dry cough remedies don't work the same way for everyone. In light of this, you should try out different alternatives and see which ones work best for you. Here are some recipes for homemade cough syrups for dry cough.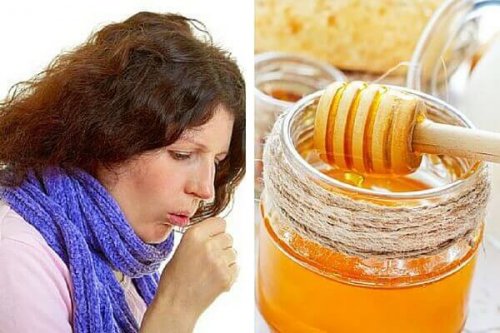 However, if you experience a dry cough frequently, you should see a doctor.
If the cough is a result of an allergy,
asthma
, pneumonia or another serious problem, you should undergo a physical exam and follow your doctor's instructions. Afterwards, you can add on these alternative therapies or, if your case isn't serious, such as if you have a cold, you can opt to only use our suggestions.
If you still don't know the cause of your dry cough despite having seen a doctor, try to think if there's an emotional factor that might be affecting you. Some people express situations in the form of somatic symptoms such as a dry cough.
If that's your case, these cough syrups will be helpful, but you should also seek out other solutions such as psychotherapy or yoga.
However, if this is not your case, we recommend that you drink warm milk with honey. In addition to soothing your throat, it'll help you rest better.
Cough Syrups for Dry Cough
1. Ginger, Honey, and Lemon Cough Syrup
All three ingredients are antibacterial wonders, but honey and ginger are also beneficial because they relieve pain thanks to its anti-inflammatory properties.
Ingredients
3 slices of lemon (45 g)
2 tablespoons of honey (20 g)
3 pieces of ginger (50 g)
2 cups of water (500 ml)
Preparation
Boil water with the lemon slices and ginger.
Add the honey.
Wait fifteen minutes.
Strain the mixture into a glass bowl.
Then, store in the refrigerator.
The syrup will stay good for two months. Take 2 or 3 big spoonfuls each day until you feel better.
The people who have a chronic cough can take it whenever they want with no problem. None of the ingredients are harmful to your health.
2. Anise, Chamomile and Clove Cough Syrup
The properties of each one of these elements are perfect for a dry cough. The three of them fight against bacteria and are great painkillers. They also prevent the spasms that lead to a dry cough.
Ingredients
1 cup of water (250 ml)
1 chamomile tea bag
1/2 tablespoon of anise (5 g)
2 cloves
Preparation
First, boil the water with the chamomile.
Then, add the cloves and anise.
Wait 7 minutes.
Strain the liquid.
As with the previous recipe, you can store this cough syrup easily and for a long time. Also, you won't experience any problems if you take it 2 or 3 times a day until your dry cough disappears.
Since it's made with natural ingredients, it won't have any side-effects unless you have an intolerance or allergy to one of the ingredients.
3. Cayenne, ginger and apple cider vinegar
In other posts, we've talked about the ability of apple cider vinegar to eliminate infectious agents. It's the same case with cayenne pepper. Spicy foods are very effective against said agents. So, we particularly recommend this peculiar cough syrup.
Ingredients
1/4 tablespoon of cayenne pepper (1,5 g)
1 tablespoon of honey (1o g)
1/4 powder ginger (1,5 g)
2 tablespoons of water (20 g)
1 tablespoon of apple cider vinegar (10 g)
For this recipe, mixing everything together and taking a spoonful each day is all you need. You'll feel better before you know it.
For the most part, the mixture doesn't taste great but think of it as a cough syrup that you'd buy at a pharmacy. Even if they taste bad, you take them because you know they're good for you. Just give it a chance.
Everybody is different. Even if we may have the same problem, your bodies react differently. Keeping that in mind, it's worth it to try out different options over a period of several days. By doing so, you'll find the cough syrup that's best for you and be able to get the most out of its properties.
Let us know what you discover!
It might interest you...