3 Great Recipes For Treating Constipation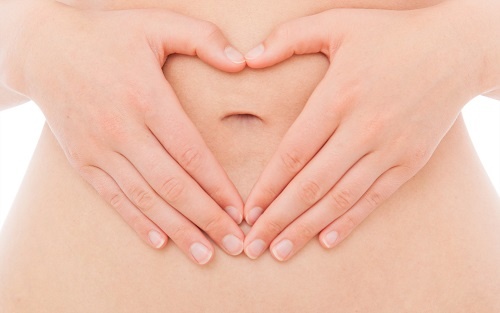 Constipation is a very common issue that can appear for various reasons: a change in diet or habits; a stressful job; not going to the bathroom when your body needs to; a diet too low in fiber; not drinking enough water; taking certain medications, vitamin supplements, iron or calcium; suffering from diseases like irritable bowel syndrome, diabetes, or hyperthyroidism, just to name a few.
The potential causes of this affliction are many and varied. You are considered to be suffering from constipation when you evacuate three or less times per week, and the stool is dry, hard, and difficult to expel.  It's uncomfortable and can be painful – it makes us feel tired, bloated, and irritable.  This is an issue that everybody suffers from at some point in their life, but you should definitely see a medical doctor who will perform an examination and determine if it really is constipation and what treatment is appropriate.
Constipation can also be prevented with a proper diet in which water, fiber, fruits and vegetables play a major part.  Below, we offer three simple recipes that can serve as examples of good daily food choices for those suffering from constipation:
Candied eggplant with white rice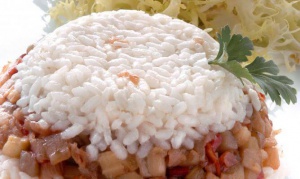 (Photo: Karlos Arguiñano)
Ingredients
2 eggplants
4 onions
200g of rice
100g ham
12 cherry tomatoes
1 head of escarole
2 cloves of garlic
water
olive oil
vinegar
salt
Preparation
Peel the onions and chop them. Cook them slowly until they are golden brown. Chop the ham and add it to the onions.
Peel the eggplants, chop them into small cubes and add them to the onions. Season the mixture and cook for 10-15 minutes.
Next, peel the cloves of garlic and let them brown in a pan with a little oil.  Add the rice, lightly frying it for a moment, then add the water (a little more than twice the amount of rice) and a pinch of salt. Cook for 18-20 minutes.
Grease a round serving bowl with a little oil.  Add a layer of rice on the bottom, then a layer of eggplants on top of that, and then another layer of rice.  After it sets, carefully let it fall out of the mold.
Last, wash the tomatoes and escarole.  Chop them and toss with oil, vinegar and salt.  Serve with the eggplants.
Chicken wings with mushroom and arugula salad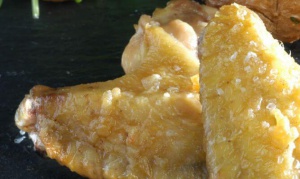 (Photo: Karlos Arguiñano)
Ingredients
12 chicken wings
8 small potatoes
250g mushrooms
140g arugula
3 cloves of garlic
vinegar
olive oil
salt
Preparation
Wash the potatoes and roast them, drizzled with oil and seasoned with a dash of cooking salt, in the oven at 220º C for 20 minutes.  Clean the chicken wings thoroughly, trimming the tips and excess fat. With a mortar and pestle, crush three cloves of garlic sprinkled with a little cooking salt.  Once well crushed, put them in a bowl and add the olive oil, using this mixture to marinate the chicken wings.
Put the wings in the oven along side the potatoes.  Pour the marinade over everything and bake it at 220º C for 15-20 more minutes.
Wash the mushrooms and cut them into thin strips.  Brown them in a pan with oil, while you wash and cut the arugula. Once the mushrooms are done you can mix it all together with a little chopped parsley, a pinch of salt, vinegar and oil.
Serve the wings with the roasted potatoes and the mushroom and arugula salad.
Baked Melon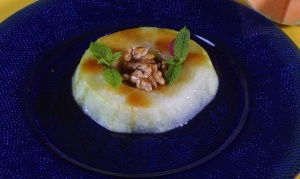 (Photo: Karlos Arguiñano)
Ingredients
1 melon
50g nuts
4 tablespoons honey
1 lime
1 vanilla bean
2 sugar
For the caramel:
4 tablespoons of sugar
A few drops of lemon juice
Preparation
Put the sugar, lemon and a splash of water in a pan over a low flame to make the caramel.  When this is done, use it to coat the nuts and let it cool.
Then mix the 2 tablespoons of sugar with the vanilla bean in a bowl until the aroma is released.  Cut the melon into small pieces, removing the peel and seeds, put it on a baking sheet, coat it with the vanilla sugar and lime juice.  Bake at 200º C for 7 minutes.
Serve the melon immediately with the caramelized nuts.