The Wheel of Life: A Tool for Change
The wheel of life is a tool that can help you understand how things are going in your life and what you need to change. Learn all about it in this article!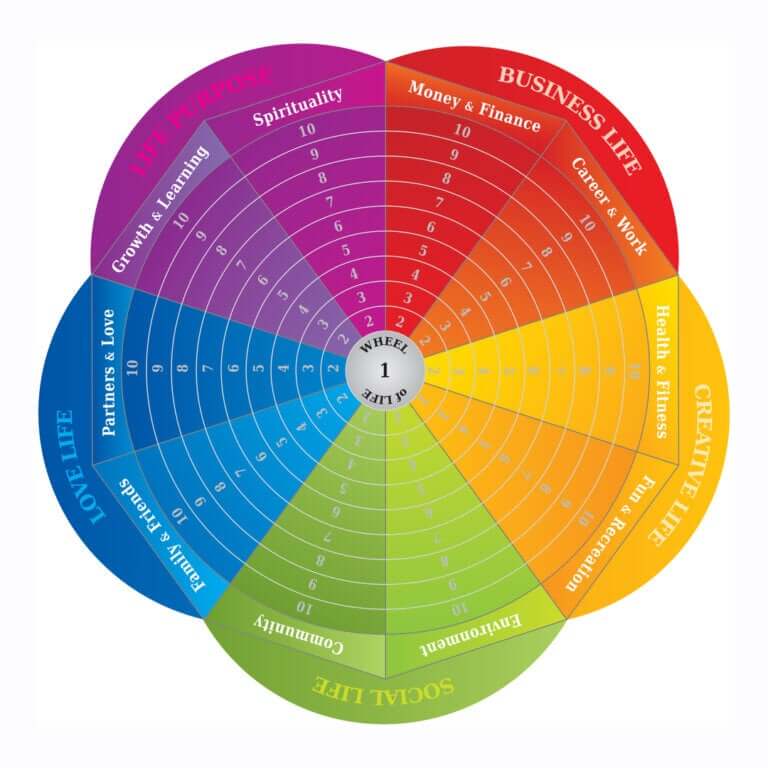 The wheel of life is a tool for change and a powerful exercise that we can use at any time, especially when we feel like something in our lives isn't going well.
Currently, the wheel is used within the world of coaching or NLP by people who are trying to make changes in their lives. By using this technique, we're able to take a deeper look at our habits. 
For example, a person may think that everything is going well because of his positive emotional relationships. However, they may be having issues with their finances. 
On the other hand, some people may find that their relationships aren't great, but that they're doing really well at work. There are endless possibilities.
We can use the wheel of life to help analyze why we may be doing well in some aspects of life, but not in others. What are the things that could be harming the people around us, and how can we improve these areas of our lives?
What is the wheel of life?
The Wheel of Life is a tool that allows us to bring balance to our lives. When we use this tool, we can identify areas of our lives that may need improvement.
Having balance in life is very important because it's related to our well-being. That is what this study carried out by the Pontificia Universidad Católica del Peru shows us.
So, as its name suggests, this technique includes drawing a circle and dividing it into sections—usually 8 or 10—that represent different aspects of our lives. Although these areas may vary depending on the circumstances in our lives, generally they're:
Relationship
Family
Friends
Personal development
Each of the categories will receive a number between 1 and 10. These values will vary according to the level of satisfaction with each part of the wheel. The 10 would mean "happy" while the 1 would mean "unhappy or dissatisfied."
In addition, you can join the points and give each section its own color. This will help you visualize your current state of life.
How to rate each category on the Wheel of Life
Next, we'll share a series of guiding questions that will give you a better idea of what number to give each part of the wheel:
When it comes to the work section, ask yourself the following:
Is work enjoyable?
Do you identify with the company you work for?
Are you satisfied when you're at work?
Do you have opportunities to grow?
As for the financial area, you can ask yourself:
Does your salary allow you to live the life you want to live?
Are you able to save for retirement?
Do you put money into savings?
For the relationship section, you should ask yourself:
Are you in a relationship?
Do you love your partner?
Do you feel like you are loved?
Are you and your partner interested in the same things?
Do you have a good intimate relationship?
When it comes to the health category, you might ask yourself:
Do you feel okay?
Are you eating well?
Do you do any physical activity?
Are you satisfied with your health?
As for your family, you can ask yourself:
Are you spending enough time with your family?
Do you have good relationships with your relatives?
Are you sharing quality time with your partner and children (if you have them)?
Do you feel supported by your family?
Remember, these questions are just a guide. You can use these questions, or similar questions, to help build your own wheel.
How to analyze your wheel of life
To analyze your wheel of life, you have to look at the score. For example, the points that are located in the center are the ones with low scores and that will require more work. 
However, you shouldn't feel bad about it. Remember, human beings aren't perfect. You should know that we all have things we need to focus on to be better people. 
Life is a constant lesson. When you look at your wheel you can reflect on your situation and begin to implement the necessary changes. 
Get used to using this tool and, little by little, you'll notice how much easier it is for you to achieve your goals. You just need some perseverance and patience. 
It might interest you...