The Most Common Face Problems and How to Treat Them
Acne? Sun spots? Scars? Learn more about some excellent and effective remedies for some of the most common skin problems in this article.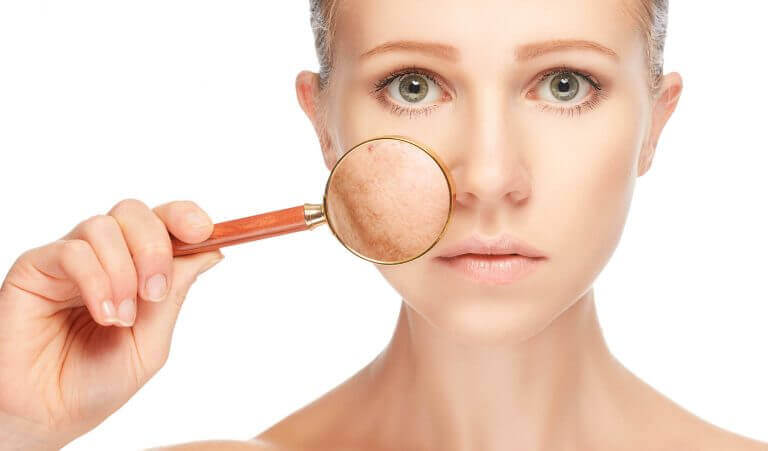 The most common face problems can say a lot about how we take care of ourselves, as well as show all of the changes that present themselves as the years pass.
But how do we treat them?
Here, we'll show you the most successful treatments that you have at your disposal when it comes to returning the beauty and quality of your skin and for treating any face problems.
The four most common face problems and how to treat them
1. Acne
Acne is one of the face problems that tends to bother people so much that they will look for any solution, no matter what the price.
The good news it that even though you may be going through your adolescent stage and therefore have pimples wreaking havoc on your face, you can fix them with natural recipes.
Ingredients
1/2 cup of oat flakes (45 g)
1 tablespoon of honey (25 g)
1 tablespoon of lemon juice (15 ml)
Preparation
Mix all of the ingredients in a container until it has a well compact consistency.
Continue by applying the mask to your face, especially to the areas that are most affected by acne.
Let it sit for 30 minutes, until it hardens.
Rinse with a lot of water and repeat twice a week. You will see surprising results!
2. Spots
Light or dark spots are defects that can be caused by different factors.
One of the most common factors is sun exposure, that can make them show up in any shape or form. This gives your face an unfavorable look.
Along with this remedy below, it is very recommended to use sunscreen with UVA protection in order to avoid obtaining any more sunspots or worsening the ones you already have.
Ingredients
1/2 cup of yogurt (100 g)
1 tablespoon of lemon juice (15 ml)
1 egg
Preparation
In a bowl, mix all of the ingredients until you have a homogenous product.
With the help of a brush, start to apply the mixture to your face, completely covering all of the spots that you have.
Let its whitening effect take place on your skin for 20 minutes and then rinse with a lot of water.
Most importantly, make sure that you don't do this during the day because the sun's rays can cause the opposite effect. The best time to apply it is right before going to bed.
3. Melasma
Melasma is another common skin problem that appears as patches of discoloration. These types of spots often show up as a side effect of pregnancy.
It should be noted that hormones, estrogen, and sun exposure are all possible reasons why melasma can appear.
They show up due to the massive hormone changes that we experience during this physiological process, and they tend to disappear after giving birth.
But, what should you do if they're still there even after giving birth?
Ingredients
2 tablespoons of powdered milk (30 g)
2 tablespoons of lemon juice (30 ml)
4 tablespoons of honey (100 g)
1 natural yogurt
Preparation
Firstly, mix the powdered milk with the lemon juice and honey, until it has a foamy consistency.
Apply it to your pre-washed face. Put the most on the areas that you have melasma spots. 
Then, let it sit for 20 minutes and then rinse with warm water.
After rinsing with warm water, apply the yogurt with a brush, completely covering the surface of your skin.
Finally, after 15 minutes, rinse your face. You'll notice a difference with each application.
4. Scars
Whether it's from a cut, or a surgery, the skin on our face can end up scarring. Scarring is one of the face problems that can be unattractive and bothersome.
This leads to the affected person looking for a thousand different ways to make the disappear. You can achieve this goal in an effective way, eliminating any possibility of creating keloids.
Ingredients
1 cup of honey (335 g)
1/2 cup of oats (45 g)
4 tablespoons of aloe crystals (60 g)
Preparation
First of all, take all of the ingredients and process them until they're well crushed and take on a semi-paste consistency.
Next, use it every time that you get out of the shower, and lightly massage it directly onto the scars on your face .
Lastly, let it sit for two hours and then rinse. If you repeat this natural treatment daily, you'll quickly start to see an improvement. 
It might interest you...