The Features of Linear Kitchens and Some Tips
Linear kitchens have gained popularity along with the minimalist style. Today's article contains some tips on how to approach this unique and practical design.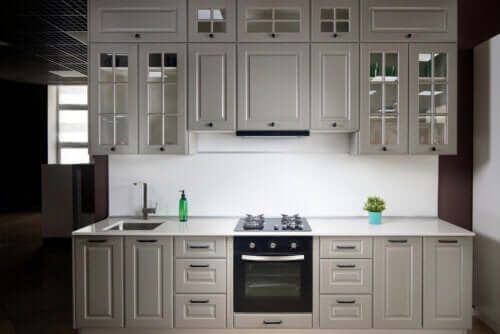 Linear kitchens align with a minimalist decorating style and are the perfect example of how to make the most of a small space. The main goal here is to organize all of the main elements in a straight line – on a single wall.
Indeed, the above idea seems a bit boring at first but this type of kitchen comes in a wide variety of styles. However, there are many advantages to this type of kitchen, such as lower installation costs, better use of space, guaranteed comfort, and quick access to tools and utensils.
Ways to make the most of a kitchen space
Decoration style is a common consideration when remodeling a home. As you probably already know, the kitchen is the place where there's more action, especially for those who enjoy cooking.
Linear kitchens are great because, contrary to other floor plans, they only take a few feet of a room. You can install one in as little as 12 feet, the standard for grouping the main elements: refrigerator, sink, oven, range, and dishwasher.
As you can see, it's the perfect choice for apartments where space is limited or open. Whatever the reason, linear kitchens never compromise comfort and are a great solution for functionality and quick access.
Tips and ideas for linear kitchens
You don't have to hire an interior designer to create your own linear kitchen. Fortunately, this alternative bets on a simplistic and discreet style. Thus, you only have to take some basic things into account. The most important ones are as follows.
Maintain neutral tones
We've already emphasized that linear kitchens group all the elements in a reduced space. For this reason, try to use neutral colors to avoid overloading an area that's already loaded in itself.
The most commonly used colors in this type of kitchens are white and gray. The possible combinations are many, thanks to the tonal variations. A subtly matched black is also an interesting option in an open space.
Bet on accessories of other colors if you want variety, just keep them in the neutral chromatic spectrum. For example, kitchen utensils in brown or cream are a good way to break the monotony of the main design.
Install cabinets and tall units
This trick is useful if your space is too small as the feeling of height will counteract it. The height will be the focal point and will hide the size limitations of the area.
You can achieve it by using horizontal lines. Space is limited so opt for furniture and cabinets that include various storage options.
Opt for a futuristic design in linear kitchens
Trends constantly change but the futuristic finish is here to stay. You can achieve this particular style in the kitchen with metallic details.
Metallic finishes are the latest trend in all types of kitchens and you can find them in kitchenware, utensils, and other elements. Don't overload the space with metal though.
Pay attention to lighting
Installing tall cabinets isn't the only way to overcome space limitations in linear kitchens. You can also do so through lighting, both natural and artificial.
The natural light is of great value when cooking during the day and of course, artificial comes in handy after the sun goes down. Pay attention to the following:
Install light panels in horizontal areas (to transmit the feeling of spaciousness)
Play with tonal spectrums (LED lights are the best for this)
Install spotlights in the baseboard or near the floor to create a floating look.
Include small, soft lights in busy areas to take away attention from them
Keep in mind that the light fixture you choose should be functional for cooking aside from aesthetical considerations. This is important as many remodeling projects mistakenly use lighting systems that aren't useful when cooking.
Follow an uninterrupted line in a linear kitchen
Linear kitchens don't get their name just because they occupy a single kitchen wall. They're also characterized by their uninterrupted lines where every element is connected to another. This creates harmony and balance.
How to do it? It's quite easy, actually, just arrange the kitchen elements in such a way that you follow a straight line from start to finish. Of course, you can get creative, only make sure there's a line that's at least 3-4 feet long.
Take into account the lines of the cabinets, refrigerator, microwave, and sink. Everything must be part of a whole; you don't want to install the elements randomly.
Use drawers without handles
To maximize the minimalist style and attain a fluid aesthetic, consider installing drawers without handles. This will keep the linear feel and makes the kitchen more discreet from the front.
Try to use simple handles if you must use them; the kinds that allow you to access the inside of the drawer quickly but hide its system at the same time. There are many options in the market so you don't have to spend a fortune on them.
Change the style with the help of an island
Installing an island next to your linear kitchen is definitely cheating. After all, the whole point of this type of kitchen is to carry out the entire cooking process on just one wall.
However, it's a good option if you have a lot of space to spare. It's kind of striking in open spaces.
Islands are of great help and add extra working space to cook. You may already know that certain recipes or a large number of diners require more space. Try to match it to the linear concept.
Keep in mind the distribution of the elements in linear kitchens
You shouldn't prioritize aesthetics over functionality when it comes to organizing kitchen accessories. They must also align with a minimalist linear style, indeed, but they must also be functional during the process of cooking and allow fluidity.
However, be careful with certain combinations. For example, never place the cooktop near the fridge. The contrast of hot and cold isn't good for neither appliance.
Linear kitchens solve functional problems
The above tips are key when creating a linear kitchen. Finally, keep the following in mind as a complement to them:
Keep a minimum distance of four feet between each kitchen module.
Use a smaller stove hood or a hidden one if you're going to install one.
Distribute things according to the way you cook.
Don't skimp on expenses if you think a certain modification will make a difference.
Try to match the style of the kitchen (colors, shapes, and design) with other places in the house.
Consider having a folding table or a stool handy for support.
Some professional advice on how to make the most of your space or the type of countertop texture to use can make a big difference. In this respect, don't be afraid to turn to an expert in linear kitchens who can lend you a hand on how to remodel and take advantage of what you already have.
It might interest you...