The Characteristics and Uses of Triphala
Triphala is an herbal preparation used in Ayurvedic medicine to treat various conditions. In addition, there are claims about it helping prevent premature aging. In short, it is believed that its consumption promotes general well-being, but more studies are still needed.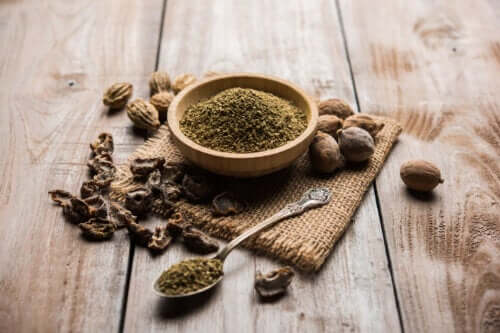 Triphala is an herbal concoction straight from traditional Ayurvedic medicine. The name is in Sanskrit and loosely translates as "three fruits." This is because its composition includes Indian Gooseberry (Emblica Officinalis), Black Myrobalan (Terminalia Chebula), and Belleric Myrobalan (Terminalia bellirica).
People have been using it as an adjuvant in digestive, inflammatory, and oral conditions due to its chemical composition. Some even claim it helps control weight.
But is there any evidence about it? Is it safe?
Continue reading to learn more about it!
What is Triphala and what does it consist of?
Triphala is an herbal formula used in Ayurvedic medicine. According to information reported in the Journal of Alternative and Complementary Medicine, people can obtain it from the dried fruits of the plant species Emblica Officinalis (family Euphorbiaceae), Terminalia bellirica (family Combretaceae), and Terminalia Chebula (family Combretaceae). All are native to the Indian subcontinent.
Historical data indicates people have been using it for more than 1000 years. It already appears in texts of the physician Charak, who suggested that its daily consumption was useful for living "a hundred years without disease." Since then, people use it as an ally to improve health and thus promote well-being.
Composition of Triphala
The main constituents of this preparation are tannins such as gallic acid and ellagic acid, among others. These are antioxidants, which explain many of the plant's medicinal properties.
Now, let's look at the properties of each plant used in this blend in more detail:
Indian gooseberry is a fruit and its extracts apparently help improve digestive health and prevent the onset of chronic diseases. They concentrate nutrients such as vitamins A and C, minerals, and amino acids. In addition, according to data published in Phytotherapy Research, they're a source of phenols, tannins, curcuminoids, among others.
Black myrobalan, known as Bibhitak in Ayurvedic medicine stands out for its content of tannins, ellagic acid, gallic acid, lignans, and flavones. In addition, people attribute antibacterial, anti-inflammatory, and anti-diabetic properties to it.
Myrobalan Bellerico, also known as Haritaki is "the ruler of medicine" according to Ayurveda. According to an article published in the Asian Pacific Journal of Tropical Biomedicine, it contains phytochemicals such as terpenes, polyphenols, anthocyanins, and flavonoids. In addition, it's an anti-inflammatory, antioxidant and digestive.
The health properties attributed to Triphala
Ayurvedic literature indicates that many of the effects of Triphala are due to its laxative potential because it helps "cleanse the body."
There are also claims about its antioxidant, anti-inflammatory, and antibacterial potential. Ok but, what does the evidence say?
Natural laxative
For years, Triphala has been a supplement to combat constipation and other digestive discomforts. In fact, it is distributed as an alternative to over-the-counter laxatives.
In this regard, a study in the Iranian Journal of Pharmacology and Therapeutics found that a laxative containing Triphala and other plants helped reduce straining. It helped complete more bowel movements.
Likewise, research in the Journal of Ayurveda and Integrative Medicine reported that this herbal preparation reduces constipation, abdominal pain, and flatulence in patients with gastrointestinal disorders.
Weight loss
It's important to consider that weight loss depends on many factors, especially diet. Even so, supplements such as Triphala can serve as adjuvants but aren't supernatural.
According to an animal study published in Alternative Therapies in Health and Medicine, rats supplemented with Triphala had a significant weight reduction. Also, their energy intake and fat levels were lower than those who didn't receive the blend.
The results were also promising in another study conducted on obese adults. Those who received a daily dose of 10 grams of Triphala experienced a decrease in the waist and hip circumference. In addition, they observed weight reduction.
Dental health
Triphala is used as a remedy for oral diseases in Ayurvedic medicine. In particular, its antimicrobial and anti-inflammatory properties help reduce gum inflammation (gingivitis), tooth decay, and dental plaque.
Evidence is still limited although a study shared in the International Journal of Ayurveda Research reported that a mouthwash containing Triphala extract was useful in reducing plaque buildup and oral bacterial growth.
Research in the Journal of Periodontal & Implant Science corroborates the above as it determined that a mouthwash with Triphala helps reduce plaque and control gingivitis.
Anti-inflammatory activity
Many of Triphala's medicinal properties are due to its anti-inflammatory characteristics. A publication in Phytotherapy Research details that the combination of plants in this preparation contains vitamin C, flavonoids, polyphenols, tannins, and saponins, among other plant compounds.
These compounds not only intervene in the body's inflammatory processes but are also antioxidants. Thus, they reduce the effects of oxidative stress, associated with a wide variety of diseases, such as cardiovascular disease, arthritis, and diabetes.
Risks and contraindications of Triphala
Triphala is safe for most healthy adults but could lead to side effects such as diarrhea and abdominal discomfort, especially in high doses. It isn't appropriate for pregnant women, nursing mothers, or children, as there's no information regarding its safety level in these populations.
Similarly, people with already diagnosed diseases or who are under medical treatment should skip it. In any case, consult a professional before taking any type of supplement.
Keep in mind that Triphala may interact with or reduce the effectiveness of medications such as:
Anticoagulants
Antiarrhythmics
Anticonvulsants
Atypical antidepressants such as nefazodone
Immunosuppressive drugs
Opioid analgesics
How to use Triphala
Right now, Triphala is available in capsule, powder, or liquid form. You can find it online or in health food shops.
In addition, it's important to adhere to the recommended dosage on the label, as too much can cause unwanted reactions. Professionals usually prescribe taking 500 milligrams to 1 gram per day for cases of constipation.
You can dilute the liquid version in water to create a mouthwash. In addition, you can mix it with warm water and honey to benefit from its other medicinal properties. Take it before every main meal. Always consult your doctor or Ayurvedic professional with any questions or doubts you might have.
Things to keep in mind
Triphala is a combination of three plants widely used in Ayurvedic medicine. In fact, a wide variety of medicinal properties have been attributed to it since ancient times and people use it as a supplement.
However, there's still little evidence about its health properties but some evidence suggests it has antioxidant, anti-inflammatory, and antimicrobial potential.
Finally, always use it in moderation and never exceed the doses recommended by the manufacturer. In addition, don't use it to replace or complement other medical treatments. Finally, only purchase these kinds of supplements from trustworthy sources.
It might interest you...