The Best Tips to Protect Your Hair From the Sun
Good capillary hydration is essential to prevent damage caused by exposure to the sun.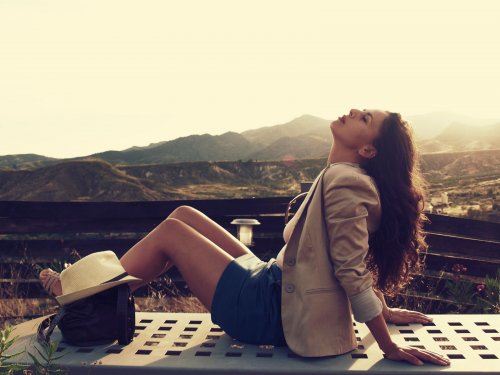 Everyone loves it when their hair is shiny and healthy, which is a good reason to take care of it all year long. Therefore, it's important to know how to protect your hair from getting damaged by the sun.
Taking precautions as you're exposed to the sun is very healthy as long as you follow the necessary steps to fight the negative effect of free radicals. As you oxidize your hair, it becomes limp and loses its color and shine. So if you want your hair to look healthy, it's recommended to follow these tips.
The Risks of Not Protecting Your Hair
Your hair frames your face and it reflects on your personality. That's why it's important to protect it as much as possible, especially against the negative effect of excessive exposure to the sun.
People who don't consider this often complain about their hair being too dry and having split ends. However, worn-out hair can be prevented without the need for a cut or expensive treatments from hair salons.
Remedies and Tips for Perfect Hair
1. Protective mandarin and jojoba oil
The best way to protect your hair from the sun is by preventing it from getting damaged in the first place. Therefore, you can make your own homemade capillary protector with two natural ingredients.
Jojoba oil nourishes the hair and has a texture similar to that from sebum, therefore, it won't get too oily. Also, apart from mandarin giving off a delicious aroma, it adds shine and revitalizes the hair fibers.
Ingredients:
4 tablespoons of jojoba oil (60 ml)
10 drops of pure mandarin essential oil
Directions and application:
Mix both ingredients.
Then, you can put them in a spray bottle. To do so, it's recommended to also add ½ cup of water (100 ml) in order to better distribute the product throughout the hair.
You can also store it in a jar, pour a little on your palms hands and distribute it throughout your hair as if you were combing your hair with your fingers.
2. Try a hat
The most practical and easy way to protect your hair from the sun is by wearing a hat or a scarf. Nowadays, you can find countless options that can give you a unique style.
Another alternative is to stay underneath an umbrella whenever you can. Although solar rays can still affect your hair, they will do so to a much lesser extent.
You also need to consider the time of the day. At noon, the radiation from the sun will be much more intense.
3. Be careful with water
In addition to the sun, you must take into consideration that water from swimming pools and the sea can also alter your hair's health. In most cases, this applies to being in the water on a sunny day. For this reason, it's recommended to avoid getting your hair wet too often.
It's best to rinse your hair with fresh water after you're done swimming. This way you will remove the excess salt, chlorine or any other substance and prevent the damage from getting worse.
4. A homemade pre-wash mask
When you return home, it's a good moment to use a simple homemade mask to put on before you wash your hair as usual. Your hair will absorb the nutrients much better than when dry.
Ingredients:
1 egg yolk
2 tablespoons of olive oil (30 ml)
1 tablespoon of lemon juice (15 ml)
Directions and application:
Thoroughly beat and mix the three ingredients. If you want the mask to be easier to apply on your hair, you can add one or two tablespoons of water.
Apply the mask on your dry hair throughout the dry hair and let it act for half an hour.
Then, wash your hair as usual.
5. A natural shampoo moisturizer
Finally, in order to prevent sun exposure from causing capillary dehydration, you should take a look at the kind of shampoo you use. It would be ideal to choose a natural one, made from natural ingredients such as aloe vera, coconut or coconut oils, plant extracts, and essences.
The components that dry hair are sulfates and alcohol, which tend to be the main ingredients of shampoos. Reading the label will help you make a better choice. Also, when it's sunny out, you should use shampoos that protect hair from drying and getting damaged.
It might interest you...