The Best Time to Undergo a Body Treatment
In this article, learn more about body treatments and when they're recommended. Ideally, you should combine any body treatment with proper diet and exercise.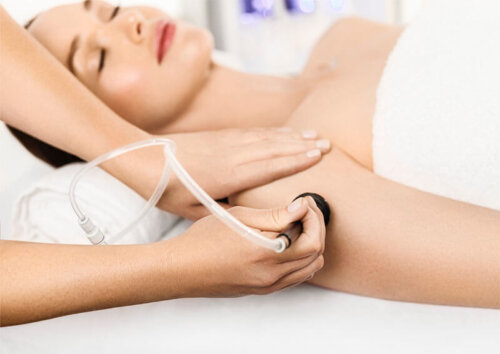 A body treatment is a cosmetic procedure that helps improve the appearance of your body. It can help to shape your silhouette, improve your skin, or correct any problems or deficiencies.
Body treatments can help correct any problems with cellulite, flaccidity, aging, and many others. Normally, a beauty salon will carry out the procedure. Also, it's possible to find them in some specialized health centers. In addition, you can do other body treatments at home.
Usually, people will undergo a body treatment because they want a more aesthetic physical appearance. After treatment, many people feel better about themselves. As a result, their self-esteem improves as well as their personal well-being. 
When should you undergo a body treatment?
A person can undergo a body treatment at any time. However, it's best to do it if you don't have any other health problems. In addition, you should keep in mind that some procedures require aftercare. Therefore, it's important to have the time, resources, and willingness to do the treatment. 
Also, you should note that some procedures require extreme caution when sunbathing. So, you should postpone any of those treatments until after the summer. 
Guidelines to keep in mind before body treatment
It's important to follow some guidelines before you undergo a body treatment. First, the specialist is the most qualified person to tell you which procedure is best for you. Also, the esthetician can guide you on the available alternatives. In addition, you should take the following guidelines into account:
Some of the body treatments only offer results for several weeks. And, you may need to undergo six to eight sessions before you see results.
It's best to have an expert do the initial assessment. They should determine what problems you have and how they can solve them.
It's important to have a realistic expectation of the results of the body treatment. 
You should think the procedure through and ask any questions you may have before treatment.
Types of body treatments
We can classify body treatments in many ways. It's very common for them to be divided into two groups: manual and with equipment. Also, you can separate them by categories depending on the problem they help solve. Let's take a look at some of them.
Manual treatments
In general, manual body treatments include massage therapy techniques. They seek to solve an aesthetic or physical problem. Here are some examples:
Circulatory massage: this helps activate circulation. It's comprised of several techniques, and the best known is lymphatic drainage. As the name implies, this helps to drain the lymph to help the venous system.
Aesthetic massage: this type of massage helps to solve aesthetic problems like cellulite, flaccidity, localized fat, muscular hypotonia, etc.
Relaxation massage: the goal of this massage is to offer physical and psychological relief by reducing muscle tension and calming the mind.
Main treatments with equipment
This group includes the treatments that use a device to achieve the desired aesthetic effect. Here are some of the most important procedures:
Ultrasounds: The specialist will perform lipolysis induced by the release of norepinephrine. This will "burn fat" and helps to treat localized fat, cellulite, and similar problems.
Lipolaser: with this treatment, the specialist will use a non-invasive laster technique. It reduces localized fat and helps shape your silhouette. It consists of the liquefaction of fats that are then excreted by the lymphatic system. This procedure is also combined with manual lymphatic drainage.
Electrostimulation: the specialist will stimulate the neuromuscular nerve endings with small charges of electricity. This causes a rhythmic contraction that increases muscle firmness, among other benefits.
Pressotherapy: this body treatment consists of lymphatic drainage with devices. Also, it has the same advantages as manual lymphatic drainage. You can get just this treatment or you can complement it with others.
Vacuum therapy: this uses a compressor that sucks part of the tissue. That creates a negative pressure massage. Also, it separates skin, fat, and muscle to promote changes and activate circulation.
Cryotherapy: This procedure makes use of low temperatures because fat cells are very sensitive to cold. It won't damage your cells and the effects are similar to those of liposuction. Also, you can use it anywhere on your body.
Other treatments with equipment
In addition to those above, there are other kinds of body treatments with equipment that are not as well known. Here are some of them:
Shock waves: This body treatment uses single-pulse acoustic waves, planar focal shock waves, radial pressure, and high-frequency vibrations. The type of waves the specialist uses will depend on the problem they are treating. These waves stimulate the metabolism of fat cells and have many other positive effects.
Velashape or velabody: in this procedure, the specialist will use four technologies at once— elos, infrared, bipolar radiofrequency energy, and vacuum absorption. It helps to reshape the body.
Body up: This treatment uses magnetic pulse waves. It improves muscle tone and enhances its volume. Also, it yields positive effects after just a few sessions.
HIFU: This uses high-intensity ultrasonic energy. The specialist will use a beam of light to increase the temperature of your body tissues. As a result, the collagen and elastin in the area will restructure. It will tighten the skin, reduce fat, restore tissue and eliminate fibrosis.
Ultra cavitation: With this procedure, the specialist will use 40 kHz modulated ultrasonic waves. These create microbubbles that vibrate and destroy fat cells. It helps to eliminate localized fat.
Treatments by purpose
You can also classify body treatments by their objectives. Here are some of the categories:
Body treatment for cellulite: Lymphatic drainage, ultrasound, pressotherapy, velashape or velabody, ultra cavitation, vacuum therapy, and shock waves.
Reducing localized fat: Lymphatic drainage, reducing massages, electrostimulation, cryotherapy, radiofrequency, vacuum therapy, ultra cavitation, lipo laser, and velashape or velabody.
For skin or muscle flaccidity: Toning massages, electrostimulation, radiofrequency, shock waves, HIFU, and velashape or velabody.
Varicose vein removal: This body treatment complements medical management. The specialist will usually use pressotherapy and manual lymphatic drainage.
Lower or reduce volume: Reducing massages, electrostimulation, radiofrequency, pressotherapy or lymphatic drainage, cryotherapy, vacuum therapy, ultra cavitation, lipo laser, and velashape or velabody. 
For sagging skin: Velashape or velabody, HIFU, and radiofrequency.
For muscle flaccidity: Body up and electrostimulation.
As you can see, there's no body treatment for being overweight. In fact, before carrying out any of the above procedures, it's necessary to get down to a normal BMI. The aesthetic treatments will complement and polish your silhouette. 
General benefits of a body treatment
Above all, a body treatment offers aesthetic benefits. It helps solve any problems with appearance and, as a consequence, increases your self-acceptance and self-esteem. 
This type of treatment also has other positive aspects, such as:
Low risk since they're not invasive like surgeries.
Don't require rest or inactivity after treatment.
Offer gradual progress.
Effective.
Offer very satisfactory results.
The techniques are varied and can be combined to offer better results. 
Almost anyone can undergo a body treatment.
Cost less than surgery. 
In general, a body treatment will help you achieve an appearance you're happy with. They will shape your silhouette and rejuvenate your body. Also, they can provide health benefits like prevention of fluid retention and stimulation of circulation.
How long until I see results?
The amount of time you'll need to wait before seeing results will depend on the problem you're working to solve. Also, it will depend on its severity and the techniques that you're using. Sometimes, the effects are noticeable almost immediately. However, other times, it will take a good number of sessions to see any results. 
Either way, you'll rarely need to wait long to see significant changes. In most cases, body treatment doesn't take more than 8 sessions. Therefore, in the most difficult cases, it usually takes an average of one month to see notable progress. 
Conclusion
These days, there are body treatments for almost any aesthetic problem. Therefore, you have a lot of options and can continuously make progress toward your goal. Also, new procedures are popping up every day.
It's important to seek medical advice before carrying out a body treatment. Although these procedures aren't very risky, your doctor will be able to tell you the best option for your wants and needs. It's also important to choose a reputable professional to carry out these procedures. 
It might interest you...