The Best Hairstyle for Each Face Shape
A good haircut is a change we can make to our image to reflect a different and fresh style.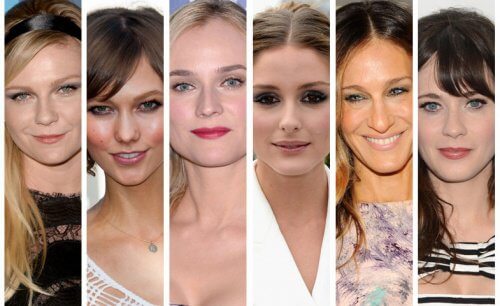 If you want to know which is the best hairstyle for you, first identify the shape of your face. Since this will be one of the keys to making your new hairstyle look spectacular.
Although most stylists know how to do their job properly, sometimes, we are the ones who make bad choices regarding our look. This is why we may not feel very happy with our new hairstyle, even if the hairstylist did a good job.
Fortunately, there are some simple tricks, based on our facial features, that can helps us decide which hairstyle would better suit us.
This is known as visagisme, a technique developed by the Frenchman Claude Juillard, to thoroughly analyze the shapes and lines of the face in order to better adapt each person's hairstyle to them.
The Best Hairstyle for Each Face Shape
Round face

Round faces are characterized for having a small chin, round outline, and round cheeks. Because of this, the best hairstyle for them will aim to make the face look thinner and longer. To achieve this, you can add volume at the top of the hair, and shorten the sides or choose side-swept bangs.
Don't cut your hair at the jaw height because this will make your face look even more round. However, if you still choose a short style, try to increase the length of the contours close to your ears. Similarly, when wearing your hair up, try to always leave out a few strands from the sides. Hence, your face will have an elongated appearance.
Oval Face

Considered as the beauty canon due to the dimensions that characterize it. The oval face has the advantage of being adaptable to most styles. Thus, if you have an oval face, your forehead is slightly wider than your chin and, along with the jaws and cheekbones, almost form a circle.
In this context, a key factor for finding its best hairstyle is that your fringe shouldn't be too long and straight because it can shorten the length of your face. In fact, wearing your hair with a center part and a little bit of volume is perfect for a natural, minimalist and casual style.
Square face

This type of face is wider and reflects a feeling of hardness.

In order to create an oval shape, you can use round brushes and tweezers. This oval shape will give your face a softer look. Additionally, this will also create a voluminous effect.

Women who have long hair may choose to have tufts or curls on the sides of their hairstyle to cover the angled area. However, we recommend you to keep your hair at the shoulder length, or a little shorter, if you have a square face.

We don't recommend hairstyles that end on the jawline because it will make your face look wider.

The best hairstyle for it is an asymmetrical one. For instance, you could keep one side longer than the other and finish this look off with broad bangs.
Long Face

Women whose face is elongated can choose a natural look that allows them to achieve the effect of having a wider face.

This type of face is usually thin and doesn't have too many angles. Therefore,  you can balance it by using a fringe and a haircut that doesn't exceed the shoulders.

In this case, you should avoid keeping your hair glued to the face, because it will look thinner and longer. Instead, we advise layers, curls or waves.

The best hairstyle for it is the one that keeps long layers. Thus, the length of the oval shape will decrease and give it volume on both sides.

Alternatively, if your hair is not curly, you can also keep a short style, but take care that its length is not shorter than your jaw.
Heart Face

The heart or diamond shape has a triangular form. This is because those with a heart-shaped face have a wide forehead and a face that gets thinner towards the chin.

You should opt for a hairstyle with side-swept bangs if you have this face shape since your main objective is to hide the width of the forehead.

Long layers that start below the cheekbones and middle or side parts also suit this face shape.

Furthermore, if your face is heart-shaped then you should avoid short hairstyles longer than your jaw. This is because they will make the top of your face look wide.

Of course, these are just some of the recommendations for each face shape out of the many hairstyles that exist.

Try to ask your stylist for advice on which style best suits your face outline, forehead, and chin.

 

It might interest you...