The Benefits of Garlic Oil for Your Health
It's said that garlic has multiple properties that are beneficial for our health, which is why it's used to prepare various home remedies.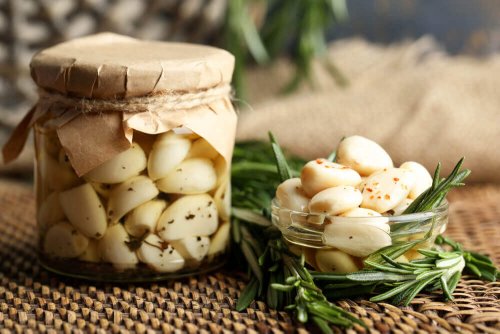 Garlic oil helps give a unique touch of flavor to food. In fact, many consider it a special ingredient they can add to all sorts of delicious meals without too much effort, and not only to traditional Mediterranean recipes.
According to popular belief, garlic oil has several medicinal properties when eaten as a natural remedy. We'll discuss these properties in more detail below along with other interesting facts about garlic. Of course, we'll also give you a recipe to make your own.
What's the nutritional value of garlic?
According to specialists from the Spanish Nutrition Foundation (FEN), garlic is a source of protein, iodine, phosphorus, potassium, vitamin B6, and sulfur compounds. Additionally, they state that "the properties of garlic come mainly from the sulfur compounds it contains (allicin)."
Garlic can provide many health benefits to a balanced diet. For this reason, several studies tried to find out if increasing intake or consuming it in a certain way could be even more effective.
The studies concluded that garlic has many nutritional and medicinal properties and we can obtain it by adding it to any of our dishes, not only when it's raw.
In herbalist stores, drugstores and alternative medicine stores you can already find capsules, tablets and other garlic-based products.
The medicinal properties of garlic
It's been said more than once that garlic is a medicinal food. In the past, it was used in different ways, as it was attributed to different properties. Since it's been so common in the kitchen for so long, it's not surprising that it's been used as an ingredient in various remedies.
However, with advances in science and new investigation, researchers have found that garlic doesn't have such potent and beneficial effects as was previously thought.
However, the most recent research doesn't suggest that garlic has no health benefits. The investigators simply clarify that, although it can provide benefits, this isn't true in all conditions.
In certain laboratory conditions, different compounds found in garlic have been shown to be useful for different issues. This means that eating garlic daily, on an empty stomach or before bedtime, doesn't have the benefits previously thought.
The experts of the 5 A Day Association point out that "systematic reviews and meta-analyses of human studies with natural garlic haven't attributed any specific health effects to it".
A garlic oil remedy
This natural remedy may be beneficial to health due to its high content of olive oil (which is an excellent source of omega 3) and garlic. To prepare it, just follow the recipe below.
Ingredients
Follow these instructions to prepare this garlic oil remedy:
First, peel all the garlic, halve the cloves, and place them in a sealed glass jar.
Second, add the extra virgin olive oil to cover the garlic.
Then, close the bottle tightly and keep it in a dark, cool, and dry place for 30 days. Don't put it inside the fridge.
Then, every two or three days, shake the bottle slightly.
After this time, strain the oil to remove the garlic (which you can still consume). Finally, preserve the garlic oil remedy.
Suggested methods for consuming the garlic oil remedy
It's possible that a tablespoon of garlic oil a day can help maintain robust health and prevent the onset of diseases, especially of the circulatory system.
In addition, it's possible that taking a spoonful on an empty stomach can help fight constipation.
Outside the medicinal field, this oil can be used as a condiment for any dish (salads, pasta, soups, sauces, etc). In this case, if you want a slightly milder flavor, you just have to use less garlic or add more oil.
So how can you integrate garlic oil into your diet?
There's no scientific evidence that consuming garlic (or garlic oil) is especially beneficial for your health unless you combine it with good lifestyle habits. As such, it's best to integrate it into your diet in moderation.
In addition, you should keep in mind that, although there are several hypotheses about the benefits of garlic, for the time being more study is needed to determine the exact benefits of garlic oil.
In short, to enjoy good health and well-being, the most advisable thing to do is to adopt and maintain good (and consistent) lifestyle habits. Never rely on a single food, drink, or remedy. Keep in mind that the human body is very complex; a single source of nutrients can't provide everything you need to function properly and live a full life.
It might interest you...