The 16 Best Ways to Decorate with Balloons
Decorating with balloons is not only wonderful because of their appearance and their variety of uses, but they also help to give any event or location a fun and festive feeling. Let's get this party started!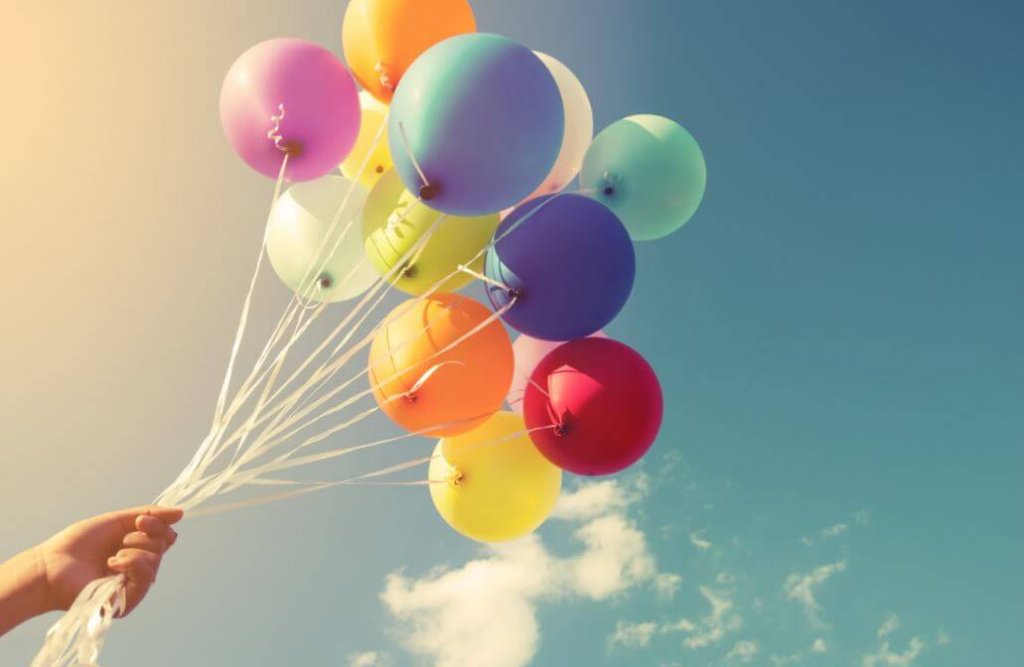 Looking for ways to decorate with balloons that are original and eye catching?
Parties aren't just for coming together and being happy. They're also the perfect occasions to show off your creativity, manual skills, and your own sense of style.
Birthday parties and celebrations in general usually have a lot of decorations, including balloons. Previously, balloons were hung to add color and fill any space to make it seem more lavish and fun. But as time passed, balloons became accessories for any type of party. As such, there's a wide variety of models and designs.
In this article, we'll look at some of the most fabulous ideas so you can decorate your get-togethers with balloons. You can be sure they won't go unnoticed and many will want their picture taken with these wonderful decorations in the background.
Ideas for decorating with balloons
1. Ceiling
An amazing way to surprise the person of the hour and their guests is by covering the ceiling with balloons. To do this, you'll need many color balloons and helium. You can also use paper ribbons with the balloons. Some put a little bit of confetti in the balloons. This way, when they pop, they'll release the confetti and create a magical atmosphere.
2. Donuts
Donuts aren't just for kids anymore. In fact, they're now used in many items (purses, clothing, etc.) to give them a fresh, playful, and modern feel. Donuts are definitely in style among adults, too.
Take advantage of this trend and decorate with donut balloons. You can choose your colors to match your party. You can place one bunch of balloons with this theme in a part of the event hall to make it stand out. Conversely, all of your balloons can be donut themed.
3. With photographs
You can decorate with balloons that have photographs hanging from them. This idea is very moving and will make the guest of honor relive hundreds of special memories. You can place many balloons on the person's bed or place them in a special corner in the event hall.
4. Glitter
In addition to decorating with balloons, you can also decorate with glitter. Bringing both elements together can create a fantastic effect. Adding a touch of glitter to the balloons will make your party look elegant and glamorous.
5. Paint splatter
Solid-colored balloons with paint splatter are another fun and modern option. You can get a fun or sophisticated look by choosing the right colors. You can achieve a much more elegant style by splattering the balloons with colors like amber, bronze, and gold as opposed to rainbow colors, for example.
6. Outside
If you're planning an outdoor birthday party, you can decorate it using a good base. Your party will sure to be adorable in the sun.
7. Polka dots
Decorating with balloons that have a particular pattern (polka dots, stripes, stars, etc.) is a great option if you're looking to make a party magnificent and picturesque. These kinds of balloons are perfect for children's birthday parties.
8. In the shape of a lollipop
You can also turn balloons into giant, colorful lollipops. Simply tie them to a stick and cover them with transparent plastic. This is a great idea for children's parties. You can hang them in a yard or in a large outdoor space. You can create other fun-looking candies with balloons.
9. Stuck to the wall
This idea is ideal for light-colored walls, as it can give them a burst of color. We recommend combining colors and inflating them in different sizes to make it even more eye catching.
10. Candy bar
Use helium balloons for centerpieces in your candy-themed party. If you make them the same color, they'll stand out even more. Using this option will make your party's style cute and original.
11. Transparent balloons
You can add different items to transparent balloons such as confetti. Your guests are sure to be delighted with a burst of colorful confetti in your balloons. Ideally, the balloons should be transparent so that you can see the colors better. Transparent balloons can also contain messages, stuffed animals, or gifts.
12. Shapes
This type of decoration is currently very popular, since there are so many options to choose from for any occasion. There are animals, letters, numbers, hearts, etc.
13. Balloons and fabrics
Balloons and fabrics can create impressive and festive atmospheres. If you use them together, you'll get even more spectacular results. Simply hang a few layers of fabric of whatever color you'd like and join them in the middle of the ceiling. Next, add balloons of the same color as the fabric for a perfect combination.
14. Rainbows
This next idea uses long balloons in the color of the rainbow along with white balloons for clouds that go next to it. It's a colorful idea that's also very joyful and original.
15. Columns
Look for color balloons of your liking and make vertical, intertwined columns. Make sure to place them in strategic locations where they're sure to catch everyone's attention.
16. Children's themes
Decorate with balloons that feature your child's favorite character. Some cartoon characters are classics that have captured children's imagination for generations. A great way to include them in a party is by using balloons that come in the shape of a given character. Above is an example of a balloon featuring Disney's world-famous Mickey Mouse.
It might interest you...