Tea Tree Oil: the Amazing Oil that Provides Many Benefits
Always apply tea tree oil topically. Furthermore, it's best to dilute it with water before applying, so that it doesn't cause any problems or allergies.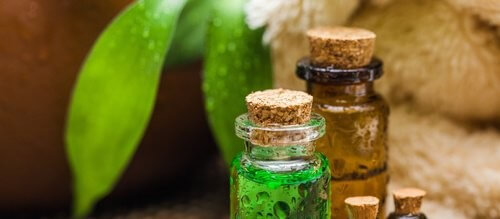 Tea tree oil has been used to treat skin problems for centuries. However, its medicinal uses go further than this.
Interestingly, tea tree oil originally comes from Australia. This is where it first started to be used thanks to the steam distillation of the leaves from a tree called Melalueca Alternifolia .
Since then, the Aboriginal Australians always used it to treat a variety of conditions, ranging from skin problems to respiratory problems, colds and allergies.
Currently, the pharmaceutical and aromatherapy industries use tea tree oil regularly because of its many benefits.
For instance, it smells good, you can find it in any health store, without it being expensive and it also provides excellent results for very common conditions.
Below we'll tell you about a variety of daily uses of this oil that can be very beneficial for you.
Tea Tree Oil Helps Us Treat Acne
A perfect way to get rid of persistent acne or black heads is to use tea tree oil. Its antibacterial, antifungal and antiseptic properties are ideal to combat this common skin problem.
However, remember that you shouldn't apply this oil to the skin in its undiluted form. Instead, you should dilute it.
How to Use and Apply Tea Tree Oil for Acne
Proportions
1 drop of tea tree oil
10 drops of water
5 drops of witch hazel
How to use it
Apply this simple and effective mixture of ingredients by using a cotton ball. It should be applied twice daily:  in the morning and before going to bed. After one week you will see the positive results of this mixture.
Tea Tree Oil Helps to Weaken Dry Nail Cuticles
This oil has many cosmetic uses. One of them is that it helps to weaken chapped and unequal nail cuticles. Tea tree oil also helps to treat fungal nail infection.
How to Use and Apply it
To successfully carry out your manicure, you only need to dampen a cotton swab and use it on the cuticles. After a few minutes you will see how it's easy to get rid of the damaged cuticles.
Another fabulous idea to fight against fungal nail infection is to include 5 drops of tea tree oil in your nail polish. Shake the nail polish bottle for a few seconds and apply the mixture to your finger nails as well as toe nails.
Tea Tree Oil to Treat Pityriasis
Pityriasis Rosea is a dermatological disease that appears in autumn or spring.
It starts off as an initial wound, then turns into erythematous (red) spots and leads to the skin peeling off.
Its origin is infectious and treatment, in many cases, is limited to corticosteroids. Another way to stop it from advancing is by using tea tree oil. This will also help to alleviate its impact on our skin.
How to Use it
The dose of this type of oil should always be more or less 5% of the amount of water that you use.
So, for example, you can prepare a fresh half glass of water (100ml) and add 5ml of tea tree oil to it.
If you suffer from pityriasis, you should clean the affected area before applying the diluted tea tree oil. Next, you should massage the area after applying the mixture. It's advisable to do this everyday.
Little by little you will start to see the positive results.
Using Tea Tree Oil to Treat Athlete's Foot
Athlete's food is caused by a specific type of fungus. Dermatophytes thrive in warm and humid places. Furthermore, they live in dead skin tissue.
It's very common to experience swelling or flaking of the skin, on the sides of your feet as well as in the area between the toes when suffering from this condition. Moreover, athlete's foot is an uncomfortable condition that can affect your toenails.
One way to treat this condition is to use tea tree oil, which will slow down the infection. Below we'll explain how to achieve this result.
How to Use it
Fill the bathtub with warm water.
Add 10 drops of tea tree oil and 10 drops of rosemary oil to the water.
Put your feet in the bath for 20 minutes. After this, dry them carefully, and don't forget to dry the area between your toes. Repeat this every day after you get home.
Tea Tree Oil is the Best Mosquito Repellent
This remedy never fails. If you live in a very humid area, you run the risk of being attacked by mosquitos. As we already know, there is no enemy as ravenous as these insects. They can also transmit diseases when feeding on our blood.
Seeing as organic repellents or using a specific type of clothing are not enough to repel mosquitoes in some cases, we suggest you do the following.
Make your own mosquito repellent with tea tree oil. Take note of how to make it below.
Ingredients
5 teaspoons of water (50ml)
10 drops of tea tree oil
100 drops of citrus or essential lemon juice
How to Make it
In order to create this mixture you will need to use a bottle that has an oil diffuser. After this, you should apply this mixture to your skin every night before you go to bed.
It's a great and cheap repellent, and is worth always having in your house.
In conclusion, you have already seen how this oil has multiple uses. Remember that it's better to dilute tea tree oil if you want to apply it topically. Furthermore, and as a suggestion, remember that tea tree oil is also great to use for household cleaning.