Tatsoi Lettuce Plant: Origin, Nutrients, and a Recipe
The tatsoi lettuce plant is full of nutrients. Today, we'll share some ways to include this vegetable in your regular diet, including a great recipe. Don't miss out!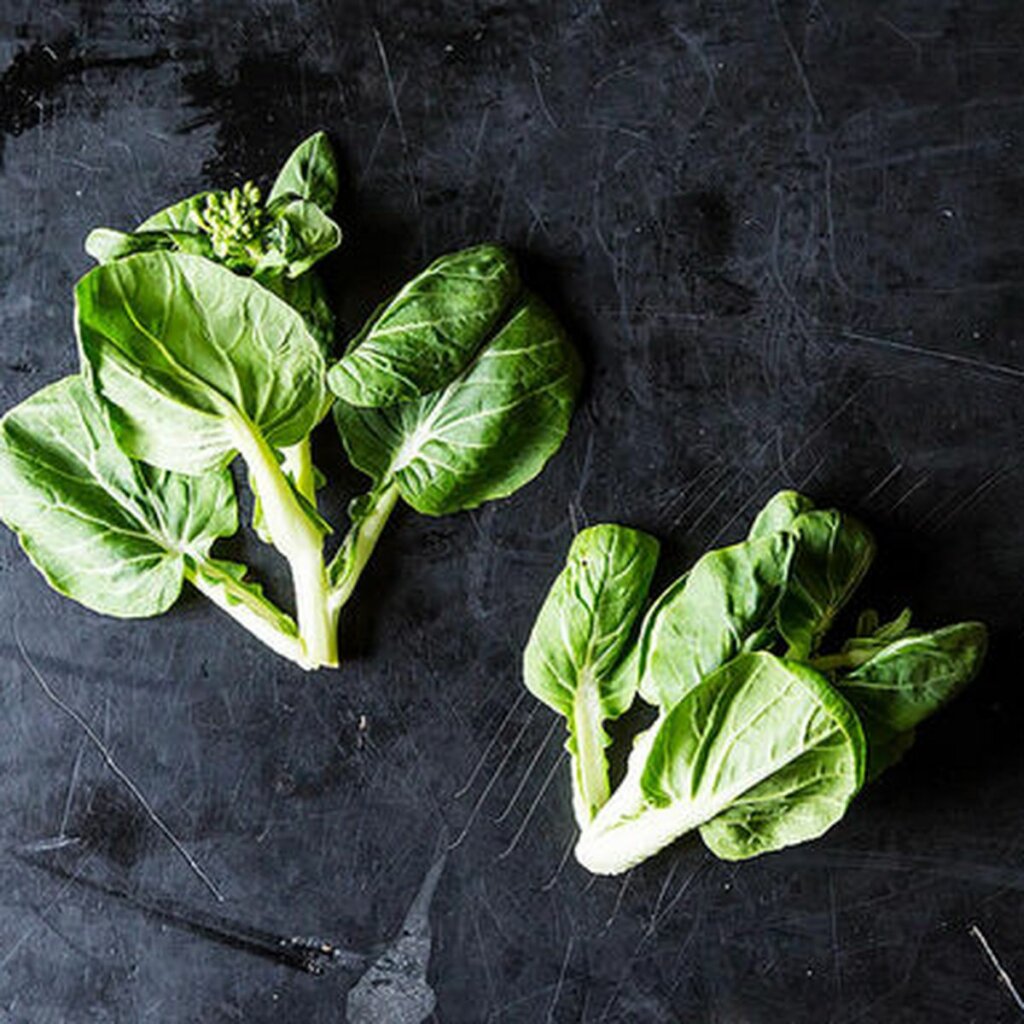 The tatsoi lettuce plant is a vegetable in the cruciferous family. It's also known as mustard spinach and has several health benefits. In fact, all of the plants in that botanical group are very advantageous for your health. Therefore, you should include it in your diet regularly.
Specialists recommend increasing the amount of plant-origin foods that you eat. These foods have antioxidants, phytonutrients, and essential vitamins for the body.
Tatsoi lettuce plant nutritional properties
From a nutritional point of view, the tatsoi lettuce plant stands out because of its vitamin A and C content. In addition, it contains carotenoid compounds inside. Also, it has folic acid and other minerals like calcium and potassium.
However, most of this plant's positive effects come from glucosinates. These are a series of phytonutrients with high antioxidant and anti-inflammatory capacity. They're also a good source of fiber. 
Benefits of including the tatsoi lettuce plant in your diet
Regular eating of the tatsoi lettuce plant can provide you with several health benefits. However, to get the most from this plant, you'll need to carry out a varied and balanced diet. 
Improves bone strength
Tatsoi lettuce contains a significant amount of calcium. According to a study published in the journal Nutrients, this mineral is key to ensuring long-term bone health. And, although dairy is a good source of calcium, it's important to find other foods that can provide it as well.
Helps prevent vision problems
Tatsoi lettuce also contains vitamin A which can reduce any vision-related diseases. According to the journal Ophthalmic Genetics, this nutrient prevents macular degeneration, a process related to vision loss in the medium term.
Reduces the risk of developing cancer
Vegetables in the cruciferous group have phytonutrients that can help reduce the risk of developing certain types of tumors. A review in Critical Reviews in Food Science and Nutrition demonstrated this.
This benefit comes from the phytochemicals' ability to neutralize the formation of free radicals. These free radicals accumulate in your tissues which causes inefficiencies in cell replication. It's the perfect breeding ground for tumor cells. 
How to eat the tatsoi lettuce plant
You can eat tatsoi lettuce raw, cooked, or sauteed. Many people use it to make salads, soups, smoothies, quiches, and stews. However, you should note that cooking it can lead to a loss of essential nutrients, like phytochemicals. 
Because of that, it's best to eat it both raw and cooked in more complex recipes. That way, you can ensure you're getting a high-quality amount of antioxidants.  
Spicy fried tatsoi lettuce
Follow this delicious recipe to increase the amount of tatsoi lettuce in your diet.
Ingredients
1 chili pepper
1/2 shallot
1 clove of garlic
2 small carrots
1 teaspoon of fresh ginger
1 small head of tatsoi lettuce
1/2 teaspoon of cumin seeds
2 tablespoons of extra virgin olive oil
Juice from 1/2 lemon and some lemon zest
Directions
First, pour the extra virgin olive oil into the wok and put it over medium heat. Then, add the cumin and sauté until it turns dark. Add the ginger as well as the sliced garlic and finely chopped chili. As you stir, make sure the garlic starts to brown, and then add the minced garlic.
After that, add the carrots then season them. Keep stir-frying everything for 3 minutes. Then, squeeze the juice from half the lemon and add the lemon zest. Once the liquid evaporates, add a little water (2 tablespoons).
You need to cook the whole mixture over high heat until the water evaporates and the carrots are soft. This will take between 5 and 7 minutes.
Once the carrots are tender, add the tatsoi lettuce plant to the wok. Then, fry everything again for a couple of minutes with another tablespoon of water. Finally, cover the wok and leave it over the heat for a couple more minutes so the lettuce will soften. 
Once all the liquid has evaporated, it's ready to be served. We recommend serving it while it's hot.
Can you grow the tatsoi lettuce plant at home?
Yes! It's possible to grow the tatsoi lettuce plant at home. One of the best things about this plant is that it grows well in diverse climates, so you can grow it almost anywhere. To do so, you'll need to put the seeds in a pot with soil fertilized with a balanced fertilizer. 
Keep in mind that this vegetable grows best in colder climates, so it's best to plant it in the fall. Also, it doesn't need much water and you can usually harvest it about 3 weeks after planting it.
Conclusion
Similar to other cruciferous plants, the tatsoi lettuce plant has several health benefits. It stands out for its phytonutrients and essential vitamins, so make sure to include it in your diet.
However, remember that it's necessary to alternate raw and cooked tatsoi lettuce. That way, you'll be able to avoid losing out on its antioxidants. In addition, it's important to ensure that your diet is varied and balanced to enjoy its beneficial effects.
It might interest you...