Tasty Spinach Recipes You Should Add to Your Diet
Spinach contains an antioxidant called alfa lipoic, which lowers glucose levels and helps mitigate the effects of stress on your body.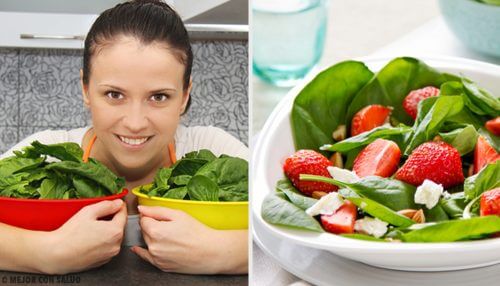 Spinach is a leafy vegetable that belongs to the amaranthaceae family. It's originally from Persia. Today, it's grown on the coast and in temperate climates. Do you want to learn a few tasty spinach recipes?
It's a very nutritious vegetable with many benefits for your health. A few of its properties are the fact that it:
Is a low-calorie food.
Contains high amounts of vitamin A, B9, K, and folic acid.
Contains iron, calcium, phosphorus, and magnesium.
Also contains flavonoids, carotenoids, and high amounts of potassium.
Why you should eat spinach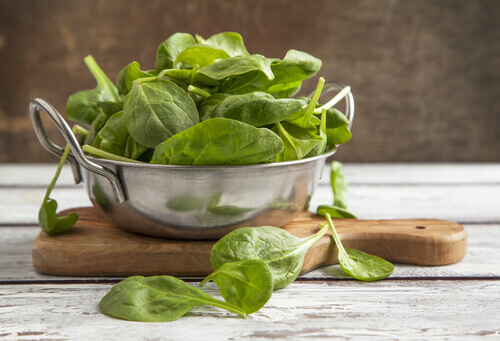 There are countless reasons to eat spinach spinach. Here are just a few of them!
Spinach:
Prevents eye diseases.
Fortifies your immune system.
Is good for your skin and mucous membranes.
Is recommended during pregnancy and while breastfeeding because it contains folic acid.
Helps blood clot properly.
Is good bone health.
Improves your digestion.
What are you waiting for? Below, we'll give you some tasty recipes with spinach. In the kitchen, remember that everything goes! Don't be afraid to add it to all kinds of dishes; it has a flavor that combines well with other foods.
"Don't miss: 7 Reasons to Eat Spinach Every Day of the Week"
Spinach lasagna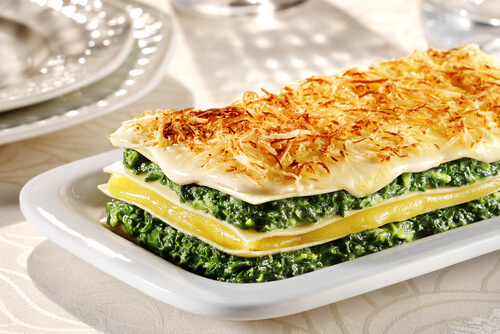 If you want to amaze your dinner guests and make a dish that's both delicious and nutritious, spinach lasagna is the perfect choice.
Ingredients
Lasagna noodles (250 g)
Spinach (200 g)
Sliced mushrooms (300 g)
2 garlic cloves
1 onion
3 tablespoons of olive oil (45 g)
Salt and pepper, to taste
1 cup of white wine (150 ml)
Cheese (150 g)
1 green pepper
Tomato sauce
White sauce
Instructions
To begin, cook the noodles in a pot with water and a bit of salt.
Likewise, cook the spinach for 3 minutes and then drain.
While the pasta is cooking, peel and mince the garlic.
Next, add one tablespoon of the olive oil to a pan and saute the garlic.
Then, add the spinach and season to taste.
In another pan, add the second tablespoon of olive oil, half of the chopped onion, and the mushrooms. Once softened, add the white wine.
Cook until the wine evaporates and season.
Now, with the last tablespoon of olive oil, saute the rest of the onion along with the chopped pepper.
Then, add the tomato sauce and season with salt and pepper.
After that, place the lasagna noodles as the first layer in your serving dish, cover with a layer of the mushroom mixture, and then another layer of noodles.
Next, add a layer of the spinach and another layer of noodles.
Then, add the pepper mixture and one last layer of noodles.
Pour on the white sauce and cheese.
Finally, bake at 400 degrees for 20 minutes. Bon appetite!
Spinach and strawberry salad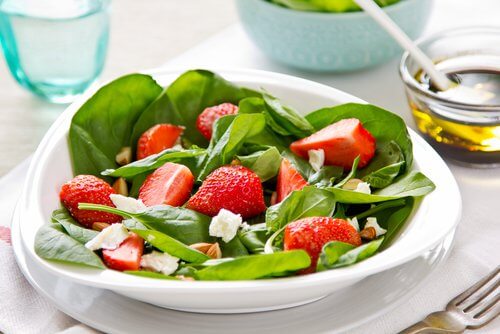 No proper meal is complete without a delicious salad. This tasty combination will delight your taste buds with its sweet and sour of strawberries and spinach.
Ingredients
Spinach (250 g)
Strawberries (200 g)
Goat cheese (250 g)
Walnuts (100 g)
The juice of 4 lemons (40 ml)
1 tablespoon of olive oil (15 g)
Salt and pepper, to taste
Instructions
Start by washing the spinach and strawberries well.
Next, halve the strawberries and walnuts.
Then, cut the cheese into small pieces.
Add all of the ingredients to a bowl.
Then, make the vinaigrette in a small container by adding the olive oil, lemon juice, and salt and pepper and mixing.
To end, pour the vinaigrette onto the salad and enjoy your salad.
"We recommend reading: How to Make 5 Weight Loss Smoothies with Spinach"
Salted spinach with ham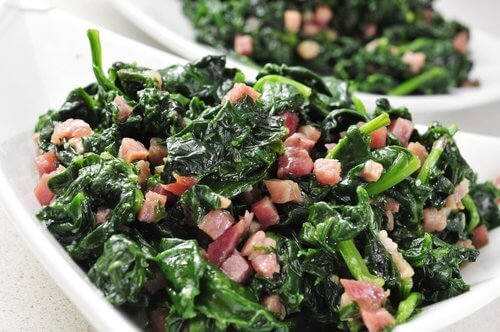 A lot of people aren't fans of green vegetables. But if you combine them with other ingredients, you won't even notice spinach is on your plate. Eggs and ham are a great way to start your day, but the spinach will give you the energy you really need.
Ingredients
2 pounds of spinach
Ham (200 g)
5 garlic cloves
1 tablespoon of olive oil
Salt
4 eggs
Instructions
To begin, add the olive oil to a pan and saute the garlic cloves, whole and unpeeled.
Then, add the spinach and salt to taste.
Cook on low heat for 10 minutes.
Next, add the ham and gently stir for 5 more minutes.
Finally, add the 4 eggs, beaten, and you're ready to serve.
So which one are you going to start with?