Taking Viagra Can Cause Visual Disturbances
Scientific studies suggest that Viagra can cause visual disturbances, especially when taken in high doses. As there are numerous case reports, it's essential to take this drug under proper medical supervision.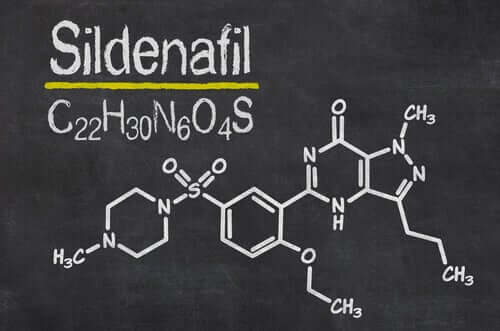 The idea that taking Viagra can cause visual disturbances isn't new. In fact, people who take the famous blue pill have reported strange vision symptoms. However, everything shows that this only occurs if a patient exceeds the dose.
According to available data, high doses of Viagra can cause visual disturbances and even persistent visual symptoms. They don't occur in all men who take the pill, but high doses are a risk factor for any patient who overdoes it.
Experts have to conduct further studies. Although it's a fact that Viagra can cause visual disturbances, they don't yet know the exact extent and severity. For this reason, it's essential for a doctor to prescribe this drug and follow up on the patient if they require it.
Let's talk about Viagra
Viagra is a drug that reverses erectile dysfunction which was approved for medical use in 1998. It soon became the best-selling drug of all time. Although this drug should only be sold with a prescription, it's also offered in the black market.
The active ingredient in Viagra is sildenafil. It comes in 25, 50, and 100-milligram oral tablets. The recommended dose is 50 milligrams per day. Only specific cases require half or double the dose.
The substance in this drug was originally used to treat high blood pressure. But experts detected that it dilated the blood vessels and caused relaxation of human penile arteries, making it easier to have and maintain an erection. However, sexual stimulation is required for it to have that effect.
To date, there have been four big studies on Viagra. All of them have focused on the effectiveness of the drug compared to a placebo. However, like any other drug, it has side effects that began to be detected with case reports.
Case reports
In 2008, the case of 58-year-old engineer John Pettigrew, who reported a strange reaction, became known. After taking a Viagra pill, his entire vision turned blue. This was the first indicator that Viagra can cause visual disturbances.
Pettigrew's case became famous when the British newspaper Daily Mail published it. After that, many men who had had similar reactions began to speak out. However, experts verified that this effect disappeared within 24 hours and didn't lead to complications.
The issue seemed settled, until the journal Retinal Cases & Brief Reports published a new case in 2018. A 31-year-old man's vision had turned red and stayed that way for a year. He was treated at Mount Sinai Hospital in New York.
In 2019, the Massachusetts Eye and Ear Hospital in Boston reported a new case. This time, the affected patient saw strange shapes after taking the drug. He specifically saw donut-shaped spots and his doctor detected retinal damage. It's unclear whether he improved or not.
Viagra can cause visual disturbances
The common factor in the reported cases was that the men had exceed the recommended dose of the drug. Therefore, the presumption is that Viagra can cause visual disturbances when men exceed the recommended dose.
A study conducted at the Experimental Eye Research in 2014 estimated that healthy men who took 200 milligrams of Viagra, instead of the maximum of 100 milligrams, experienced visual disturbances. Experts also associated permanent vision damage in those who had a hereditary eye disease.
Ultimately, experts estimate that a dose greater than 100 milligrams can cause persistent visual effects, such as color vision deficiency and sensitivity to light. They've also reported blurred vision, abnormally dilated pupils, and red-green color blindness.
However, these effects don't occur in all men who take high doses of Viagra. Everything indicates that a segment of the male population doesn't correctly assimilate the active ingredient, sildenafil, and doesn't eliminate it efficiently either. High blood concentrations of that substance would lead to the visual disturbances that some men experience.
It might interest you...