Syrian Refugee Selling Pens on the Street to Feed Daughter
Thanks to the generosity of thousands of people, Abdul and his daughter are on their way to a better life.  After his ordeal, he now wants to help others in need.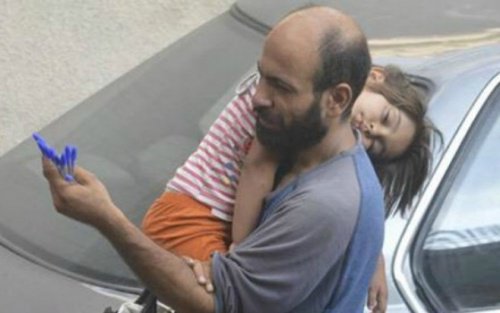 The innocent always suffer the worst consequences of war.  If they don't end up losing their lives, they're forced to flee their homelands to seek refuge in far off places in the hopes of finding a little peace.
The conflict raging in Syria, where the death toll has reached 220,000, is a current example of such suffering.
In fear of losing their lives, many people have fled to find a better place to live and raise their families.
The touching story that we'd like to share with you today is about one of the survivors of this conflict who has found refuge in Beirut, Lebanon after leaving his home in Yarmouk, fearing the worst.
This is the story of a single father known as the "anonymous vendor"; a Syrian refugee whose real name is Abdul.  A photo taken of him and his daughter went viral in the past few weeks; it's proof that love conquers all.
The Story…
The "anonymous vendor" came to Beirut with only 8 blue ink pens and tender love for his 4-year-old daughter, who fled with her father to escape the conflict in their country.
After coming to Beirut, he wandered the streets trying to protect his most precious treasure, sheltering her at night from the cold and guarding her against the drug addicts that roamed the area.
When her little eyes opened to a new day, Abdul continued trying to sell the only thing he had so that he could feed his little girl: his ink pens.
The anguish on the man's face caught the attention of Gissur Simonarson, an activist from Oslo.  He took a photograph and shared it on social networks, not knowing the impact it would have.
Within minutes, the photo went viral as everyone saw a man trying his best to do something for his daughter in the midst of such terrible difficulties.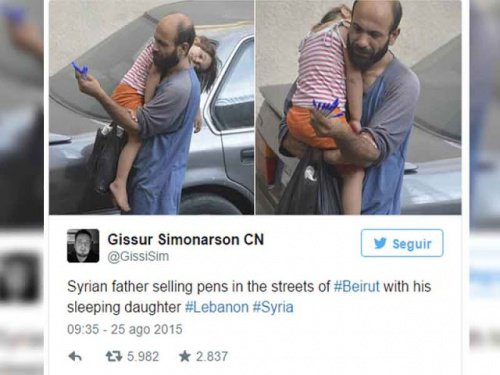 Gissur never imagined that his photograph would change the life of that man, but admits that the image is very moving and, of course, has an emotional impact.  The image has proven to be one of the strongest to come out of the conflict.
The good news is that the image led to more than just an exchange of messages on social networks.  Thousands of requests came in from people across the world wanting to help this loving father and his daughter.  Millions of people took advantage of social networks to find Abdul, as his whereabouts were unknown.
After two intense days of searching, Gissur was finally able to find Abdul and give him the help from those supporting his cause.
The activist challenged Twitter members to raise $5,000 to help the man and his young daughter. To his surprise, this amount was reached within only 30 minutes and grew to over $80,000 in total.
This meant a new beginning for Abdul, who burst into tears upon hearing the news.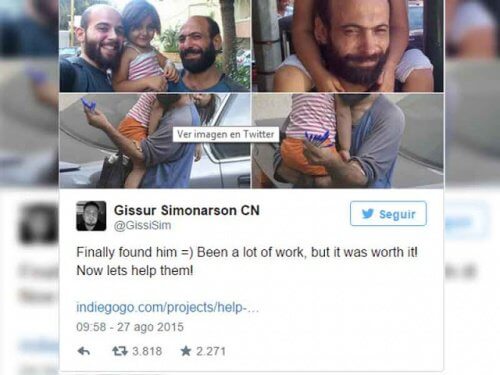 Abdul is just one of 4 million refugees who have escaped this brutal war, living proof that the innocent suffer the worst consequences.
He now has a roof over his head and is starting a new life with his daughter, who he can now send to school.  During his interview, he expressed his desire to help other refugees with the money that was donated.
"Thanks to everyone for their generosity, but above all, thank you for giving my daughter a reason to smile again," Abdul expressed, an honest man of 35 who left everything in his home country to protect his precious little girl.