Surprise your guests with a delicious Greek salad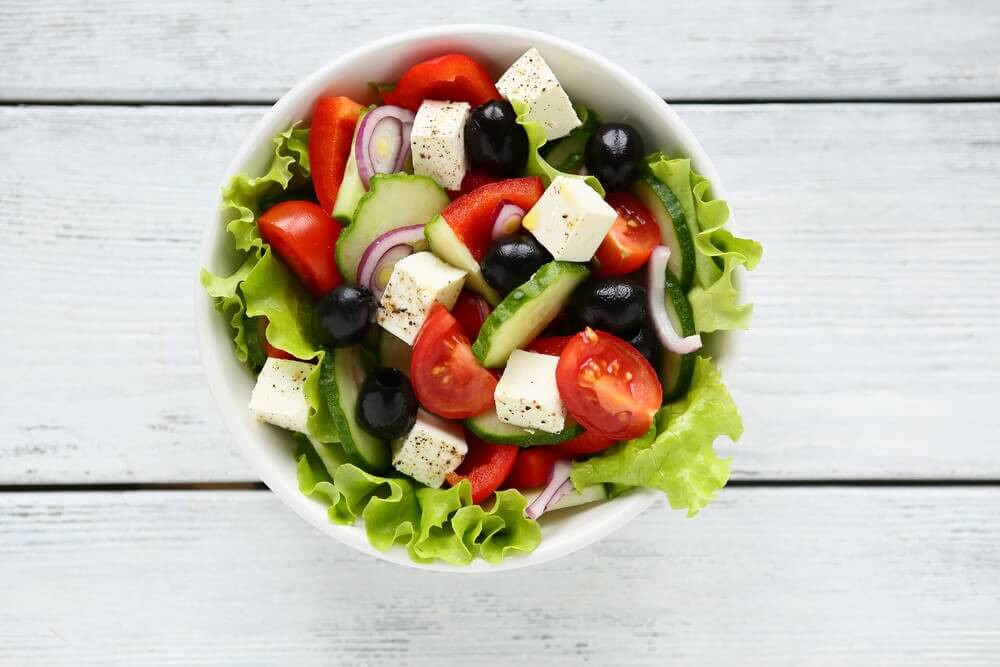 Salads will always be the best appetizer for any meal, meeting or dinner. This Greek salad recipe will delight and pleasantly surprise all of your guests.
The world of gastronomy is very broad. There are people who like to make desserts, some who like more elaborate dishes, and others who are happy making something simple but delicious. If you are like those people, then you should learn how to make a delicious Greek salad.
Salads vary in type and colors. So, all you have to know is which one is for you. These dishes are considered to be the best for lunches or dinners, but the truth is that you can prepare them whenever you feel like it.
We know that a salad is a dish made with vegetables or vegetables that are cut into squares or strips, and seasoned with vegetable oil, salt, vinegar, or any type of dressing.
However, when it comes to a Greek salad, it has specific ingredients from Greece, such as tomatoes, cucumbers, peppers and red onions. In regards to the dressing, it is made with salt, black pepper, oregano and vegetable oil.
However, there are many variations of this type of salad. There are some people who add cheese, others who use cherry tomatoes instead of regular ones, and others that add lettuce.
Here in Step to Health, we will show you how to prepare different variations of this delicious Greek salad. Each dish won't take too long to make, and it will also be an excellent option for your calorie and carbohydrate intake.
How to make Greek salad
1. Traditional Greek salad
This recipe is the best way to combine the Mediterranean flavors. You can use cherry tomatoes if you'd like, but try to keep the essence of this salad by using its traditional ingredients.
Ingredients
3 tomatoes
1 cucumber
½ purple onion
2 cups of cheese squares (200 g)
¼ cup of black olives (50 g)
2 tablespoons of olive oil (30 ml)
1 tablespoon of salt (15 g)
½ tablespoon of black pepper (8 g)
1 tablespoon of oregano (15 g)
½ red pepper
Instructions
To start, wash and cut your vegetables. You can use a little vinegar to disinfect. The tomato and onion should be cut into julienne slices, while the cucumber and pepper should be cubed. Next, put them in a bowl.
As for the dressing, you should mix the olive oil with salt, pepper and oregano in a bowl. Store in the refrigerator.
Finally, add the dressing along with the cheese cubes and olives to the bowl of vegetables. Serve and enjoy your delicious salad.
Read this article too: Enjoy a Delicious and Healthy Salad Every Day of the Week
2. Greek salad with romaine lettuce
This is a variation of the traditional Greek salad, but a lot of people choose not to add lettuce as a base. This dish is a good appetizer for a romantic date or dinner. Learn to prepare it in just a few steps.
Ingredients
1 purple onion
2 cherry tomatoes
½ cucumber
½ red pepper
1 head of romaine lettuce
1 clove of crushed garlic
½ carrot
3 tablespoons of lemon juice (45 ml)
2 tablespoons of salt (30 g)
1 tablespoon of pepper (15 g)
3 tablespoons of soy sauce (45 ml) (optional)
3 tablespoons of olive oil (45 ml)
Instructions
First, mix the olive oil, garlic, lemon juice, and soy sauce in a bowl. This will be the dressing for your salad .
Then, in a pot over medium heat, cook the onion and carrot for 15 minutes to soften them a little.
Wash the lettuce with a little vinegar and cut the cherry tomatoes in half, the pepper in long strips and the cucumber in squares.
Finally, put all the ingredients in a large bowl and sprinkle a little of the dressing on top. Then, add salt, pepper and serve your Greek salad.
Check out this article too: The 7 Worst Things to Put on Your Salad
3. Greek salad with quinoa
Quinoa is a good option to give this salad a healthy bonus. Remember that this grain is a source of vitamin E and minerals like calcium and iron.
Ingredients
1 cup of quinoa (150 g)
2 tomatoes
1 purple onion
½ cup of black olives (75 g)
2 small cucumbers
3 tablespoons chopped parsley (45 g)
2 tablespoons of salt (30 g)
1 tablespoon of pepper (15 g)
2 tablespoons of olive oil (30 ml)
½ cup of feta cheese (100 g)
2 tablespoons of red vinegar (30 ml)
Instructions
First, cook the quinoa as if you were making rice, and then put it off to the side.
Then, mix the vinegar with salt and pepper. This will be the dressing for your salad.
Next, cut the tomatoes and onion into julienne slices, and cut the cucumber into squares. Then, put them in a bowl.
Add the quinoa to the bowl of vegetables and mix well.
Finally, pour the dressing over the Greek salad, add the parsley, olives and feta cheese. Now you're finished making it, so enjoy!
It might interest you...