Sugar-Free Berry Jam
Berry jam is rich in fiber, unprocessed fats, and antioxidants. There's a wide variety of recipes with different calorie content and made with natural, unrefined, unprocessed, sweeteners. We'll tell you some of them!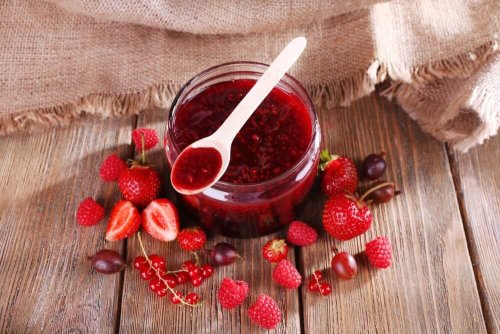 Berry jam is an ideal addition to a low-carb diet when they don't contain sugar. Moreover, with a little practice and the right fruit, you'll achieve a 100% healthy product.
There are various basic methods to make a berry jam without sugar. These include:
Boiling berries without adding a thickener.
Using pectin or some other gelatin thickener to boiling berries.
Thickening boiling berries with Chia seeds.
The Boiling Method
The simplest method for making berry jams is through boiling. Thus, this cooking technique works beautifully with blackberries and raspberries. Furthermore, boiling helps release the natural pectin from the fruits. As the water evaporates, the fruit acquires the classical berry jam texture.
Instructions:
First, place the selected fruits in a tray and mash them lightly.
Secondly, add an artificial or a natural sweetener and cook it over high heat for five minutes, until it boils.
Then, lower the flame to medium, stirring constantly, and continue to cook for 15 more minutes while eliminating any foam buildup that it may have.
Finally, the jam will be ready when the bubbles get bigger and the mixture achieves a creamy consistency.
The Gelatin Method
There are many who consider this to be the best method to make a strawberry jam. Among other things, this is due to its high water content and low pectin level. Similarly, you can use unflavored gelatin powder or leaf gelatin (also known as gelatin sheets).
Ingredients
1 glass of water
1 envelope of gelatin powder
2 cups of strawberries, cut into large pieces
Sweetener of your choice, to taste
1 tsp of lemon juice
Preparation
First, pour the water in a tray.
Second, sprinkle the gelatin powder over the water and mix it well. (If you're using leaf gelatin, let it stand for 10 minutes in lukewarm water, before proceeding to the next step.)
Heat the gelatin mixture in a pan over medium heat until it begins to boil.
Add the strawberries.
Then, add the sweetener of your choice, together with the teaspoon of lemon juice.
Increase the flame to high and boil for three more minutes.
Reduce to medium heat, and boil for 10 more minutes.
Remove any foam buildup from the surface.
Finally, the berry jam will be ready when it has a smooth, creamy texture and big bubbles are formed.
A Method to Thicken Jam with Chia Seeds
Adding chia seeds as an ingredient in the preparation of red fruit jam allows it to thicken. Thus, it's the perfect ingredient to provide the classic jam consistency.
Red Berry Jam (Strawberries, Raspberries, and Blackberries)
Ingredients
2 cups of berries
The juice of an orange
1 tbsp of orange zest
1 tbsp of chia seeds
Sweetener (optional, to taste)
Preparation
First, place the berries in a pot. If you're using strawberries, then cube them – the smaller ones can be used whole.
Second, add the orange juice and bring it all to a boil.
Then, lower to medium heat and start crushing the fruit progressively until it reaches the consistency of puree.
Cook for 10 minutes and add a splash of water. You should now have a dense, smooth, and creamy texture.
Switch to low heat and add the chia seeds. The mixture will now become gelatinous, and will be grainy, similar to sugar.
Finally, add the sweetener.
Allow to cool down and save in a jar.
Alternative Sweeteners for Berry Jams
It's possible to find healthy alternatives to refined sugar, both natural and artificial. Many of these sugar substitutes have a high nutritional value and are potentially less harmful to our health.
You can make a berry jam without sugar using any of the following:
Agave syrup
Piloncillo
Maple syrup
Honey
Unpasteurized, unadulterated honey (add it to the jam mixture after it cools down in order to retain its properties).
Coconut sugar
Molasses
Apple butter
Stevia plant
Raw, unrefined sugar
Sugar-Free Berry Jam
Ingredients
1 ⅔ cup of fresh strawberries
1 ⅔ cup of fresh blackberries
½ glass of grape must
2 tbsp sweetener of your choice
The peel of one lemon, cut in strips
Preparation
First, place the strawberries, blackberries, and grape must in a bowl. Let it steep for a couple of hours so that the flavors blend together.
Second, add the sweetener of your choice, stir the mixture, and steep for five more minutes, until the juices are released.
Then, add the strips of lemon peel to add a special tang to the jam.
Set it all aside in the fridge for 24 hours.
The next day, place the berries in a saucepan and cook over medium heat for 20 minutes until it thickens.
Finally, let it cool down, then place it in a glass jar (previously sterilized and with a lid).
You may use sugar, but if you do, then raw, unrefined sugar is the healthiest choice.
It might interest you...