Strengthen Your Hair with This Homemade Herbal Conditioner
This herbal hair conditioner lets you take care of your hair by both encouraging hair growth and preventing hair loss. Give it a try!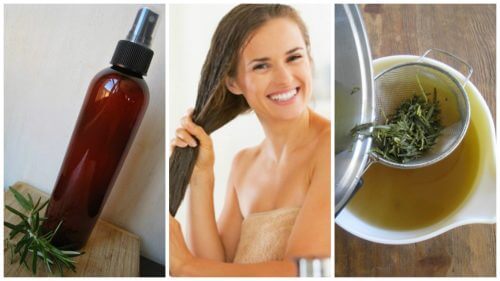 Hair conditioners are one of the hair products we simply shouldn't do without.
They help strengthen your hair. At the same time, they solve common problem, like dryness, split ends and excessive hair loss.
It's usually used before or after using shampoo. However, you can also use it by itself as an alternative treatment to protect your hair and make it shiny.
Using it on a regular basis gives you a significant number of antioxidants, oils, and essential amino acids. Together, these give your hair a healthy appearance.
You can find multiple products like this in the store. In addition, there are also natural products that offer similar results.
In this article, we want to teach you how to make your own natural conditioner with herbs and vinegar. This way, you can pamper your hair without spending a fortune!
You'll love it!
Herbal conditioner with vinegar
This herbal hair conditioner is an alternative product that concentrates the properties of rosemary and vinegar to give your hair a complete treatment.
Its active compounds give nutrients to your roots. After being absorbed, they form a barrier against problems like dandruff and excessive hair loss.
Unlike other oily products, this doesn't change your hair's natural oil production. Plus, it also regulates your sweat glands.
This means even if it isn't as creamy as other conditioners, it moisturizes and makes your hair shine. Most importantly, it does this without causing dryness or excessive oiliness.
 The benefits of rosemary for your hair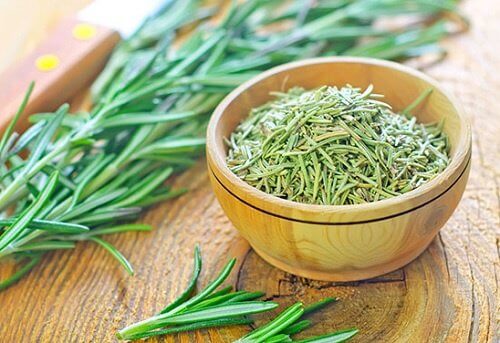 Rosemary is one of the most use plants for hair. This is because it has a lot to do with hair health.
Its antioxidant properties promote scalp detoxification. At the same time, it creates a protective barrier against damage caused by free radicals.
Absorbing its nutrients helps your blood vessels to dilate. As a result, your hair follicles are stimulated to promote hair growth.
In addition, it acts as a disinfectant and an anti-fungal treatment. This helps you control the growth of fungus and bacteria that grow on your scalp.
Also, thanks to its natural pigments, it's a good way to prevent premature graying.
The benefits of vinegar for your hair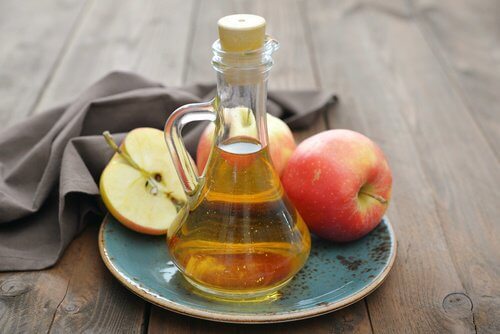 Vinegar is a natural product that has become popular in recent years. This is because it can be used as an alternative to hair conditioners sold in stores.
It's natural acids regulate your scalp's natural pH levels. It also closes your cuticles to prevent excessive hair loss.
These properties prevent changes to your sweat glands. They also keep moisture in the roots of your hair.
You can also count on its great anti-fungal properties. These prevent dandruff and skin infections.
If that wasn't enough, using it regularly keeps your hair strong, full, and free from problems like frizz or split ends.
How to make this vinegar herbal conditioner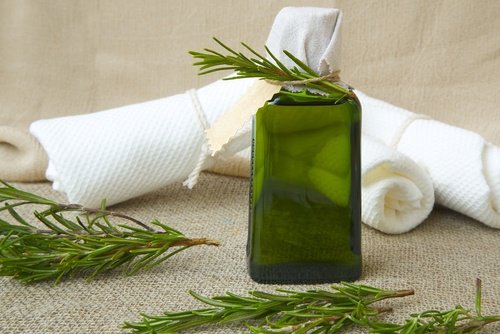 This conditioner is recommended for people who want to have smooth, shiny hair without using harsh chemicals.
It comes from a budget-friendly recipe and it's easy to make. When added to your beauty routine, it reduces residue and dead skin. These are things that usually get trapped close to your scalp.
Ingredients
5 tablespoons of fresh rosemary
2 cups of water
1 cup of apple cider vinegar
6 drops of essential rosemary oil
6 drops of essential mint oil
Instructions
Take the fresh rosemary and mix it with the water in a pot.
Put it on low heat for 30 to 40 minutes. Cover it so you won't lose any of the properties through the steam.
After 40 minutes, strain the liquid through a sieve or fine mesh. Let the liquid cool.
When it gets to room temperature, add the vinegar and both essential oils.
Stir with a wooden spoon, let it sit for 12 hours.
Pour the conditioner in a spray bottle. Store it in a cool, dark place.
How to apply it
Wash with your normal shampoo. Then, separate several locks of hair. Apply the conditioner. Spread it around your scalp with gentle, circular massages.
Let it dry without rinsing it out. Use it every day.
Is your hair dull and lifeless? Make this natural product and give it a healthier look without using chemicals.