Seven Remedies that Relieve Carpal Tunnel Pain
Carpal tunnel syndrome can be incapacitating. Fortunately, there are various therapeutic options that cab help bring relief. Today we'll talk about several remedies.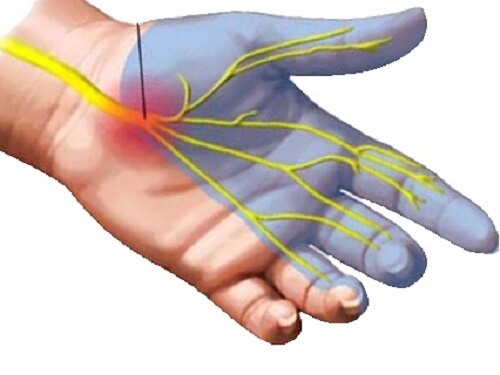 Carpal tunnel syndrome (CTS) is a condition that affects approximately 1 % of working-age individuals. In fact, it's the most common type of hand pain among manual laborers.
Fortunately, there are several therapeutic options that can help reduce this pain. Are you interested in knowing what they are? Discover 7 remedies in the article below.
What is carpal tunnel syndrome?
The medical journal American Family Physician defines carpal tunnel syndrome as "the most common entrapment neuropathy of the upper extremity." 
In fact, it makes up 90% of all neuropathies. It's a condition that occurs as a result of a compression or irritation of the median nerve within the carpal tunnel of the wrist.
Carpal tunnel syndrome appears when the median nerve becomes irritated. The condition involves pain, tingling, and weakness.
Symptoms of carpal tunnel
Carpal tunnel syndrome is considered an occupational injury. It also appears more in women, especially women who are over 40 years old. Its clinical manifestations include the following:
Tingling
Pain
Numbness
Sleepiness
Weakness (the inability to pick things up)
Stiffness in your fingers (especially in the thumb, index, and middle fingers)
A feeling of heat in your fingers
Medical diagnosis is very important since the pain can have a variety of origins and levels of severity. In fact, in certain cases, it may require surgical intervention. Therefore, while the following remedies can help relieve pain, it's always best to see a doctor.
Home remedies for carpal tunnel
Carpal tunnel syndrome can come on slowly and gradually. At the same time, at first, it may affect just one hand and then extend later to both hands. According to a study the appeared in Frontiers in Medicine, the non-surgical treatment of this condition continues to be a question of debate. What's more, the results are controversial.
Despite this, in most countries, it's common practice to recommend trying certain alternatives before surgery. In general, remedies for this condition include options like nighttime splints, the injection of steroids, non-steroid anti-inflammatories, yoga, and other therapeutic options.
Nighttime splints
Carpal tunnel pain can cause interruptions in a persons sleep. Therefore, it's a good idea to use a splint during the night. While this won't cure the problem, it can help to keep symptoms under control, according to a publication in  Biblioteca Cochrane.
For greater comfort, patients should try various sizes and types of splints available in pharmacies and speciality stores. There are no known adverse effects, however, their daily use is not recommended.
Splints don't cure carpal tunnel, but they can help to keep symptoms under control and prevent complications.
Steroid injections
Accordign to information published in The American Journal of Surgery, steroid injections offer temporary relief from pain in 70% of cases. This effect can last for up to a month after the injection. However, over time, symptoms tend to reappear.
Non-steroid antiinflammatories
In most cases, treatment for calming carpal tunnel syndrome includes non-steroid antiinflammatory steroids, such as ibuprofen. In general, they help to reduce inflammation and offer temporary relief, as indicated by Canadian Family Physician.
Yoga
The evidence regarding this remedy is limited, practicing yoga has been linked to benefits when it comes to calming carpal tunnel pain. In fact, a study that appeared in the  American Medical Association, yoga was more effective that other therapeutic options, such as splints.
Consult with your doctor to obtain treatment
As we've mentioned, there are many other therapeutic options that contribute to combating this condition. However, the choice between one of the other depends on the characteristics of each case. Therefore, it's important to consult with a doctor and follow the professional's recommendations.
It might interest you...