Separation Anxiety Disorder: Its Causes and Treatment
Remember: only a specialist can diagnose your child with this disorder or any other. Stay informed, and see a specialist if you think your child may suffer from separation anxiety.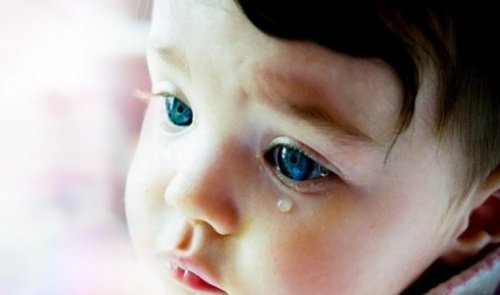 Separation anxiety disorder is very common in child development.
It usually occurs in babies between 8 and 12 months old and usually disappears when they're around 24 months. However, some children have symptoms of separation anxiety during primary school and adolescence.
This disorder is usually indicative of general mood and mental health problems.
About one-third of children with this disorder will be diagnosed with a mental illness in adulthood.
In addition, approximately half of mental health referrals are detected because of suspicion of suffering from this disorder.
Today, we'll take a look at this disorder and some of its symptoms.
What symptoms should you pay attention to?
The symptoms of separation anxiety disorder occur when a child is separated from their parents or caretakers,  just because of the fear of being separated.
Among the symptoms, you should pay attention to the following:
Holding on to their parents
Severe and excessive crying
Refusing to do things that involve moving away from their parents
Physical illness, such as headaches or vomiting
Violent behavior and emotional tantrums
Refusing to go to school
Poor school performance
Not interacting with other children in a healthy way
Refusing to sleep alone
Constant nightmares
We recommend reading: Child Abuse Impacts Children's Development
Risk factors that could lead to separation anxiety disorder
Overall, children with the following characteristics are
much more likely to develop this disorder:
A family history of depression or anxiety.
Having a shy personality.
Coming from a low socioeconomic background.
Overprotective parents.
Lack of proper interaction with parents.
Relational problems with children of the same age.
In addition, separation anxiety disorder can also occur after stressful events in a child's life, like:
Moving to a new home
Changing schools
Their parents' divorce
The death of a family member or close friend.
How is separation anxiety disorder diagnosed?
If you see that your child experiences three or more of these symptoms, they may be suffering from this disorder. Overall, there are two methods that you can use to help with the situation in a positive way.
Therapy is the most effective treatment. Cognitive behavioral therapy, in particular, is responsible for teaching children techniques to deal with anxiety. It includes activities such as deep breathing and relaxation.
In addition, parent-child interaction therapy is another way to treat separation anxiety disorder. For parents, there are three main phases of treatment:
1. Direct interaction with children
First of all, this stage focuses on improving the quality of the relationship between parents and children. It's about warmth, attention, and praise. This allows you to help strengthen the sense of security in your child.
2. Direct interaction with parents
Next, this stage educates parents about why their child feels anxious.
The child therapist must develop a scale of values that shows situations that trigger feelings of anxiety in the child and establish rewards for positive reactions.
3. Parent-directed interaction
Finally, the function of this stage is to teach parents to communicate clearly with their children. This fundamentally helps them to learn to control the misbehavior of their children.
School factors
In addition, another thing to keep in mind is school environment. After all, your child needs a safe place to go when s/he feels anxious.
Furthermore, there must also be a way for your child to be able to communicate with you even during school hours or on other occasions away from home.
Finally, your child's teacher should encourage them to interact with classmates.
Overall, there is no specific drug for separation anxiety disorder.
Antidepressants are often prescribed to older children with this condition. However, specialists should supervise this at all times, as they can cause side effects.
Does Separation Anxiety Disorder Affect the Family Environment?
Of course, this disorder also
affects emotional and social development
. It can lead to your child avoiding experiences that are crucial to normal development.
In fact, this disorder can affect family life in several ways:
First of all, it can influence family activities that are limited by negative behaviors.
In addition, parents with little or no time for themselves or each other may become frustrated with the child.
In addition, the siblings of a child with this disorder can become jealous of all the attention they receive.
Remember that it's essential for you to always work with the specialists to solve the problem correctly. Separation anxiety disorder is a condition which requires special care.
Therefore, do not recommend  that you decide to treat it by your own means under any circumstances.
Instead, it's best that you follow the advice of those who really know about this condition and use this information only as a guide.
Only a specialist can diagnose your child with this disorder or any other.