Revitalize Your Home with These 10 Ideas for Decorating with Plants
Plants are ideal for decorating our home and for creating a clean, healthy, cozy environment with a natural touch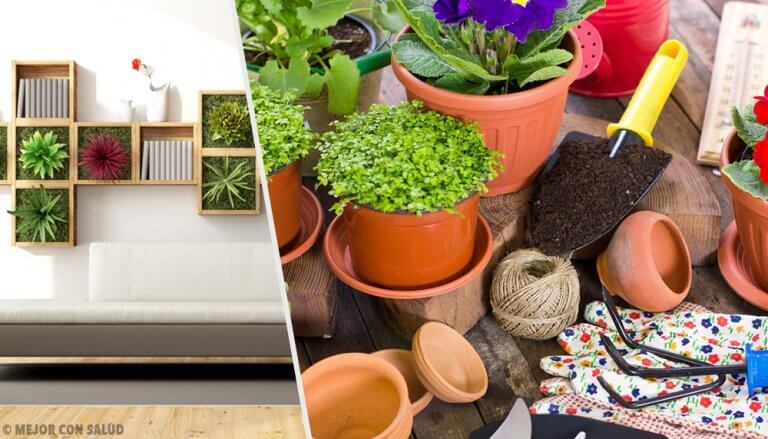 Decorating with plants is possible even if you don't have a spacious garden. Just creating a green space in any small area of the house is enough.
To do that, you'll need to let your imagination run free and you'll be able to add a little green, a little color and a little fresh air to your space.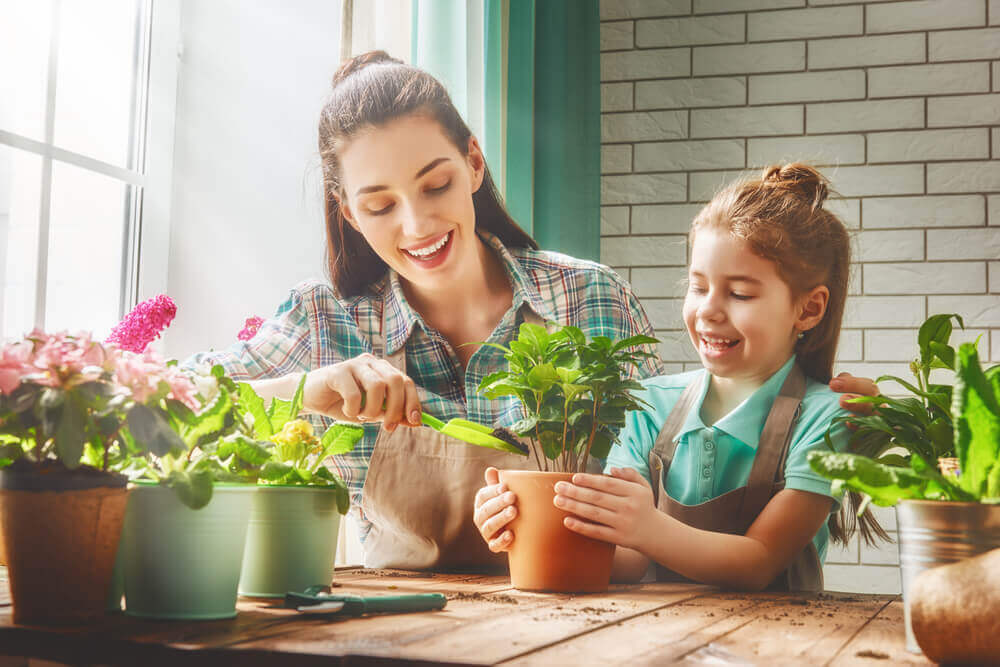 Whether they're small plants, succulents, with or without flowers, the truth is that it's worth it to share the space in your home with these generous beings.
Some advantages of decorating with plants are:
They oxygenate the environment. It isn't harmful to have a plant in your room. While it is true that plantsdon't go through photosynthesis during the night, the general balance that they make during the day is very beneficial.
Plants provide a relaxing effect. Both the color of the plants and their beauty affect our mood in a positive way, helping to give off a relaxing feeling.
They improve the air that we breathe. Plants in our home purify and revitalize the environment. They absorb contaminating gasses and they also increase the humidity in the air. Also, they improve the cooling ability of a room in the summer and produce heat in the winter.
Plants they help reduce noise. They work like walls to keep out exterior noises out.
They improve your work or academic performance. Given their harmonious and relaxing effects, your concentration on a specific task will improve because your creativity and production have been increased.
Finally, they improve your self-esteem. By planting, caring for and growing plants, your self-esteem increases. Naturally, this then improves your mood.
Given the variety of options, it's very likely that you'll find a plant that's perfect for every space in your home. Whether it's for the living room, hallway, bedrooms, windows, terraces, kitchen or garden.
Since you have such a large variety of plants and flowers, you have the freedom to choose those that best fit your needs, whether for aesthetics or for maintenance.
Fortunately, decorating with plants doesn't require a lot of effort, just a few tips and daily care for your green friend.
1.Lightbulbs as flowerpots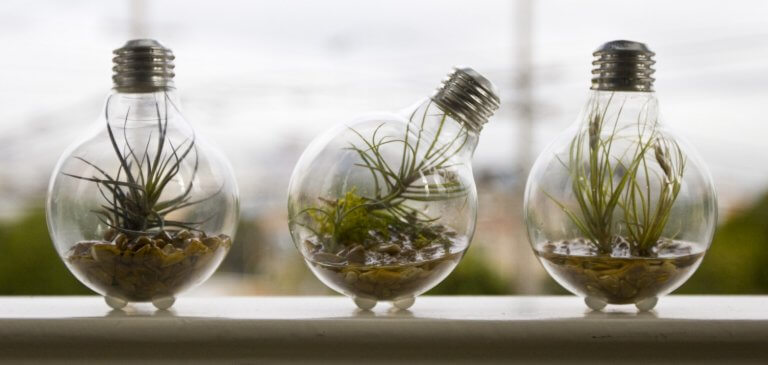 Lightbulbs are great as centerpieces or for placing in any window or shelf. You can use them as vase by adding a little water to them or you can even turn them into delicate flowerpots for small plants.
Not only will you be recycling your old light bulbs, but you will also be giving your home an artistic touch.
2. Aquatic flowerpot
This is an original, funny and interesting creation that will make this space in your home an attraction point. Choose a transparent glass container and fill it halfway with water. Add a plant that can survive with its roots in water.
You can add river stones or decorative pebbles too give your flowerpot an aquatic touch.
3. Vertical gardens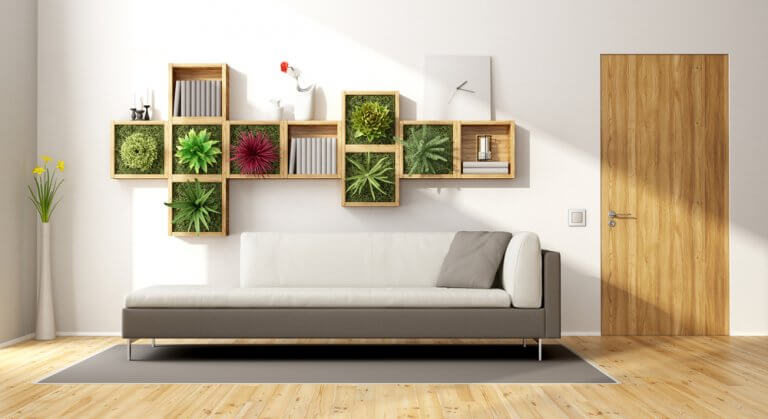 Another original idea for achieving a natural feel in your home is by hanging gardens with interior plants on the walls.
To do so, you'll need to make a wood or metal frame with the design of your preference. Then, put small flowerpots on it. This will give you a vertical garden with distinct colors and textures.
4. Herb garden
You can grow aromatic herbs like rosemary, basil or mint. This small garden will not only decorate your kitchen, but it will also make it easier to add delicious ingredients to your favorite dishes.
We recommend that your plant different herbs in a wood pot in order to give it a rustic touch. Or, you can put them in individual pots that you put in a tomato box or another container.
5. Aerial plants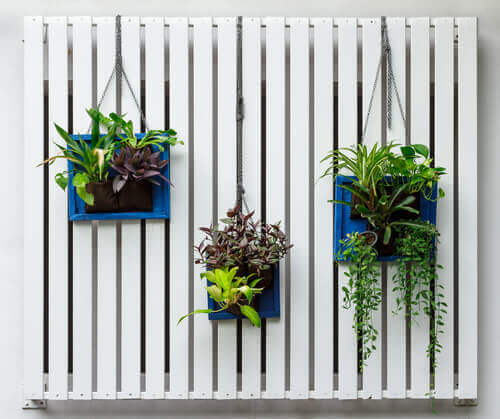 Aerial plants are plants that can grow in the air. They don't need their roots to be planted in the ground. This versatility lets us place them over any surface.
To do this, plant small bromeliads over corks, rocks or even over a small vase and then hang it from the ceiling or on the wall.
6. Hanging plants
When you have high ceilings, you can hang plants from them. You can also take advantage of wall space by hanging your plants there. Hanging plants are very original and give your home a modern touch.
Ferns are classic plants whose leaves appear to fall from a hanging pot, giving it a waterfall effect. Also, with this technique, you can use beautiful and modern flowerpots.
Check out this article: Learn to Make a Hanging Garden
7. Plants on furniture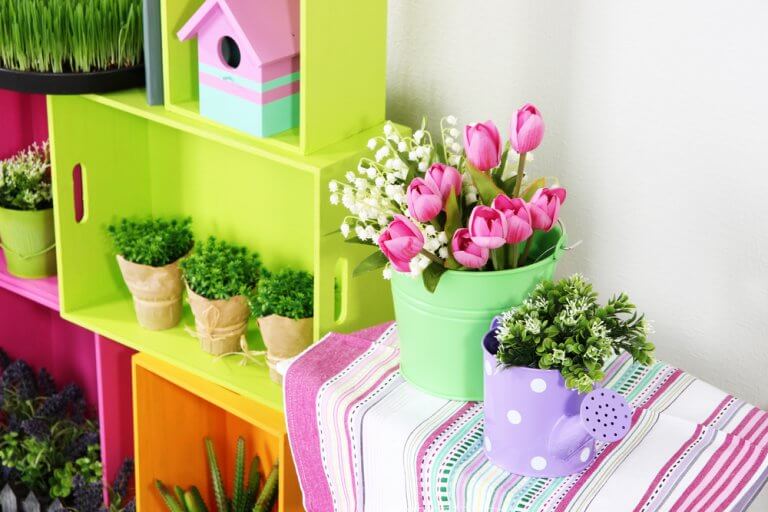 When you have large pots, a way modern way to place them is on top of furniture. Make sure that the size of the plant works with the size of the space.
We recommend that you place pots on small staircases, chairs or old-style benches.
8. Play with the colors and shapes of the pots
Elongated, square or unconventional pots are very beautiful when decorating with plants. If you choose a transparent pot, you can add decorative white or dark stones. White stones stick out because of their texture, while dark ones will contrast with the pot.
In addition, you can use small plants to decorate your house with a combination of colors. Try to place them in small pots to better enhance the colors and tones of the plants.
Another original idea is to reuse materials like metal jars or plastic bottles.Then, paint them how you choose.
9. Desert plants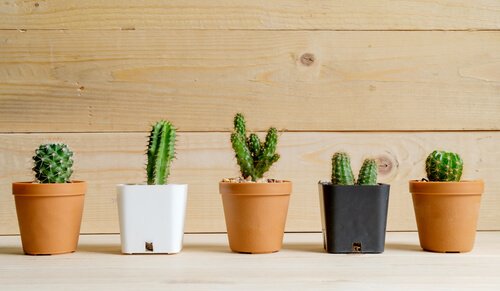 When you don't have a lot of time to dedicate to the care of your plants, you can take advantage of succulents and cacti. After all, they don't require a lot of watering, both in the winter and the summer.
Succulents and cacti are popular right now. To highlight their beauty, try to place them in small pots or you can create a collection of cacti or succulents in beautiful terrariums.
Also read: 5 Different Ideas to Plant a Cactus
10. Tall stemmed plants and small trees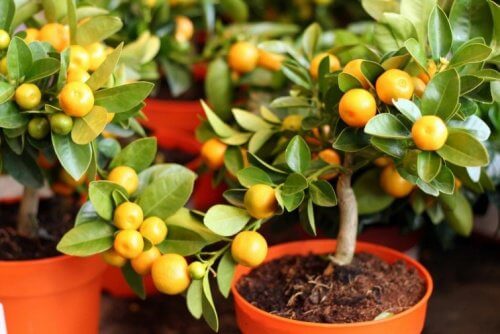 If you're trying to create a small forest-like feeling in your home, we suggest that you use small trees or plants with tall stems, which can be placed in short flower pots.
The best places for decorating with this technique are terraces or close to windows. This is because these plants need a lot of light.
Things to consider
Before buying plants and decorating your home with them, keep the following advice in mind:
Consider the environmental characteristics of your home. Keep in mind the orientation of the place where you will put the plant in case it needs a lot of light, or if they need shade.
Remember that plants are sensitive and need special care. Some need more care than others, so you should keep in mind their different needs in respect to watering, humidity, light and fertilizer.
Don't put plants in places where people walk a lot. This will keep them from getting damaged. Also, don't place them near air conditioners or radiators. You should place plants in a place that will help them grow and live freely.
The best time to water plants is during the first hours of the morning and at night once the sun has set. This will keep the water from evaporating too quickly.