Relieve Rheumatoid Arthritis with Medicinal Remedies
While you should always consult with a specialist first, these natural remedies can help relieve rheumatoid arthritis.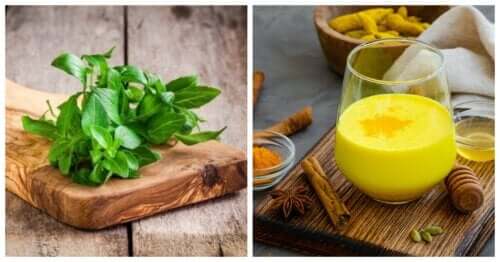 Rheumatoid arthritis is an inflammatory disease that can affect multiple joints in the body. It's an autoimmune disease in which the body's immune system – which normally protects the body from infections – mistakenly attacks the lining of the joints. Below, you can learn about some medicinal remedies that relieve rheumatoid arthritis.
However, it's important that they not interfere with the treatment recommended by your doctor. With all this, if you want to know what they are and how to prepare them, we invite you to read on.
Can rheumatoid arthritis be relieved?
Rheumatoid arthritis is a disease in which the immune system, which normally functions to protect us from infections, mistakenly attacks the lining of the joints.
Experts at the National Institute of Arthritis and Musculoskeletal and Skin Diseases explain that several external factors play a role in its onset. Some of them are age, gender, smoking, and family history.
Certainly, the severity and duration of this disease can vary greatly from person to person. In general, outbreaks of rheumatoid arthritis consist of joint pain, swelling, stiffness, and general fatigue.
Although there's no cure, it can be treated. In addition, there are several measures and home remedies that can contribute to the relief of some discomfort.
Medicinal Remedies that Relieve Rheumatoid Arthritis
These are some medicinal remedies you can make at home to relieve rheumatoid arthritis:
1. Turmeric
Turmeric is a spice that's been studied on multiple occasions as it has presented medicinal potential. Specifically, anti-inflammatory and antioxidant properties have been attributed to it.
In addition, a study published in 2016 confirms that turmeric extract seems to reduce the symptoms of arthritis. Even though more research is needed, this spice can be used as as additive to color your drinks and recipes.
2. Nettle Tea
Another medicinal preparation to relieve rheumatoid arthritis is nettle tea. It's very easy to prepare and can be enjoyed at any time of the day.
According to the following study published by the journal Revista de Fitomedicina, this plant contains antioxidant, analgesic, and anti-inflammatory properties. Therefore, nettle tea could mitigate the pain and inflammation that accompanies arthritis.
In addition, regular consumption produces a diuretic effect, so this tea could also serve as a home remedy for gout.
3. Ginger
Ginger is a spice that, although it has several medicinal properties, has several contraindications. Therefore, before consuming it, you should  be well informed and take into account some precautions.
Because of its anti-inflammatory and analgesic properties, it is recommended for people with chronic pain and inflammation. To take advantage of them, you can include a little in meals or prepare an infusion or ginger tea as such.
On the other hand, according to a study conducted in 2016, there are those who believe that ginger essential oil contains compounds that could alleviate some of the symptoms of rheumatoid arthritis.
"Good health isn't something we can buy. However, it can be an extremely valuable savings account"

– Anne Wilson Schaef-
4. Orange, garlic, and parsley juice
Orange, garlic, and parsley juice is another medicinal preparation to soothe rheumatoid arthritis. It's not scientifically proven that it contributes directly to the relief of discomfort, but there are those who include it in their diet to feel better in general.
It's often believed that, due to the flavonoid content of its ingredients, the juice could have an anti-inflammatory and antioxidant effect. In addition, it could provide a certain amount of vitamins B, Cm, and minerals (calcium and potassium) that are essential to strengthen joints and other parts of the body.
Ingredients
2 cloves of garlic
5 sprigs of parsley
The juice of 5 oranges
Instructions
Peel and chop the garlic cloves to make the blending easier.
Add them along with the parsley and orange juice in a blender and blend for 3 minutes.
Drink immediately.
If you're pregnant, it is better not to include parsley in the recipe because, as the following study from the Annals of the Faculty of Medicine explains, in these cases, taking too much parsley is harmful.
5. Evening primrose oil
Evening primrose oil is said to have anti-inflammatory properties due to its gamma-linolenic acid content (a type of omega-6 fatty acid). Therefore, it could help soothe rheumatoid arthritis.
The following study conducted by several researchers at the University of Egypt indicates that this oil could combat the discomfort of arthritis. In this way, it helps to reduce tenderness, joint pain, or stiffness.
However, it's important to note that the oil should be included in the diet in moderation to avoid liver damage.
6. Basil
According to some hypotheses, both fresh basil and its essential oil would have compounds that would help fight inflammation, according to a study published in 2015. However, more research should be done.
For now, the best thing you can do is to include some basil within a balanced diet. How about enjoying a delicious Italian recipe more often?
Do you still have discomfort? Then consult your doctor
Have you taken advantage of any of these remedies and still have discomfort? In that case, be sure to consult your doctor. They'll always be able to tell you what's best for you and why.
Remember that, in addition to following their guidelines, you should maintain a healthy lifestyle and try to avoid mixing several natural remedies at the same time so as not to experience adverse reactions.
It might interest you...