Relationship between Chronic Back Pain & Depression
Chronic back pain can keep you from accomplishing many of your daily activities, a disability that can lead to problems with your moods and the inability to have a normal social life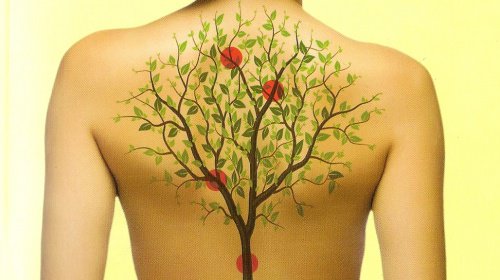 Chronic back pain directly affects your quality of life. The feeling of helplessness and reduction in mobility can gradually drag you down into a state of permanent sadness and even lead to depression.
Experts say that all pain, if it's chronic, directly affects a person's emotional state. In the case of back problems, it's without a doubt one of the most disabling types of chronic pain.
In fact, according to several studies, people with this kind of pain are much more prone to developing short or long term depression, which can lead to other musculoskeletal pain.
That's why it's important to find the right way to improve your quality of life as much as possible. Physical pain that persists day after day can become the enemy that robs you of your happiness.
Living with chronic back pain
Chronic and persistent pain is usually associated with arthritis, migraines, lupus, and of course, back troubles.
When you experience your symptoms for 10 to 15 consecutive days over a period of five or six months, you are having what's known as "chronic pain."
Something to keep in mind is that according to a survey by the American Academy of Pain Medicine, only 58% of people find relief from drugs that are marketed for symptoms of chronic back pain.
Discover also Best exercises to deal with sciatic pain
The fact that nearly half of the respondents didn't have improvement means they must cope with a life that's marred by suffering.
Back pain can lead to depression
Dr. Joseph Garbely, an expert in the treatment of chronic pain, tells us that while many people might be surprised to learn that back pain can result in a mental health condition, it's actually quite common.
To understand it a little better, just consider some of the symptoms of chronic back pain:
First of all, people with chronic back pain tend to not get enough sleep. Keep in mind that deep and restful sleep is synonymous with well-being and of course, your health.
Going several months without getting adequate sleep can directly affect your emotional balance. You may feel tired, listless, without energy, and even helpless.
Another aspect to consider is the fact that people who have chronic back pain no longer have a social life that's rewarding or high quality.
Leaving the house, going dancing, taking a trip to the beach, or even going out to dinner requires painkillers to alleviate the endless pain.
If it doesn't work and you wind up staying at home, the simple fact of being captive of your suffering itself can completely change your mood.
Dr. Garbely explains how the medication available for chronic back pain can also lead to depression. How, you might be wondering?
Sometimes, depending on the particular case and the person, these medications can cause dullness, fatigue, or sluggishness that leads to feelings of apathy, discouragement, and sadness.
These are important facts to remember.
See also: The dark pain of depression
Strategies to better cope with chronic back pain
First things first: you need to know what's causing your chronic back pain. To do this, it's always best to consult a few professionals in order to obtain an accurate and proper diagnosis.
Once you know what's causing your pain, there are several options that can help you lead a better life. Your focus should be multidisciplinary.
Pain units
When you suffer from something that causes chronic pain, a good way to begin to deal with it is to visit a specialized unit for that pain.
In these medical facilities you'll find trained professionals who know how to help alleviate physical suffering.
Your doctors may prescribe you a variety of different medications so that you eventually find the one that best suits your needs without excessive side effects.
Physiotherapy, swimming, and yoga
The help of a good therapist when combined with swimming or yoga can be very beneficial if you're committed to overcoming your pain.
Avoid exerting yourself or engaging in movements that could alter your alignment. Sometimes trying to exercise at home can cause more harm than good, so you should always follow the advice of a professional.
Enhance your social life
To avoid the depression and feelings of isolation that chronic back pain so often causes, you need to maintain an active social life and never let your suffering dictate what you do.
Chronic pain is a constant battle. It's a test of strength you have to face every day, so the most important thing is to be brave and rely on those who love you.