Rejuvenating Grape and Vitamin C Exfoliant
Do you want to keep your skin looking young, healthy and smooth? Take advantage of the rejuvenating antioxidants found in grapes and Vitamin C with this excellent exfoliant.
We can prevent skin aging caused by free radicals. But to do this, we need to have a balanced diet and use cosmetics with antioxidants. This rejuvenating exfoliant is one such product.
In this article, we will tell you how to easily make this great exfoliant at home. After all, it has vitamin C and grapes, which will give you a firmer, more radiant, wrinkle-free face.
A rejuvenating exfoliant?
Believe it or not, it is possible to fight against the signs of the passage of time. But to do this, you should use a face peel once a week. This gets rid of dead skin cells and increases your skin's regeneration. Doing this keeps your skin revitalized and wrinkle-free.
We definitely recommended using this exfoliant made with grapes and vitamin C, especially if you want to get the most out of a rejuvenating skin peel.
If you have oily skin, you can even use this exfoliant two times per week. However, if you have sensitive or dry skin, you should only use it once every 10 days.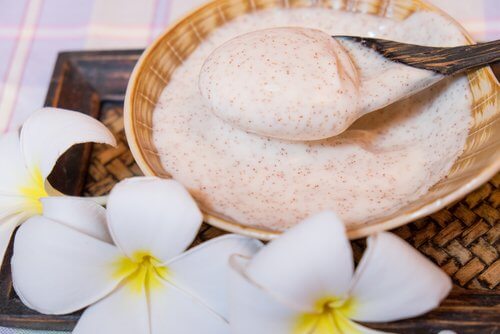 Vitamin C
Vitamin C is a nutrient with a high antioxidant power. It stimulates the production of collagen. This is important because collagen gives the skin the elasticity it needs to prevent wrinkles and stay firm.
This prevents laugh lines. It also reduces the ones that we already have. These effects can even keep wrinkles from getting deeper.
Vitamin C also makes your skin radiant. Plus, it can even prevent and eliminate spots. Because of this, it's a great remedy for people who have sun tanned too much.
In General, we usually take vitamin C as a supplement, in capsules, or in pills.
However, in this article, we are going to talk about the benefits of applying it directly to your skin. We will also make use of its powdery texture to make a smooth yet effective peel.
Grapes
You're probably heard about the rejuvenating powers of wine. These are due to the multiple health benefits of grapes. Here's just a few:
This fruit is rich in polyphenols. These are antioxidant substances that are especially found in the skin and the seeds.
Because of this, we should always eat or use the whole grape. The best varieties are either red or black.
Another one of the components that sticks out is resveratrol. This is an active ingredient that promotes the production of the enzyme that slows cellular aging.
Also, we get grape seed oil from the nutrient-rich seeds. This oil is very popular for its health and cosmetic benefits.
Grapes also have vitamins C, D, and E, beta-carotenes, and essential fatty acids that provide regenerative properties to our skin.
When possible, always use and eat organic grapes. This is one of the fruits that contains the highest amount of pesticides. These substances slowly hurt us and you should try your best to avoid them.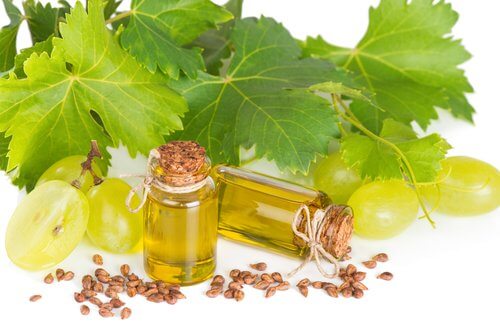 A natural homemade exfoliant
This vitamin C-enriched exfoliant is easy to make. In fact, you can even make it right before applying it.
Also, it's much cheaper, 100% natural, and is very effective.
Ingredients
1 capsule (100 mg) of powdered vitamin C
2 organic red grapes, with both skin and seeds
These are the amounts you need for one application. Making one application at a time helps to maintain the antioxidant properties of the exfoliant. We recommend making it right before you use it.
Instructions
Making this rejuvenating exfoliant is very easy:
Empty the vitamin C capsule into a mortar.
Wash and then add the two grapes to the mortar. Crush the grapes until you have a paste.
Don't take out the seeds or the skin. As we said before, they are rich in antioxidants.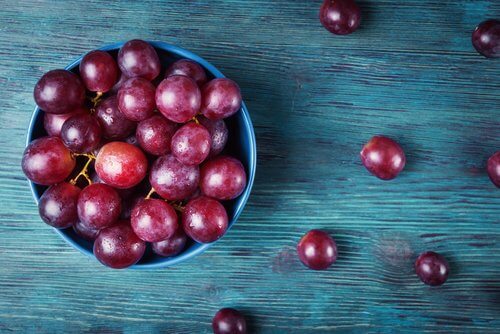 How do you use it?
Every time you want to use this rejuvenating exfoliant, you should follow the following steps:
Rinse your face with a little hot water to open your pores.
Take a little of the peel, about the size of a hazelnut, and apply it to your face.
Massage your skin smoothly. Focus on your forehead, nose, and chin.
Wait a few minutes before washing your face. This lets your skin absorb the antioxidants.
After drying your face, you should always moisturize with your usual lotion.
We recommend using this at night since it can cause some redness.