Reduce Skin Discoloration With These 5 Homemade Masks
Do you suffer from melasma, or skin discoloration? Try these 5 natural homemade masks!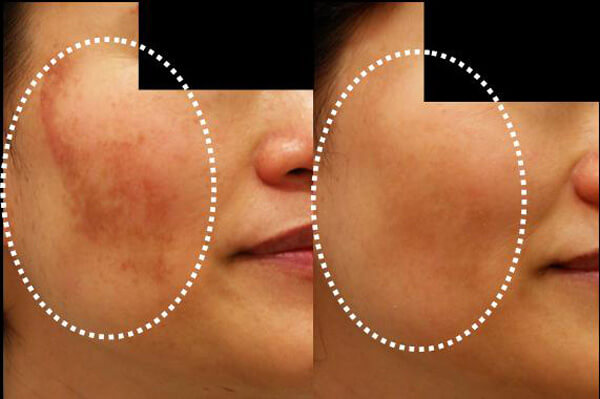 Melasma is a dark colored patch or discoloration that often forms on a large area of the face due to changes in the production of melanin.
This condition is quite common in women of childbearing age, as its appearance is linked to the surge of estrogen and progesterone hormone levels.
Because of this, some also call it "mask of pregnancy," since it is frequent during and after gestation.
Although it does not pose a health risk, its presence is unsightly and can cause self-esteem issues of those who suffer from it.
Fortunately, there are several all-natural treatments that for a low cost, minimize this discoloration, leaving your face with a healthy and uniform tone.
Up next, we'll share 5 good at-home facial mask options that you can incorporate into your beauty routine.
Read on to learn more!
1. Banana and yogurt mask
This banana and yogurt facial is an easy home remedy that helps to decrease the dark spots that make up melasma.
Most importantly, it contains lactic acid and antioxidant substances that, when absorbed, stimulates cellular activity to promote the natural repair of tissues.
Ingredients
1 ripe banana
5 tablespoons plain yogurt (90 g)
Directions
Mash a ripe banana with the help of a fork. After obtaining a puree, mix well with the natural yogurt.
Application
Spread the mask all over your face and let it sit for 30 minutes.
Next, rinse and repeat at least 3 times per week.
2. Parsley and lemon mask
A mixture of parsley with lemon creates a lightening lotion with exfoliating properties that improves the appearance of patchy colored skin.
These ingredients provide essential antioxidants and minerals that regulate the production of melanin to prevent skin darkening and discoloration.
Ingredients
Juice from ½ a lemon
3 tablespoons of parsley leaves and stems (30 g)
6 tablespoons of rose water (60 ml)
Directions
Extract the juice from half a lemon and mix it in a blender with parsley and rose water.
The mixture should be a liquid consistency.
Application
Rub the lotion over the stained areas of the face and let it act for 20 minutes.
Remove the product with warm water. Repeat use 3 times per week.
Keep in mind that it should only be used at night, as it can leave the skin sensitive to the sun.
3. Grape and vitamin E mask
An organic grape and vitamin E mask gives the skin a wide variety of nutrients that support its regeneration process.
Especially relevant are the antioxidants and natural oils this mask contains, which act as whitening agents to significantly reduce melasma stains.
In addition, since it inhibits cell damage, its ideal for preventing premature aging.
Ingredients
6 ripe grapes
1 vitamin E capsule
Directions
Cut the grapes in half, extract the seeds and put them in a blender. Add the contents of the vitamin E capsule.
Mix until you get a creamy paste.
Application
Rub the mask over your face with gentle circular movements and let stand for 30 minutes.
Rinse with warm water and repeat 3 times per week.
4. Eggplant and honey mask
The nutrients found in an eggplant not only prevent internal health problems but also improve the condition of your skin.
When you combine eggplant with all the fantastic properties found in honey, we get an exfoliating and lightening mask that significantly reduces melasma.
Ingredients
½ eggplant
3 tablespoons of honey (75 g)
Directions
Extract the pulp from half of the eggplant. Next, combine with honey in a blender.
Mix the ingredients until you obtain a thick paste.
Application
Apply the eggplant mask all over the face, especially where the spots are located.
Then, let the mask sit for 20 minutes. Finally, rinse thoroughly.
Repeat this facial 2 or 3 times per week.
5. Almond flour and coconut oil mask
An all-natural almond and coconut oil scrub helps remove impurities from the face to promote oxygenation and repair.
These ingredients contain essential fatty acids and antioxidants that, after being absorbed, reduce the appearance of spots.
Ingredients
2 tablespoons of almond flour (20 g)
3 tablespoons of coconut oil (45 g)
Directions
Combine the almond flour with the coconut oil until the mixture reaches a creamy consistency.
Application
Apply the mask all over the face and let it work for 30 minutes.
Next, wash the skin with warm water and perform circular movements to completely remove the mask.
Repeat application 3 times per week.
Do you worry about those dark spots on your skin? Simple prepare these natural remedies at home and get ready to never waste money on costly creams again.