Reduce the Appearance of Cellulite with 6 Natural Alternatives
To get rid of cellulite, you have to fight it from many different directions. A healthy diet combined with localized exercises will help reduce it. Above all, however, it's important to avoid leading a sedentary lifestyle.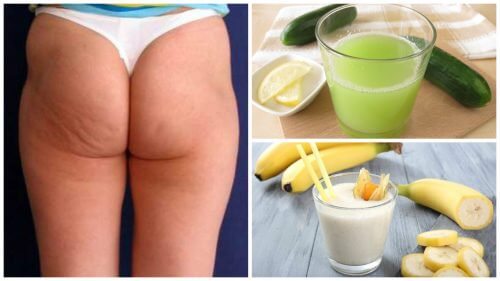 Cellulite is an aesthetic problem that frequently affects a woman's natural beauty.
It is caused by the build up of fatty deposits beneath the skin, which result in small nodules that are noticeable on the surface as little dimples.
It usually occurs in areas like the thighs and buttocks. However, sometimes cellulite is also found around the arms and abdomen.
Usually, its appearance can be related to hormonal changes, weight gain, and the regular practice of unhealthy lifestyle habits.
While it's not a serious health problem, many people want to get rid of it because they feel uncomfortable wearing certain types of clothing.
In addition, sometimes its presence can indicate problems with the lymphatic system or an excessive accumulation of toxins in the bloodstream.
Because of all this, it's good to pay attention to it. Actually, there are also some natural alternatives that will help fight cellulite effectively.
Find out what they are!
1. Apple cider vinegar to fight cellulite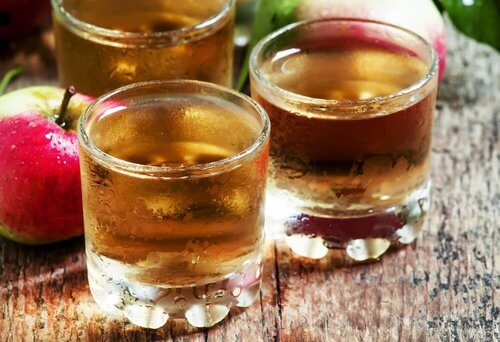 First of all, the diuretic and cleansing properties of apple cider vinegar are a great way to
fight inflammation
, which can worsen the appearance of cellulite.
In addition to its alkaline qualities, apple cider vinegar promotes the elimination of toxins and improves the appearance of your skin.
Ingredients
1 cup of water (250 ml)
1 tablespoon of apple cider vinegar (10 ml)
Preparation
First, heat the cup of water and add a tablespoon of apple cider vinegar to it.
Then, remove from heat and drink this every day on an empty stomach.
2. Pineapple water
The anti-inflammatory and cleansing properties of pineapple water can be used to stimulate the elimination of fat nodules that make up cellulite.
In addition, its active ingredient bromelain promotes the digestion of proteins and fats, decreasing fat build up in various parts of the body.
Ingredients
2 slices of pineapple
2 cups of water (500 ml)
Preparation
First, chop the two slices of pineapple without removing the peel. Then, add them to two cups of water in a saucepan.
After, bring the mixture to a boil, reduce the heat, and allow it to steep for two to three minutes.
Next, allow it to cool until it reaches a comfortable temperature, strain the liquid, and consume it.
Repeat this treatment for two weeks in a row every month.
3. Lemon and cayenne pepper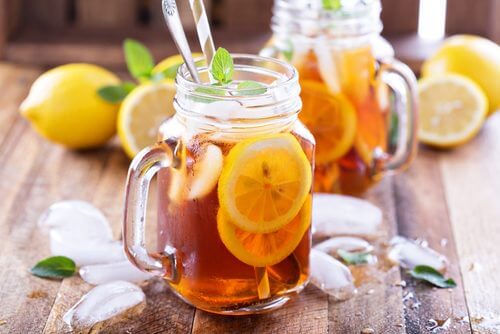 This natural beverage made with
lemon
and cayenne pepper i
s a healthy option to stimulate the metabolism and promote the elimination of waste.
Its alkaline and anti-inflammatory compounds target fat deposits and facilitate their break down to reduce the appearance of cellulite.
Ingredients
1 cup of water (250 ml)
The juice from 1/2 lemon
1/4 teaspoon of cayenne pepper (1.2 g)
Preparation
First, heat the cup of water and add the lemon juice and cayenne pepper.
Then, consume this beverage warm two to three times a day.
4. Banana smoothie
The high levels of potassium found in bananas are ideal for improving your circulation and stimulating the removal of fluids and toxins.
In addition, this delicious and sweet-tasting fruit helps control feelings of hunger and facilitates the removal of cellulite.
Ingredients
2 ripe bananas
1 tablespoon of oats (10 g)
2 teaspoons of flaxseed (10 g)
1 cup of water (250 ml)
1 tablespoon of honey (25 g)
Preparation
First, slice the bananas and blend them with the oats, flaxseed, and cup of water.
Be sure you get a homogeneous beverage. Then, sweeten it with the tablespoon of honey.
Drink this on an empty stomach every day.
5. Green tea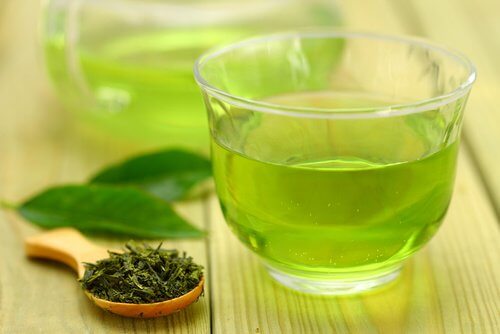 Drinking green tea on a daily basis is a natural way to
significantly reduce cellulite and excess body fat.
This beverage contains large quantities of powerful antioxidants and anti-inflammatory agents that support metabolic function.
Ingredients
1 tablespoon of green tea (10 g)
1 cup of water (250 ml)
Preparation
First, add a tablespoon of green tea to a cup of boiling water. Then, let it sit for 15 minutes.
Consume this beverage on an empty stomach and again in the middle of the morning.
Also read: 4 ways to drink green tea
6. Cucumber juice
Next, natural cucumber juice has diuretic and anti-inflammatory properties that can support the reduction of cellulite.
Overall, the antioxidants, vitamins, and minerals in cucumber promote the elimination of fluids retained in the tissues, while also improving circulation and lymphatic function.
Ingredients
1/2 of a cucumber
2 stalks of celery
1 cup of water (250 ml)
Preparation
First, chop the half of a cucumber and add it to the blender along with the celery stalks and a cup of water.
Then, process until you get a smooth beverage. Drink it on an empty stomach.
Consume this daily for two weeks in a row, rest for a week, and repeat.
Are you trying to fight your cellulite? Choose any of these natural supplements and consume them on a regular basis to see results quickly.