Recipes for Homemade Foods You Can Stop Buying
By preparing our own food at home, in addition to saving money, we can make sure that all the ingredients are natural and don't contain harmful preservatives.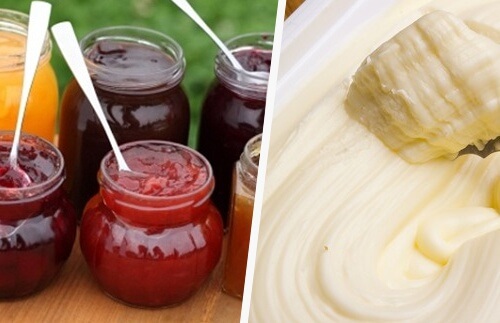 When you go out to buy your lunch while working at the office, or when you get home and call for delivery, have you ever thought about how much you're spending on food, which in most cases is not at all healthy? Below are a few recipes for homemade foods you can make instead of buying them or eating out.
Homemade foods for breakfast
Granola bars
They're a food packed with vitamins and proteins that fill you with energy in the morning.
You can make them yourself by placing a handful of oats, walnuts, almonds and several tablespoons of honey into a bowl.
If you like other ingredients, like raisins, feel free to add them.
Mix well, place on a baking sheet and bake in the oven until it looks like a bar.
Cut portions as you like.
Cereals
It's common to eat yogurt or milk with breakfast cereals. Instead of the flakes you buy at the supermarket you can substitute them with toasted nuts, dry fruit and oatmeal. For more energy, add sliced strawberries.
Pancakes
Instead of eating refined flour, you can make your own pancakes using whole wheat flour. Raisins are perfect for this recipe and give you additional fiber, without adding too much sugar. This will improve your digestion and at the same time you will feel satisfied for a longer time.
Jams
Did you know that you can make jam and jelly out of almost anything? This way, you don't have to buy them in the supermarket, and above all, you can avoid the preservatives and additives.
Strawberry is the most common, but you can make them out of apples, oranges, peaches, bananas, pears, etc.
Simply place the same amount of fruit, water and sugar into a saucepan and bring it to a boil until it thickens.
Homemade foods to snack
Hummus
This is a delicious recipe of Arab origin made with mashed chickpeas and garlic, olive oil, lemon juice, cumin and paprika.
Let the chickpeas soak overnight and then cook them for two hours.
Afterwards mix them with the other ingredients and a little water, cooking them until they have the consistency of a paste.
This is perfect for spreading on toast or crackers in the evening.
Soft cheeses
You can make your own cheese, it's not too difficult. Ricotta, for example, is widely used and will always be fresh in your fridge when you want it.
Guacamole
This sauce is really easy to make and requires no cooking.
Cut an avocado in half, remove the pulp and then mix it with onion, scallion (chives), red and green bell peppers and lemon juice.
You can add a little olive oil and garlic according to your taste.
Make whole wheat tortillas to accompany the sauce.
Tortillas
Tortillas are one of the most easy homemade foods you can make. It's not worth buying them pre-made.
You just mix flour, oil and salt and then form small balls which you then stretch until very thin.
Cook with a little oil, turning them over and over until golden brown.
You can put them in the freezer and take them out when you're hungry.
Fruit snacks
Allow peeled fruits, such as oranges or grapefruits, to dry.
Add lemon, sugar and spices (optional) and eat.
This is ideal for when you crave something sweet and dinner is several hours away.
Butter
You can use almost any type of seeds or nuts to make a delicious and healthy butter. One of the best is made with walnut, but the varieties are endless.
Bread
The good thing about making bread yourself is that you can use whole wheat flour and also add nuts and seeds. You can also make sweet bread by adding raisins or a little bit of honey.
Soup
We all know that typical instant soups (as well as some bouillon cubes) are not good for our health because they contain preservatives.
To avoid this, cut up a variety of vegetables (leeks, potatoes, squash, celery) and boil until they are soft.
Then let it cool and place in individual containers for several portions.
Place in the freezer and take it out when you want to make a quick soup.
Homemade foods for lunch or dinner
Burritos
They're similar to tortillas, but contain more ingredients. You can fill a tortilla with whatever you want, from vegetables to meat, chicken or cheese. Wrap individually in aluminum foil and place in the freezer until you want to eat one. 
Salad dressing
Olive oil and balsamic vinegar should never be missing in your kitchen. You can mix them with a variety of ingredients and allow them to marinate. In the case of oil, try dried bay leaves, basil, rosemary, etc. For vinegar, there's nothing better than carrots, eggplant and pickled onions.
Pasta
It's as easy as mixing flour, eggs, oil and salt. Knead and then cut to the size you want. There's nothing more delicious to delight your family. And the good news is that you can store in the fridge to use anytime.
Tomato sauce
Canned tomatoes or those in cartons are not good for our body. To avoid using them, use this homemade recipe, consisting of basically tomatoes and spices.
Remove the tomato skin with hot water and cut into slices.
Then add oregano, basil, thyme, rosemary and salt and throw into a saucepan with a little water and cook until soft.
Then blend and keep in the fridge until you want a ready-made tomato sauce.
It might interest you...