Recipe for Delicious Alfredo Potatoes
Learn how to make some delicious Alfredo potatoes as a side dish to your main courses. Be careful with the cooking temperature so that they maintain their consistency.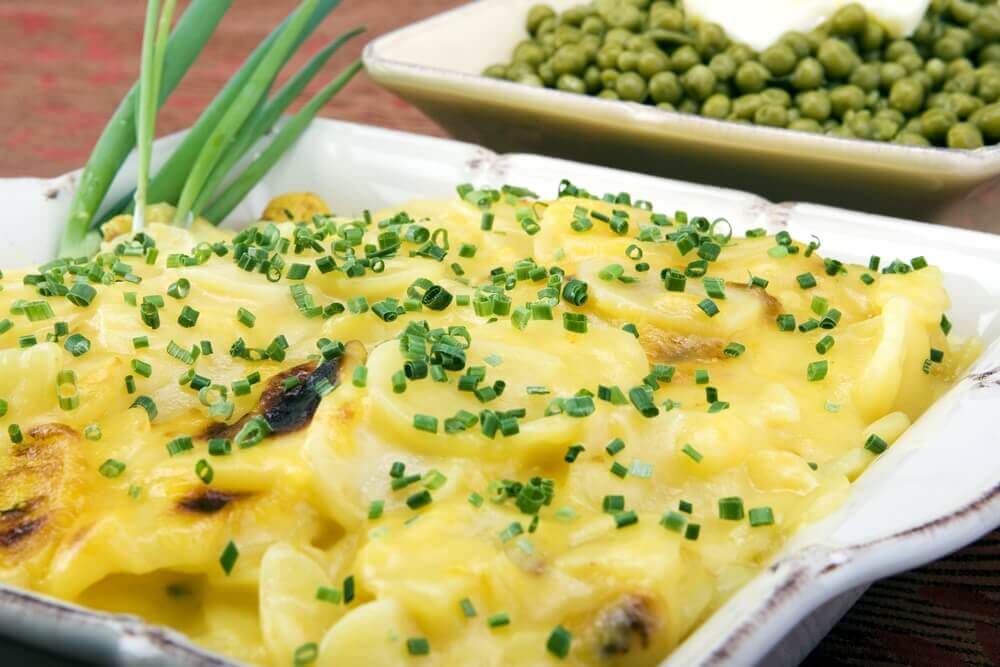 Alfredo potatoes have an excellent taste and texture. The combination of bacon with the creamy white sauce is amazing. If you are a potato lover, then mix these ingredients and you'll get a perfect side-dish that goes nice with any main course.
Alfredo potatoes are quite similar to Dauphinois potatoes, except for the fact that they have more ingredients, which make them taste so great. You simply have to try this simple recipe to see how delicious they are. Your family and friends will fall in love with recipe and will be asking for more.
Nutritional Information about Alfredo Potatoes
Due to its ingredients, Alfredo potatoes provide a good variety of nutrients. This recipe can serve up to four people. Each portion provides 488 calories. Remember, your average recommended daily intake should be 2000 calories. Therefore, this dish corresponds to 24% of your daily recommended consumption.
Each portion contains 12.5 g of carbohydrates, equivalent to 4.2% of your daily recommended amount. The amount of protein that it provides is important since it represents 57% of your daily intake. Also, the fat contained in this dish make up 52%.
This dish also provides 1.7 g of dietary fiber, 1.3 g of sugar, and 105 mg of cholesterol. It's more than obvious that Alfredo potatoes are nutritious and help you live more healthily.
Read this article too: 8 Incredible Things Raw Potato Juice Can Do for Your Body
Alfredo Potatoes Ingredients
There are a number of ingredients you'll need if you want an authentic flavor. However, you'll be surprised to see that you already have most of these ingredients at home, if not all of them.
4 white potatoes
¼ cup of chopped bacon (50 g)
4 tablespoons of butter (80 g)
1 tablespoon of chopped onion (15 g)
1 teaspoon of chopped garlic (5 g)
2 cups of milk (500 ml)
4 tablespoons of flour (80 g)
½ cup of grated Parmesan cheese (120 g)
¼ teaspoon of pepper (2 g)
¾ cup of grated mozzarella cheese (180 g)
½ teaspoon of nutmeg (2.5 g)
½ teaspoon of salt (2.5 g)
Chopped parsley (to taste)
How to Make It
First, peel the potatoes and cut them into cubes.
Cook them in a pan of boiling water until they get soft. Drain and set them to one side.
Fry the bacon to a crisp. Then add the potatoes and cook them together with the bacon for two minutes. Then remove from the heat.
Now it's time to make the Alfredo sauce. Start by melting the butter in a pan and fry the onion and garlic.
Then, quickly add the flour and stir until it forms a golden paste.
Add the milk and cook until it lightly thickens.
Now, add the cheeses and let it them melt. Season with salt, pepper, and nutmeg.
Mix the potatoes and the Alfredo sauce in a glass bowl while they're still hot. Garnish with the parsley.
So, that's how easy it is to make these delicious Alfredo potatoes. Give them a try and give us some insight about your experience!  You can give them a personal touch by seasoning the ingredients until you get the taste you want.
A Few Tips
When you're boiling the potatoes, it's important not to cook them for too long, otherwise they'll get mushy and won't mix well with the Alfredo sauce. Your dinner guests want to eat Alfredo potatoes not Alfredo potato purée.
Potatoes don't take long to cook and turn soft. So, check them every five minutes with a skewer once the water has starts boiling.
When you serve this dish, garnish it with chopped parsley. This will enhance its appearance. If you want to reduce the fat content, you can use skimmed milk. Although, you probably won't get the same creaminess if you do so.
It might interest you...